If this was Warriors' last game at Oracle Arena, it's hard for fans to swallow
Reporting from Oakland —
In one corner of the lower bowl at Oracle Arena, people in yellow shirts filed out while those in red shirts filed in. The Toronto Raptors were about to beat the Golden State Warriors to take a 3-1 lead in the NBA Finals, one win from the franchise's first championship. Their fans, holding maple leaf flags and "We the North" signs, singing "O Canada" and chanting "one more win," were here to dance on a dynasty's grave.
After the final buzzer, the bass lines that define the East Bay funk sound of the mid-1970s played over the arena's speakers, a dirge for a building that might have seen its last Warriors game.
"This is amazing," former Raptors star Chris Bosh said as he looked on from the center of the Oracle Arena court. "These fans have always kind of been like this, but this is so much bigger."
These might be the final memories of the Warriors' time in Oakland and Oracle Arena — their home since 1971. It is a wonderfully dingy building that's pulsed with the sounds of electric guitar jams by The Grateful Dead just like it has for Rick Barry jumpers, Baron Davis slams and Stephen Curry daggers.
Rather than celebrate its fourth championship in five years, Oracle threatens to close with a whimper.
After this season ends, the Warriors will leave the league's oldest building and move across the San Francisco Bay into a sleek, modern home with bright open spaces, kitchens throughout the concourses serving trendy concessions — Oracle has only one kitchen — and a top-level lounge with a panoramic view of the bay.
It's a project with a budget exceeding $1 billion, according to Warriors executive Rick Welts, and by San Francisco law they must dedicate $10 million of that to public art. The glamorous arena is entirely privately financed and on private land. They'll put in the last seat on Monday.
It's a project that will elevate the team's home to a state-of-the-art facility that more closely mirrors the quality of the basketball it produces. The financial boon for the Warriors will help pay for the star-studded team they field. It's a necessary part of the modern NBA.
But it also will leave behind fans for whom San Francisco is too far or too expensive.
"Favorite moment from this arena? That's a tough one. That's a really good question," Andre Iguodala said Thursday. He has been with the Warriors since 2013. "First playoff series here was pretty exciting. It was pretty good. We hadn't priced out many people yet, so it was good."
The Warriors have tried to sell Oakland on the message that they're just leaving a building and not leaving the town. They'll retain some community relations offices in Oakland. They echoed that message the afternoon before Game 4 when the Warriors, along with NBA and Oakland officials, celebrated another round of renovations at the Ira Jinkins Recreation Center in East Oakland.
All season, players and coaches have celebrated Oracle Arena and the memories created there. But for all of that magic — if Games 3 and 4 were in fact the final games at Oracle — the ending went about as poorly as it could've gone.
Sign up for our daily sports newsletter »
A light fixture hanging from the rafters fell and nearly hit a Canadian television broadcast team during Game 3. Not long after, one of the Warriors' minority owners, Mark Stevens, shoved Toronto's Kyle Lowry along courtside seats in an embarrassing moment for the team. With the Warriors missing Kevin Durant, Kevon Looney and Klay Thompson, the Raptors won.
For Game 4, Looney and Thompson returned, but the Raptors produced a dominant second half — the kind the Warriors normally impose on other teams. What happened in Game 4 left everyone from Warriors fans to team executives dazed.
In the upper level of the arena, some sat with their hands over their mouths, or their heads bowed. One Raptors fan up there gleefully waved a purple flag with a dinosaur on it while some Warriors fans shed tears.
John Reynoso had season tickets in this arena for 15 years, before the Warriors became the NBA's supervillains, before every season came with the promise of a championship run. When Davis dunked on Utah's Andrei Kirilenko in the second round of the 2007 playoffs, Reynoso's son lifted him off his feet.
"Ten, 12 years ago, it was like a college atmosphere," he said, wistfully.
Reynoso's son, also named John, was his seat partner for 14 years. On June 1, 2018, he died at age 35 because of complications related to a brain tumor. Since then, Reynoso's daughter, Nicole, started attending games with her father.
They'll go to Warriors games when the team moves to San Francisco, but as residents of the South Bay city of Fremont, the commute will make season tickets unfeasible.
"When we go to the Chase Center it's gonna be corporate," John said. "It's gonna be like the Lakers."
Nicole brought a collection of jerseys and Warriors shirts to wear, and both desperately hoped this wouldn't be the last time they saw the Warriors play in this arena.
At the start of the fourth quarter, Nicole turned to her dad.
"This can't be it," she said, putting her hands in front of her face. "This can't be it."
As the game ended, Nicole and John embraced and sat holding each other. Fans around them tepidly assured each other they'd be back one more time for Game 6.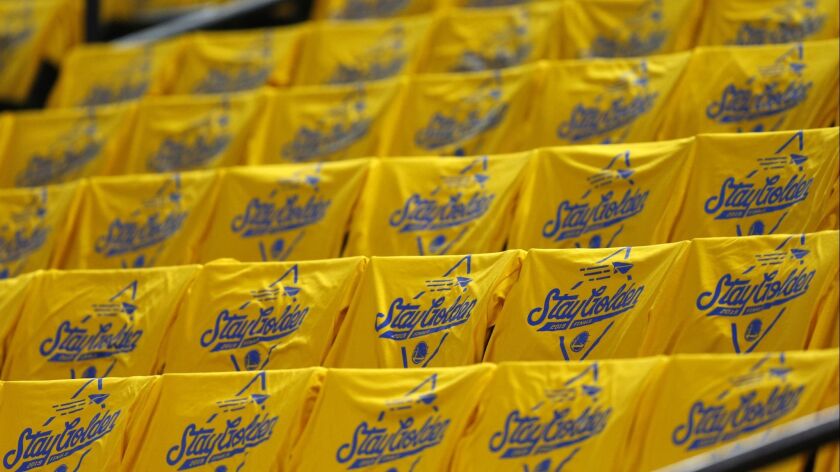 Downstairs, players walked off the court and into the tunnel in front of a crowd that had mostly decided to try to beat the traffic. The Warriors' locker room, usually full of chatter, joy, bravado and swagger, was funereal.
Bob Myers, the general manager and architect of the team, walked silently toward the locker room, staring blankly. Minutes later, Welts walked the other direction wearing the same look.
With a yellow "Stay Golden" T-shirt under his suit jacket and a briefcase in his hand, Welts walked toward the parking lot. An Oracle Arena employee tried to encourage him.
"See you for Game 6," she said.
With the future so uncertain, and the Raptors looking so much better, it didn't sound as though she believed her own words.
Twitter: @DanWoikeSports
---
Get our high school sports newsletter
Prep Rally is devoted to the SoCal high school sports experience, bringing you scores, stories and a behind-the-scenes look at what makes prep sports so popular.
You may occasionally receive promotional content from the Los Angeles Times.