Warriors minority owner who shoved Kyle Lowry fined $500,000, banned for season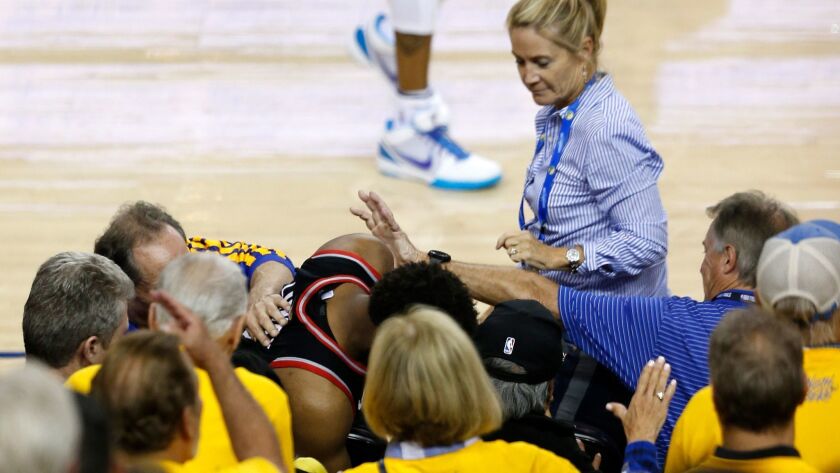 Reporting from Oakland —
The NBA on Thursday fined Golden State Warriors minority owner Mark Stevens $500,000 and banned him from games and all other team events for the next season after he pushed Toronto Raptors guard Kyle Lowry during Game 3 of the NBA Finals.
Stevens shoved Lowry in the right shoulder after he jumped into the first row of seats opposite the Warriors bench while trying to save a loose ball. He also told Lowry to "go … yourself" multiple times, Lowry said.
"I don't know him. I don't care to know him," Lowry said. "He showed his true colors at the time. And you show what you're really about in that time and at that moment."
NBA Commissioner Adam Silver weighed in on the subject later in the day.
"It's not a science in making these decisions," Silver said. "Ultimately, we felt that given how contrite Mr. Stevens was — he was extraordinarily apologetic — the fact that he had no blemishes on his prior involvement with the NBA or the Warriors, a one-year ban seemed appropriate.
"I'd like to think whether there's an issue that involves a team investor or a player, that everyone is afforded due process and that we don't necessarily respond to immediate sentiment of the most dramatic thing we can do in a situation. But that we act in a way we'd expect people to act towards us if we made a mistake. Ultimately here, there's no question that Mr. Stevens made a terrible mistake. And from my standpoint, he's paying an enormous price for it — not just in terms of the discipline, the ban and the fine — but reputationally in his community as well. My sense is he really understands that and has taken it to heart."
Sign up for our daily sports newsletter »
According to his LinkedIn profile, Stevens has been a minority owner since 2013. He's also the managing partner of S-Cubed Capital and, according to Forbes, he has an estimated net worth of $2.3 billion.
Stevens is also on USC's board of trustees and is a major donor to the university. He and his wife, Mary, have reportedly contributed more than $100 million to USC.
"I take full responsibility for my actions last night at the NBA Finals and am embarrassed by what transpired. What I did was wrong and there is no excuse for it," Stevens said in a statement. "Mr. Lowry deserves better, and I have reached out today in an attempt to directly apologize to him and other members of the Raptors and Warriors organizations. I'm grateful to those who accepted my calls. I hope that Mr. Lowry and others impacted by this lapse in judgment understand that the behavior I demonstrated last night does not reflect the person I am or have been throughout my life. I made a mistake and I'm truly sorry. I need to be better and look forward to making it right."
The team earlier had rebuked the actions of Stevens.
"Mr. Stevens' behavior last night did not reflect the high standards we hope to exemplify as an organization," the Warriors said in a statement. "We're extremely disappointed in his actions and, along with Mr. Stevens, offer our sincere apology to Kyle Lowry and the Toronto Raptors organization for this unfortunate misconduct. There is no place for such interaction between fans — or anyone — and players at an NBA game."
Warriors coach Steve Kerr said he would also personally apologize to Lowry and the Raptors.
Golden State forward Draymond Green praised Lowry's composure after the incident, which occurred in the second half Wednesday at Oracle Arena.
"You have to give Kyle a lot of credit in the way he handled it," Green said. "You're playing in the NBA Finals, so your emotions are running high. For him to handle it the way he did says a lot about his character, a lot about him as a man and the way he handles himself. That was great to see, the way he handled that."
The incident is the latest to highlight the player-fan exchanges that the NBA is trying to avoid. Earlier this season, a fan in Utah was permanently banned for hurling verbal abuse at Oklahoma City guard Russell Westbrook. Another courtside fan in Dallas, Don Knobler, was banned for the year after an incident with Clippers guard Patrick Beverley.
"I think players are definitely vulnerable. Any time you're in a situation where you can do no right, like in defending yourself, you're vulnerable," Green said. "So if a fan says whatever they want to you and then you say something back, you're fined. If Kyle was to then hit back, a lot more than a fine would have then happened to Kyle. In a situation where you're essentially helpless, you're always going to be vulnerable in anything in life. So it's not just on the basketball court. In any situation you can't help yourself, you're vulnerable."
Lakers forward LeBron James posted a video of that play on Instagram Thursday, leaving a lengthy comment condemning Stevens' actions.
"There's absolutely no place in our BEAUTIFUL game for that AT ALL. There's so many issues here. When you sit courtside you absolutely know what comes with being on the floor and if you don't know it's on the back on the ticket itself that states the guidelines," James posted. "But he himself being a fan but more importantly PART-OWNER of the Warriors knew exactly what he was doing which was so uncalled for. He knew the rules more than just the average person sitting watching the game courtside so for that Something needs to be done ASAP! A swift action for his actions."
The National Basketball Players Association released an official statement from Michele Roberts, executive director of the players' union:
"We are closely monitoring both the Warriors' and the League's continued investigation into this matter and anxiously await their conclusions and response. The NBPA has previously expressed its support of a 'zero-tolerance' policy with respect to verbal and/or physical assaults perpetrated against Players. Stevens' status as a member of the ownership group does not alter that view."
Twitter: @DanWoikeSports
---
Get the latest on L.A.'s teams in the daily Sports Report newsletter.
You may occasionally receive promotional content from the Los Angeles Times.