Column: Russell Westbrook plays on the edge while the Thunder try to avoid it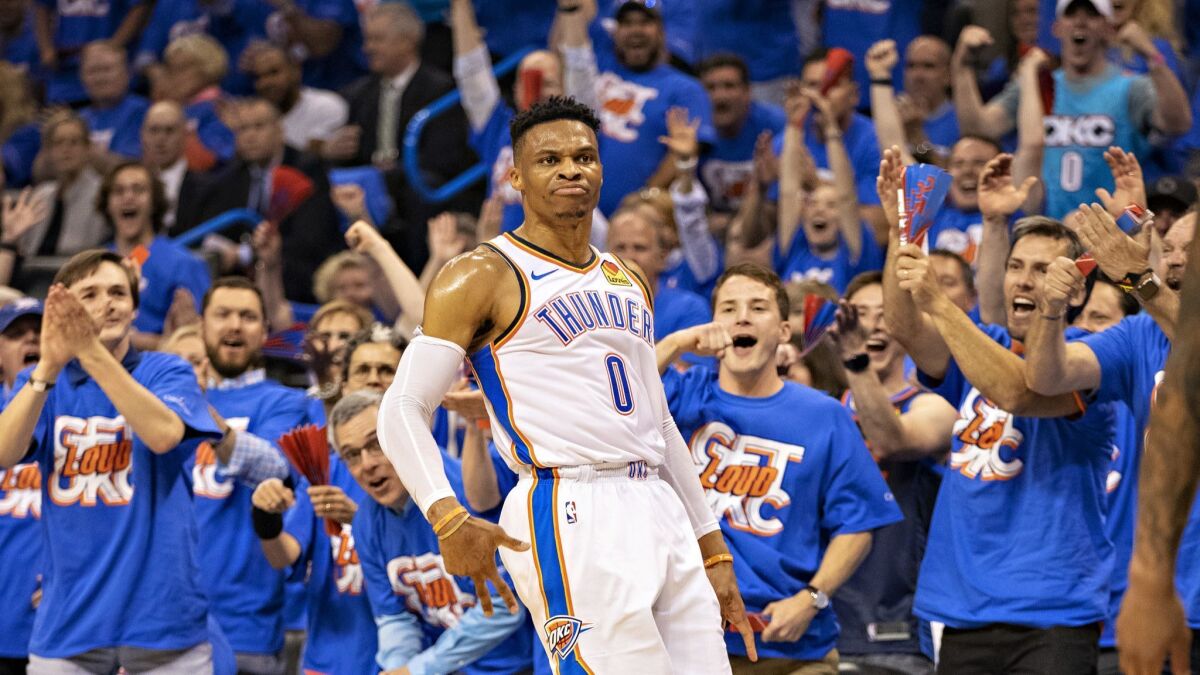 Reporting from Oklahoma City —
Imagine an American muscle car speeding down the clay-lined freeways here, so fast, so strong — but with the brake lines cut. Imagine a brick stuck to the car's accelerator. Imagine the car slamming into the guard rails, tipping onto two tires, before eventually getting to the final destination.
Imagine all that — now you kind of get how Russell Westbrook plays basketball.
The Oklahoma City Thunder star guard just wrapped his third straight season averaging a triple-double, the kind of historical feat that probably won't be fully appreciated until someone bests it, but four games into the postseason, Oklahoma City is on the edge of elimination. And Westbrook's responsibility in all of this is very much up for debate.
Would the Thunder be better if he was more controlled? What if he was less emotional? What if the engine didn't run so hot? What if he shot less? What if he was more measured? What if he was less surly?
Next question: If he was all of that, would he still even be Russell Westbrook?
"You can't really convey how much a player affects another player," Thunder center Steven Adams said. "He 100% makes us better. It's just his way of life. He's got very high standards for himself, whatever standard you have for him, his is probably higher. That's just the way he's wired. That's going to help everyone."
How much? It's hard to tell.
A loss Tuesday at Portland against the Trail Blazers would result in Oklahoma City's third straight first-round exit — all three years coming after Kevin Durant left the Thunder to sign with the Golden State Warriors after the 2016 season.
Westbrook responded to that defection by assaulting the league with unmatched energy — teammate Jerami Grant said no star plays harder — in an MVP-winning season. In his first year without Durant, Westbrook became the second player to average a triple-double (at least 10 points, 10 assists and 10 rebounds per game) after Oscar Robertson did it in 1961-62. The numbers were almost comical — 31.6 points, 10.7 rebounds and 10.4 assists per game.
He signed a $206.8-million extension to stay in Oklahoma City through the 2022-23 season and followed up his MVP season by averaging another triple-double. And then did it again this season.
"Nobody talks about it at the level they should," Thunder guard Raymond Felton said. "For a guy to play at that level every night, playing so many games with his body hurting, bruised up, bumped up, getting hit, getting knocked on the floor, not at 100% ever, and still come out and play that way? That's impressive."
Adams can't even talk about the accomplishment without the tone of his New Zealand accent ascending with each sentence.
"To score 20 points a night? It's tough," he said. "To do it every game? That's tough. That's real tough. Ten assists? Ten rebounds? That's tough. That's real hard. That's really, really hard. … This guy, he's … legit."
But outside of the organization, opposing scouts and coaches look at games like Sunday's, when Westbrook made five of 21 shots in a 111-98 loss, as proof that the numbers hide the kind of player he actually is.
He shot 42.8% from the field, the second time in three years he's been below 43%.
"He kills the team concept," a longtime Western Conference scout said. "He's a gunner. His emotions control him and I don't know how you coach him. It's a shame because he's such a force on the court. He plays mad the whole game — and that's great for football but not basketball."
An assistant coach for another Western Conference team echoed the sentiments.
"You want Westbrook a little edgy as an opponent because you can bait him into an individual game that oftentimes take away from team success," the coach said. "His bravado turns it into a one-on-one deal and it's hurt his team."
It's been Portland's approach in this series, daring Westbrook to shoot jumpers, where he's been horrific all season, and he's obliged. At times, Westbrook's competitiveness has gotten the best of him and it's seemed like he's playing against Trail Blazers guard Damian Lillard instead of an entire team.
Westbrook, who didn't score a point in the paint in Game 4, said there are games where shots just don't fall. But it was impossible to ignore Portland players and coaches openly daring Westbrook to shoot by instructing defenders to sag off.
"Sometimes, you'll have nights like that. It happens sometimes," he said after the Game 4 loss. "… [Getting to the basket] wasn't taken away. I can get deep in the paint any time I want. But I always make the right play. … My job is to make sure other guys get the basketball. I don't need to shoot a layup every single time. But I'm in the paint all game."
If he sounds defiant, it's because he is.
If Westbrook would've listened to conventional wisdom, he wouldn't have gone from a low-level prospect at Leuzinger High in Lawndale to UCLA to the NBA lottery to the All-Star game to the MVP ceremony.
But even his teammates acknowledge that it's unfair to put all of this on Westbrook's shoulders.
Sign up for our daily sports newsletter »
"Winning games is all about team. He can do his thing all night. If everyone else is not picking up their part, it's going to be hard to win games," Felton said. "You have to have the right people around a player like that, and everyone has to play at a certain level."
Whatever happens going forward, there's an organizational comfort with Westbrook. Coaches know he's going to do everything he can. His teammates know he'll keep showing up for late shooting sessions the night before games.
They all know that accelerator will always be pushed to the floor.
"He's one of the faces of the NBA. He's a franchise player. He's one of the highest-paid players in the game. His name is one of the biggest household names in NBA game right now," Felton said. "Every night, it's eyes on him."
Twitter: @DanWoikeSports
Get our high school sports newsletter
Prep Rally is devoted to the SoCal high school sports experience, bringing you scores, stories and a behind-the-scenes look at what makes prep sports so popular.
You may occasionally receive promotional content from the Los Angeles Times.