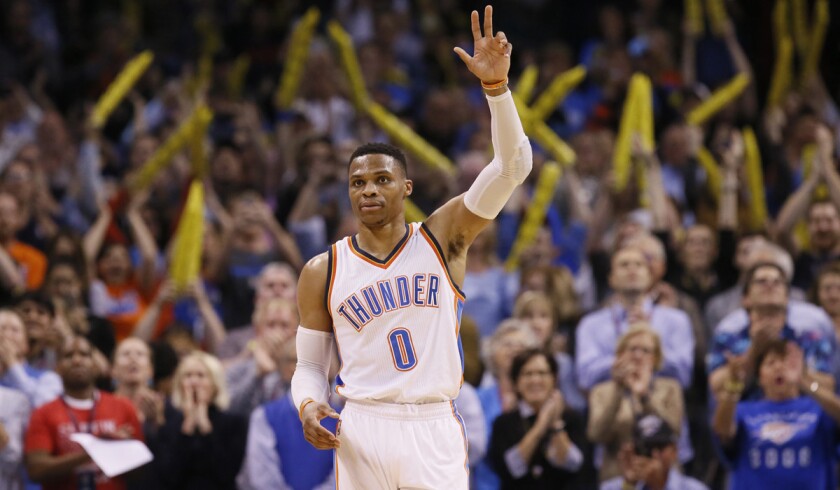 Losing a most valuable player has proved to be like trying to recover a lost fortune for NBA teams.
Nine months ago, Oklahoma City lost an MVP who made the city swell with pride. The small market Thunder franchise faced a crossroads once Kevin Durant left for the Golden State Warriors only five years after parting with James Harden, but Oklahoma City has persevered like no other franchise to remain a top-10 NBA team.
There was no template for post-MVP success after the following MVP subtractions:
— The Cleveland Cavaliers went from 61 wins to 19 after four-time MVP LeBron James left. They continued to spiral downward until his 2014 return.
— The Miami Heat went from the NBA Finals team to sub-.500 after James exited.
— The Phoenix Suns have not made the playoffs since trading two-time MVP Steve Nash after a run to the 2010 Western Conference finals, averaging 33 wins a season since his departure.
— The Minnesota Timberwolves already were in a downturn before trading 2004 MVP Kevin Garnett in 2007, but it only worsened. They haven't made the playoffs since, averaging only 25 wins a season.
— The Lakers eventually recovered after 2000 MVP Shaquille O'Neal's exit but first had to endure a 34-win season.
"The cupboard wasn't bare," said Nick Collison, playing his 13th season with the Thunder/Seattle SuperSonics franchise. "You've got a top-one player, in my opinion. Top two. That's a great start."
The Thunder undoubtedly would not be where they are without Russell Westbrook, a leading MVP candidate after a historic triple-double season. His Herculean efforts are not always enough, however, and the Thunder enter Friday night's playoff home debut trailing the Houston Rockets, 2-0, despite Westbrook's 51-point, 13-assist, 10-rebound effort in Game 2.
To drop only from 55 wins to 47 without Durant went beyond Westbrook.
Thunder general manager Sam Presti traded Serge Ibaka for Victor Oladipo, Domantas Sabonis and Ersan Ilyasova on draft night last June, less than two weeks before Durant's made his decision to leave. Presti flipped Ilyasova into Jerami Grant and a trade exception. In February, Presti combined that trade exception, offseason pickup Joffrey Lauvergne, Cameron Payne and Anthony Morrow to bolster his team's rebounding with Taj Gibson and shooting with Doug McDermott.
Meanwhile, Oladipo enjoyed a career season, as did the Thunder's deft 2013 draft pick, Steven Adams.
"It's all about winning around here," Oladipo said. "That's what they teach and preach around here. We've got a great balance of guys who are growing, guys who have been through it and guys who want to win. That's why we're still successful. It's a way of life."
Westbrook's way kept Oklahoma City afloat. He set the NBA record for triple-doubles in a season with 42, breaking Oscar Robertson's 55-year-old record and becoming the first player since Robertson to average a triple-double: 31.6 points, 10.7 rebounds and 10.4 assists.
Clearly, the Thunder's best maintenance move was signing Westbrook to an extension one month after Durant left, even if it meant they might have to repeat the feat this summer when Westbrook can opt out.
Oklahoma City was 33-9 in Westbook's triple-double games and 14-26 otherwise but his teammates took pride and joy in his individual achievement, averting a threat to team chemistry.
"The thing he focuses on and tries to focus on is how does he lead, how does he help us win, how do we need to play systematically and style of play-wise," Oklahoma City coach Billy Donovan said. "Going into the summer when we finally realized what our team was going to look like, we had to come up with a system and a style that we could play to when we was off the floor.
"Russell has a great level of humility and understanding that a lot of things happened because of his teammates. Because of his humility, his teammates feel a part of the stuff that is going on."
Oladipo (15.9 points a game) was featured on the second unit and Enes Kanter (14.3 points a game) posted up as another scoring alternative when Westbrook was not torpedoing through opponents. Overall execution and effort became paramount after a 2015-16 season in which superior talent often was enough to win.
"Russell came back at the start of camp with an attitude that we're here to keep winning and let's go to work," Collison said. "Everybody followed his lead. His leadership and control of the team has been great. He's really changed a lot in terms of being in total control and everyone fell in line."
Oklahoma City has rookies, Sabonis and Alex Abrines, who played significant roles. It has 10 players who are 25 years or younger. In Presti, it has a veteran and savvy general manager who has been on the job for 11 years but is only 40.
A winning program remains in a city where the attraction for players and popularity with fans could have been vulnerable if losing entered the equation.
"The fan support, I think that's been a little different for me more than previous years," Westbrook said. "Just the people all across the world supporting our team and kind of still supporting us after obviously different changes on our roster."
---