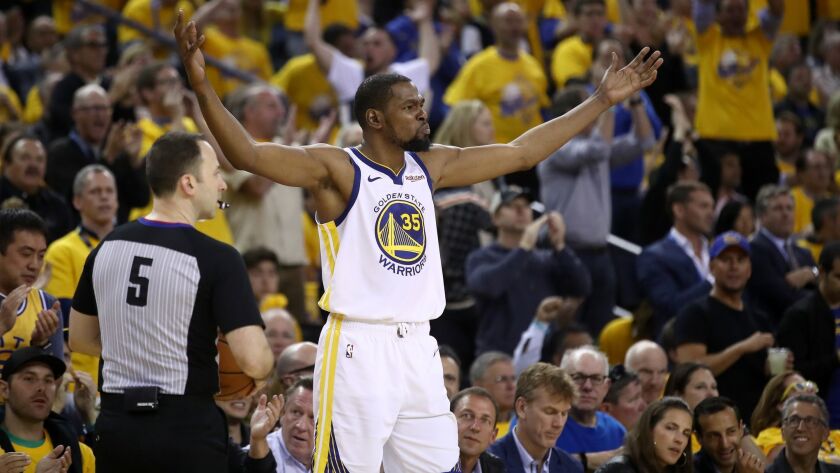 Season series: Tied 2-2
1. Golden State Warriors
57-25 (Home 30-11, Road 27-14)
First round: Defeated Clippers 4-2
Second round: Defeated Houston 4-2
3. Portland Trail Blazers
53-29 (Home 32-9, Road 21-20)
First round: Defeated Oklahoma City 4-1
Second round: Defeated Denver 4-3
Key stats: Kevin Durant is the Warriors' best player, but is he the one Golden State needs most on the court? Since he joined the team, the Warriors are 30-4 in games in which Durant is out but Stephen Curry plays. … The Warriors have had the most efficient offense by far through two rounds of the playoffs, scoring 117.4 points per 100 possessions. The gap between the Warriors and the No. 2 Bucks (113.4) is greater than the gap between the Bucks and the team with the No. 7 offense, the Houston Rockets (110.4). … Will fatigue be a factor? Portland (596) and Golden State (581) have played the second- and third-most minutes of any team in the postseason so far. … Of the 10 players who have scored 50 or more points in a playoff game since 2000, two are in this series (Damian Lillard and Durant). … Four of the 15 shooters with at least 200 career three-pointers attempted in the playoffs are in this series — Klay Thompson (40.9 %), Curry (40.4 %), CJ McCollum (40%) and Lillard (35.1%).
Outlook: Durant's calf injury helps give the underdog Trail Blazers more of a shot against the back-to-back champions. Counted out all season, Portland has noted some similarities to NCAA champion Virginia, which bounced back from an embarrassing first-round upset in 2018 to win a title. This would be a bigger upset than anything Virginia had to overcome. The Warriors, even without Durant, still can be the best team in the NBA. Curry and Thompson stretch defenses in unnatural ways, and Draymond Green has looked like his old self, guarding whomever is put in front of him. Durant and DeMarcus Cousins could both eventually play in this series, meaning the Blazers better get off to a good start in Oakland.
Dan Woike's prediction: Golden State in five.
Game 1 Tuesday at Golden State, ESPN, 6 p.m.
Game 2 Thursday at Golden State, ESPN, 6 p.m.
Game 3 Saturday at Portland, ESPN, 6 p.m.
Game 4 May 20 at Portland, ESPN, 6 p.m.
Game 5 May 22 at Golden State, ESPN, 6 p.m.*
Game 6 May 24 at Portland, ESPN, 6 p.m.*
Game 7 May 26 at Golden State, ESPN, 6 p.m.*
*If necessary
Sign up for our daily sports newsletter »
Twitter: @DanWoikeSports
---