Column: NBA Finals: Kevin Durant injury could be a league-altering moment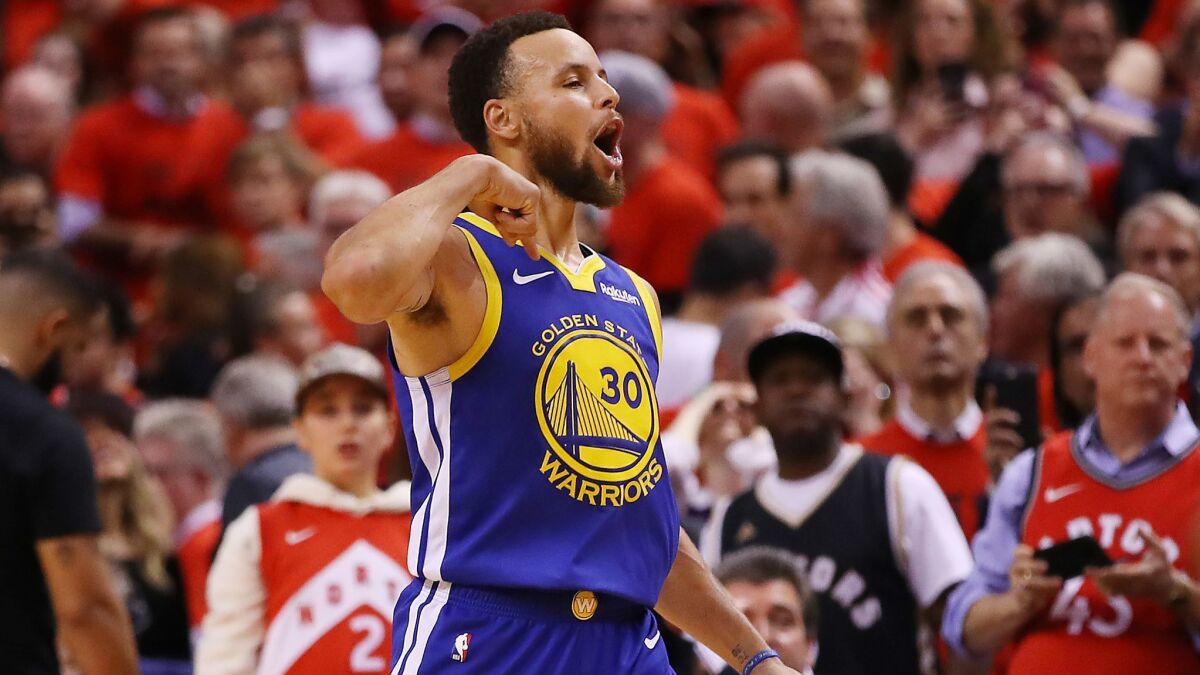 Reporting from Toronto —
It was stunning, the sight of Kevin Durant on the Scotiabank Arena floor, his hand once again reaching for the back of his right leg. It was maddening, the sound of some fans cheering his fate until Raptors players encouraged them to quiet down.
It was shocking, that after returning from a calf injury that kept him out for the last month, Durant would be as effective as he was before crumbling to the court. It was heartbreaking, the scene of him needing help to get back to the Warriors' locker room, one arm rested on the shoulder of Andre Iguodala with Stephen Curry and the team's top basketball executive, Bob Myers, trailing nearby.
And it was sickening, the slow-motion video capturing what appeared to be a ligament, snapping and curling up the back of Durant's right leg like a guitar string strung too tightly.
"Mentally and emotionally, it just messes with you," Warriors guard Shaun Livingston told The Times. "I'm numb."
But to see how the Warriors responded, how they managed all of this and still won 106-105 in Game 5 of the NBA Finals? That was inspiring.
One month ago, Durant stepped incorrectly and reached for the back of his right leg. Everyone feared the injury could be a ruptured Achilles tendon. It wasn't.
"The initial injury was a calf injury," Myers said, fighting tears as best as he could. "This is not a calf injury."
Myers said Durant has suffered an Achilles tendon injury. The full extent won't be known until Tuesday, but the worst is feared. Executives don't usually hold tearful postgame news conferences if they're expecting good news.
"He was cleared to play tonight; that was a collaborative decision. I don't believe there's anybody to blame, but I understand in this world and if you have to, you can blame me," Myers said. "I run our basketball operations department. And to tell you something about Kevin Durant, Kevin Durant loves to play basketball, and the people that questioned whether he wanted to get back to this team were wrong."
Without Durant, the two-time defending champion Warriors had to go back to this team's roots. This all started with the ripping of the nets, maybe the two best shooters of all time, splashing home shots at rates, distances and with degrees of difficulty the NBA has never seen.
And in a classic NBA Finals game — one packed with unthinkable drama, unthinkable stakes, unthinkable angst — Curry and Klay Thompson shot the Warriors into four more quarters of new life.
For the two, it might've been their biggest splash yet. Curry finished with 31 points, and Thompson had 26.
Emotionally drained, the Warriors managed to erase a six-point lead with 3 minutes 28 seconds to go.
Toronto built that lead on the back of Kawhi Leonard, who scored 12 of the team's 14 points the previous three or so minutes, a stretch in which he also had a block, two rebounds and an assist on the other made basket. He finished with a team-high 26 points and 12 rebounds.
But a Thompson three, a Curry three and another Thompson triple kept the series alive for at least one more game.
"People really don't realize. They want us to lose so badly. They don't realize what we're actually doing, what guys are actually doing," Livingston told The Times. "It's not to toot our horn because we've got rings. We have hardware. We're accomplished.
"But this is nothing short of incredible, what guys are willing to accomplish. For real."
Durant, who was less than three weeks from being one of the two most, if not the most, coveted free agents available, will presumably enter an offseason crowded in uncertainty. Achilles injuries aren't the career death sentence they once were — his teammate DeMarcus Cousins returned to game action less than a year after suffering an Achilles injury. But it's still one of the most feared injuries a player can suffer.
The injury, in addition to its impact on whatever is left of the NBA Finals, will certainly ripple and affect teams that wanted Durant in free agency, should he leave. The New York Knicks, the Brooklyn Nets and the Clippers were all expected to be serious suitors, with the Knicks long considered the front-runners.
It's an NBA-altering moment — Durant's free agency, like Leonard's, was the cornerstone of so many franchises' Plan As. Now, with a $31.5-million player option to make a decision about, who knows whether Durant will even hit the market or what he'll get, as a soon-to-be 31-year-old coming off an Achilles injury. The money and the years might still be there, but it'll probably have to come with a significant wait (and some risk).
The weight of all of this, the gravity of what happened to this player, to this teammate, to this human reverberated louder than anything else. It's why Myers choked back tears. It's why the wrinkles on coach Steve Kerr's face seemed more pronounced and why Curry and Thompson couldn't celebrate another legacy-affirming night.
Sign up for our daily sports newsletter »
Like Livingston said, this was another incredible night for the Warriors — maybe even their best.
"I think it's got to be the greatest," Golden State forward Draymond Green said. "When you're down six with a couple minutes to go in an elimination for these guys to win a championship, we could have thrown in the towel. We could have folded, but we didn't. I said it before. ' I've never seen this group fold.' And that stands true still."
For five years, the Warriors have been tested. They were once too young, too dependent on the outside shot. They were too emotional, too prone to get silly technical fouls. They were too stacked, too talented to appreciate. They were too bored, too consumed with outside narratives and storylines, too worried about future paychecks.
This was harder than all of that. And the Warriors survived.
Stunned, shocked, heartbroken and sickened — whatever the Warriors are feeling — they'll still need to survive twice more.
Get our high school sports newsletter
Prep Rally is devoted to the SoCal high school sports experience, bringing you scores, stories and a behind-the-scenes look at what makes prep sports so popular.
You may occasionally receive promotional content from the Los Angeles Times.