Prep Rally: Midseason high school basketball review
Hi, and welcome to another edition of Prep Rally. My name is Eric Sondheimer. After two weeks off, Prep Rally is back. Let's take a look where things stands at midseason in high school basketball.
Basketball review
Two months into the basketball season, it's time for reflection at midseason.
If the Open Division boys' playoffs were to begin tomorrow, these would be the teams making it: Harvard-Westlake, Corona Centennial, Bishop Montgomery, West Ranch, Mater Dei, Sierra Canyon, St. John Bosco. That leaves one spot open. Sherman Oaks Notre Dame and Rancho Christian are in the running.
Sierra Canyon and Etiwanda are far superior to all other teams in girls basketball. They are unbeaten and it would take a monumental upset to prevent the two from meeting for Southern Section championship and regional titles.
City Section boys' basketball is about Narbonne. The Gauchos entered this past week at 8-7 after nonleague and tournament games and don't figure to lose the rest of the way. The only question is which team will get to play the Gauchos in the final. For City girls, Westchester is unbeaten and the clear favorite, with pesky Granada Hills lurking.
League races will be interesting. In the Mission League, the matchups of Harvard-Westlake vs. Notre Dame, Notre Dame vs. Sierra Canyon and Harvard-Westlake vs. Sierra Canyon will draw large crowds and should be intense and entertaining.
There have been some stars. Freshman Jason Crowe Jr. of Lynwood entered the week averaging 36.3 points. Kevin Patton Jr. of Rancho Christian is coming on strong. Trent Perry of Harvard-Westlake has established himself as an elite point guard. Kade Bonam of St. John Bosco, Zack Davidson of Mater Dei, Rockwell Reynolds of Santa Margarita and Aidan Fowler of JSerra have been outstanding out of the Trinity League. Bishop Montgomery has had five players score consistently in double figures, making the Knights very tough. Centennial has been playing tough out-of-area teams and flying a little under the radar, but don't forget about Jared McCain. Freshman Kaiden Bailey of Crean Lutheran is a star in the making.
For girls, Juju Watkins of Sierra Canyon and Kennedy Smith of Etiwanda have been playing like the All-Americans they are. Chloe Briggs of Ontario Christian is averaging 27.2 points and going after Cheryl Miller's all-time scoring record. Ava Dominguez has been outstanding for Rosary. Mariah Blake is averaging 16 points for unbeaten Westchester.
In the surprise teams category for boys, put down Foothill, Mira Costa and Walnut for exceeding expectations and becoming top 25 teams.
Here's the latest top 20 girls' basketball rankings.
Here's this week's top 25 boys' basketball rankings.
Here's a story from Saturday's fabulous games that featured Harvard-Westlake winning in triple overtime over Bishop Montgomery.
Here's a story showing why Sierra Canyon girls have been so good this season.
Get our high school sports newsletter
Prep Rally is devoted to the SoCal high school sports experience, bringing you scores, stories and a behind-the-scenes look at what makes prep sports so popular.
You may occasionally receive promotional content from the Los Angeles Times.
Freshman phemon
Jason Crowe Jr. of Lynwood came into the week averaging 36.3 points as a freshman basketball player at Lynwood.
He's the real deal in that his scoring are not fluke performances. And this past week, he picked up a scholarship offer from Mick Cronin at UCLA.
Here's a profile and look at other impact freshmen.
Like father, like son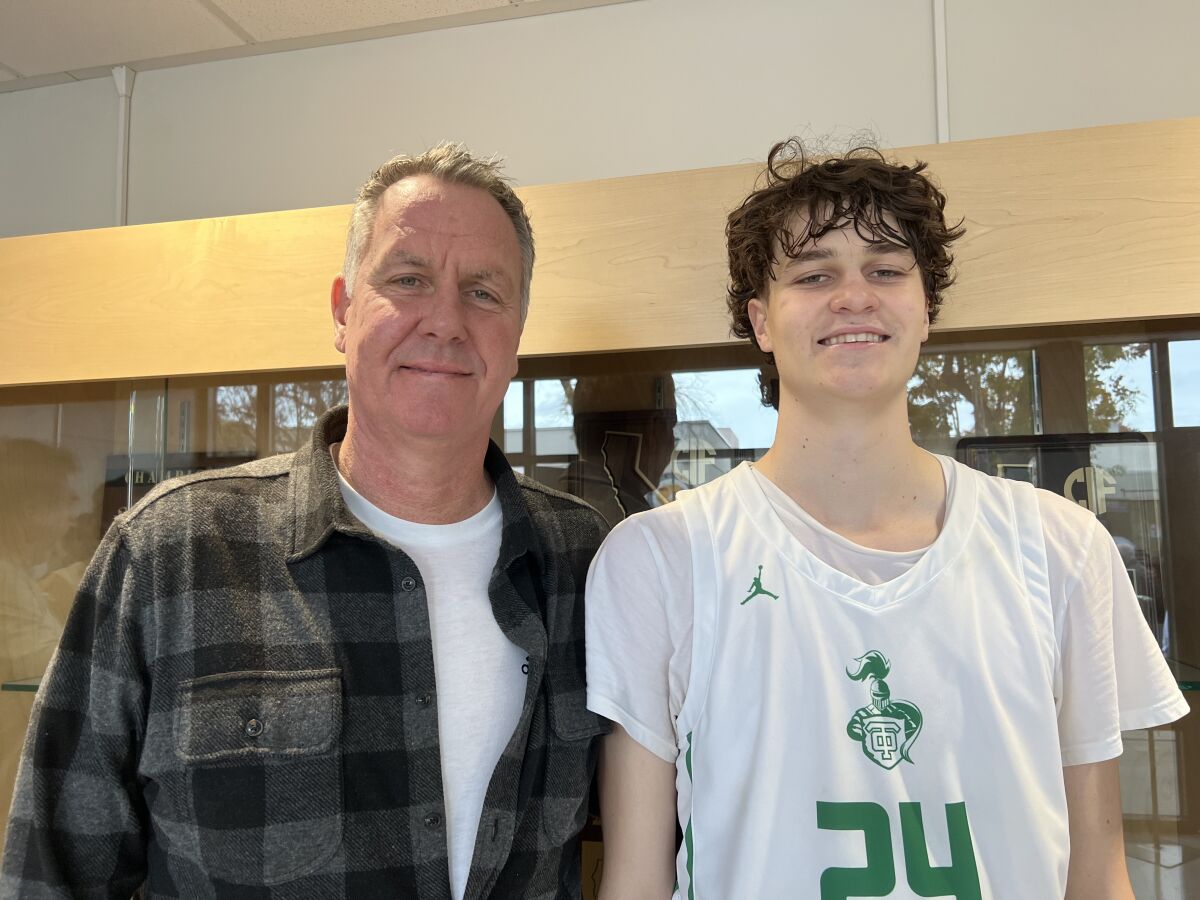 They stood side by side in front of a trophy case, father and son, separated by an inch in height.
Don MacLean, UCLA's all-time basketball scoring leader, is 6 feet 10. His 16-year-old son, Trent, who seemingly grows every time he sleeps, is closing in. Trent has sprouted from 6-5 last season as a freshman to 6-9 as a sophomore.
"Oh man, I did not think I'd get this tall," Trent said. "I thought I was going to be done at 6-5."
Having transferred from Westlake to Thousand Oaks High, MacLean had to sit out more than a month of games this season because of CIF eligibility rules before he made his debut on Dec. 27 for the Lancers at the South Pasadena tournament, and what an impact he made. He put together games of 32, 19, 32 and 14 points.
Andre Chevalier talks
Andre Chevalier has been known to high school basketball fans in the San Fernando Valley for years, first as a player at Reseda Cleveland and Cal State Northridge, then as a coach at Cleveland, Oaks Christian and now Sierra Canyon.
Luca Evans provides a unique profile on what motivates Chevalier and how he's reached this point in his career.
Here's a look at Chevalier's journey.
Winning streak
A 10-game basketball winning streak for de Toledo, a Jewish school in West Hills, has the campus excited.
The Jaguars are 14-2 overall and ranked No. 4 in Southern Section 5-AA.
Michael Galeck, a 5-11 senior guard, is averaging 18 points and Max Creditor, a 5-10 senior guard, is at 14 points.
The team is 1-0 in the Independence League with games this week against Buckley and Santa Monica Pacifica Christian.
2023 resolutions
Yes, it's time to make resolutions for high school sports in 2023.
I thought long and hard on a 17-hour plane ride trying to figure out the things that are important.
Here's a look at ideas and discussions for the coming year.
Soccer
Corona Santiago girls' soccer keeps rolling with a 13-0 record.
Newport Harbor won the Battle of the Bay in girls' soccer over Corona del Mar, getting three goals from sophomore Sadie Hoch. Here's the report.
In boys' soccer, Birmingham showed off its top transfer students in opening West Valley League play with an 8-0 win over Granada Hills. The Patriots have a showdown with El Camino Real on Wednesday at Birmingham. They also won the Oceanside tournament and are 9-1-1.
Servite (10-0-3) remains unbeaten in Division 1 boys' soccer behind junior Joe Moyer.
Football transfer portal
There is no official high school sports transfer portal but maybe there should be one for football, because the transfers are picking up steam for the spring semester.
Players have been coming and going from Sierra Canyon, among others. The Trailblazers have lost quarterbacks Alonzo Esparza (Los Alamitos) and Damon Wright (Bishop Alemany) but picked up linebacker Sirr Bible (Los Alamitos) and defensive back Devin Bragg (Los Alamitos). Yes, you could joke that Esparza was sent to Los Alamitos in a trade for two others.
Quarterback Michael Tollefson has left San Juan Hills for JSerra. Defensive lineman Tyson Parker left Santa Margarita for Crean Lutheran. Freshman defensive back Marcellous Ryan has gone from Gardena Serra to Orange Lutheran. Sophomore receiver Jakob Coleman has gone from Orange to Orange Lutheranl. There's more movement coming, with freshman quarterback Jaden O'Neal expected to leave Los Alamitos and freshman quarterback Boggie Johnson leaving Sierra Canyon.
St. John Bosco is in the running for several high-profiled transfers. And everyone is waiting to see who will replace Bruce Rollinson as head coach at Mater Dei, which could lead to more movement.
Alyssa Thompson news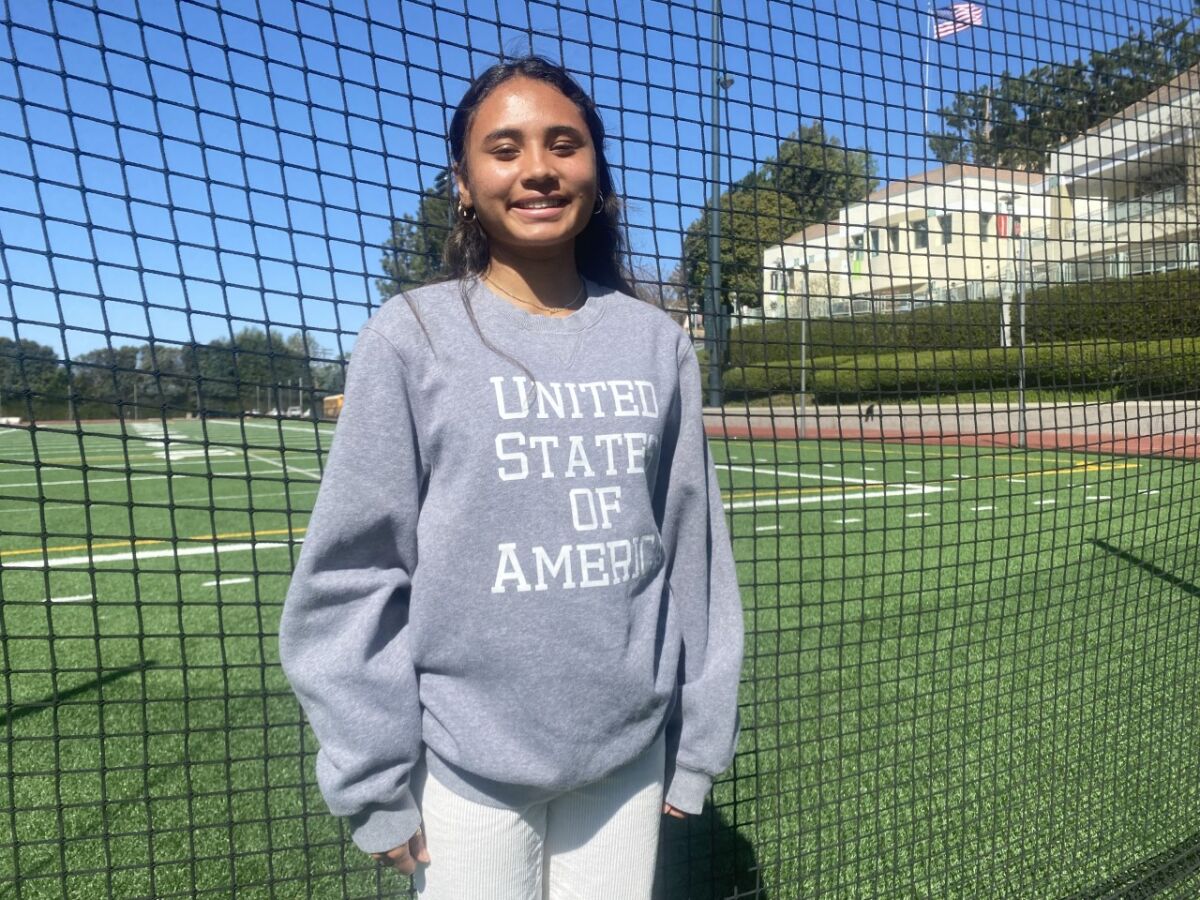 Angel City has acquired the top pick in this week's NWSL draft in a complicated three-team trade involving the Portland Thorns and NY/NJ Gotham FC and will reportedly use the selection to sign Harvard-Westlake girls' soccer star Alyssa Thompson, who has yet to register for the draft.
Angel City sent its natural first-round pick, the No. 5 overall selection; its second-round natural pick in 2024; and $200,000 in allocation money to Portland for midfielder Yazmeen Ryan. The team then sent Ryan and an additional $250,000 in allocation money to Gotham FC for the top pick in the Jan. 12 draft. The trade was made official Thursday.
Here's the report.
Notes . . .
Dan O'Shea has taken the job of football coach at St. Margaret's. He resigned at Corona del Mar after eight years. St. Margaret's is closer to his home. . . .
Sirr Guy Shakir is the new football coach at Castaic. . . .
Former Oaks Christian quarterback Joey Halzle is the new offensive coordinator at Tennessee. . . .
Quarterback Malachi Nelson of Los Alamitos was selected the Gatorade player of the year in California and is one of three finalists for national player of the year. . . .
Junior safety Peyton Woodyard of St. John Bosco has committed to Georgia. . . .
In the good news category, the Southern Section championship basketball games for Open Division and Division 1 will return to Honda Center for the first time since 2017 when they are played at the Orange County facility on Feb. 25. Mira Costa, Edison and Colony will host other finals. . . .
Hall of Famer Gail Goodrich was the honorary captain for the Lakers against the Hawks last week. The 79-year-old is a graduate of Sun Valley Poly and one of the few to win a City Section championship, NCAA championship (UCLA) and NBA championship.
From the archives: Higgins & Simpson
During their days at Chaminade, Keith Higgins Jr.. and KJ Simpson were best friends and acted like brothers. They were a terrific basketball duo. They had to separate after graduation, Simpson going to Colorado and Higgins to Lehigh. But both are doing great playing for their respective college teams.
Simpson is averaging 17.9 points for Colorado. Higgins is averaging 13.9 points for Lehigh.
Here's a 2021 question and answer story celebrating their days together at Chaminade.
Recommendations
From Aspenprojectplay.org, a story on what youth sports can learn from Damar Hamlin's cardiac arrest.
From the Washington Post, a story on the daughter of Hall of Fame basketball player Patrick Ewing taking advantage of her volleyball skills to be one of the first high school athletes in Maryland to receive NIL deals.
From the Agoura Acorn, a story on a Thousand Oaks basketball player returning to the court after dealing with cancer.
Tweets you might have missed
Until next time...
Have a question, comment or something you'd like to see in a future Prep Rally newsletter? Email me at eric.sondheimer@latimes.com, and follow me on Twitter at @latsondheimer.

Did you get this newsletter forwarded to you? To sign up and get it in your inbox, click here.
---
Get our high school sports newsletter
Prep Rally is devoted to the SoCal high school sports experience, bringing you scores, stories and a behind-the-scenes look at what makes prep sports so popular.
You may occasionally receive promotional content from the Los Angeles Times.