Prep Rally: Recapping a great high school basketball title weekend
Hi, and welcome to another edition of Prep Rally. My name is Eric Sondheimer. The high school basketball season has been completed with 12 state championships crowned in Sacramento. Let's take a look at the happenings.
Ring time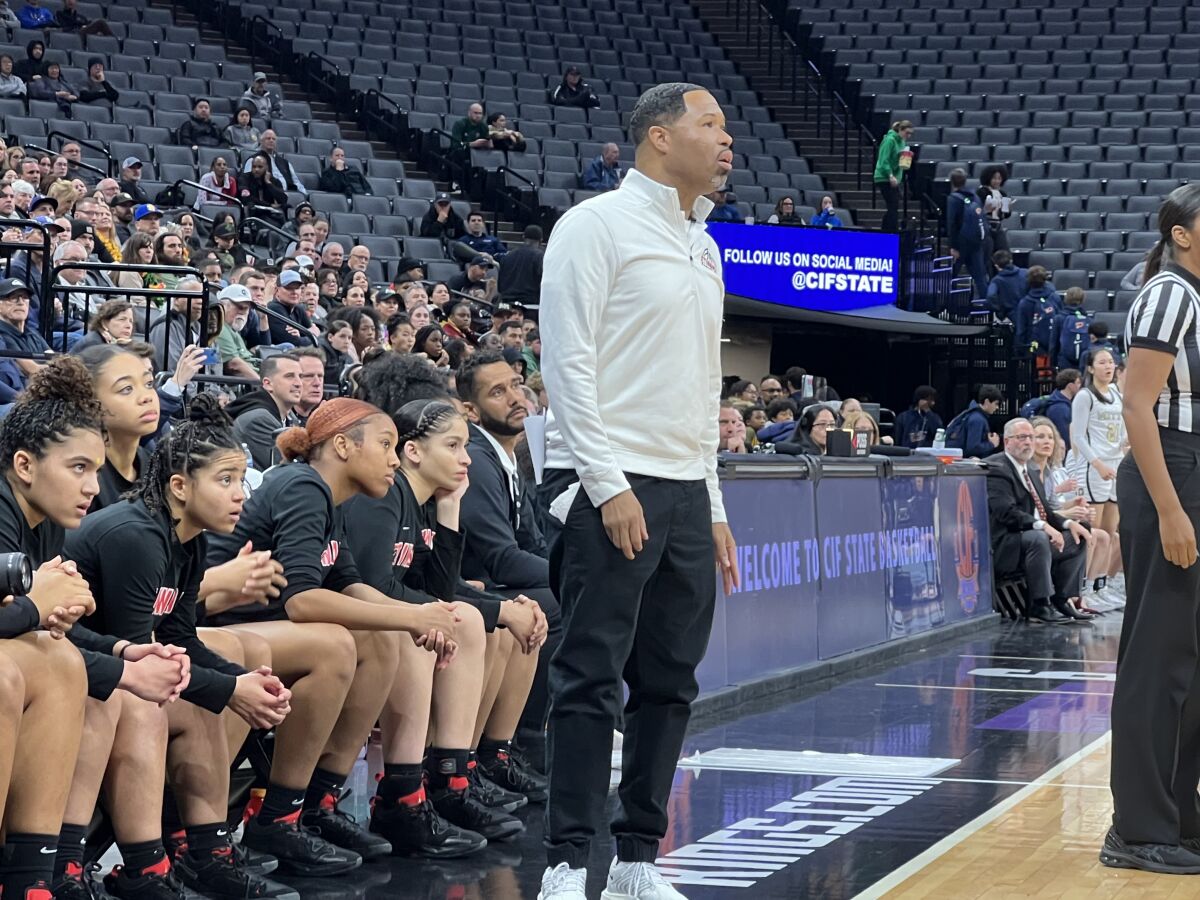 There were 14,034 in attendance at the CIF state basketball championships Friday and Saturday at Golden 1 Center, and they were treated to lots of emotion and some good basketball.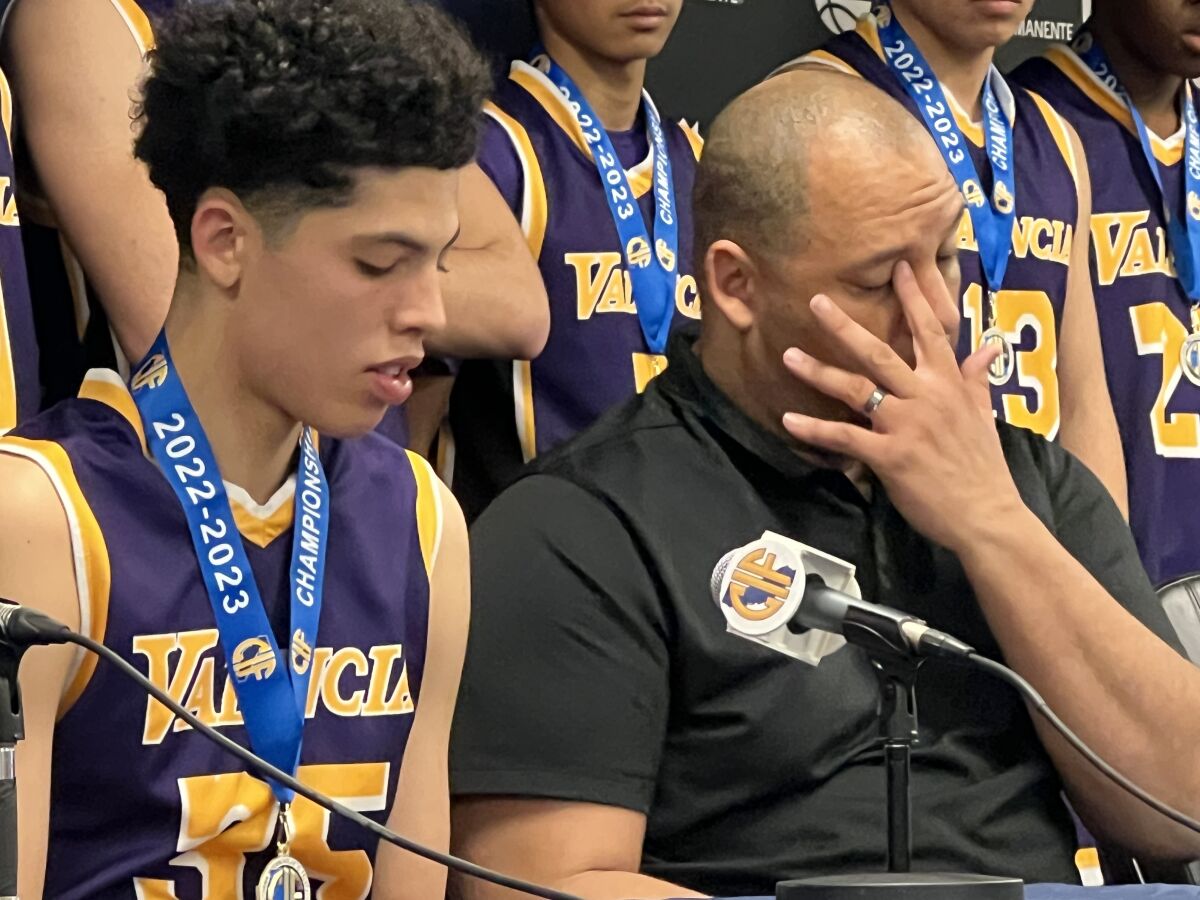 Here's my look at some of the story lines that include two teams winning championships with the son of the head coaching playing starring roles.
There were two terrific Open Division finals. Harvard-Westlake prevailed in the boys, with junior guard Trent Perry, the Mission League player of the year, setting a division record with 10 assists. In Open Division girls, Etiwanda and Archbishop Mitty engaged in the most exciting game of the weekend, with Etiwanda winning on a buzzer beater shot by Jada Sanders.
In Division I boys, Caleb Foster led Sherman Oaks Notre Dame to the title. In Division I girls, Corona Santiago was beaten by Oakland Tech. Valencia won Division IV boys and freshman phenom Jason Crowe Jr. led Lynwood to the Division V boys title.
Los Osos won Division III girls and Shalhevet took Division IV girls.
Get our high school sports newsletter
Prep Rally is devoted to the SoCal high school sports experience, bringing you scores, stories and a behind-the-scenes look at what makes prep sports so popular.
You may occasionally receive promotional content from the Los Angeles Times.
Baseball
It was the strangest week of the baseball season. It starts with Santa Margarita sweeping a three-game Trinity League series against last week's No. 1-ranked Orange Lutheran. Then there was Mater Dei taking two games against No. 2 JSerra. Also falling in Mission League games were Harvard-Westlake to Loyola and Sherman Oaks Notre Dame to Chaminade. And Sierra Canyon and Crespi twice had to stop tied games because of darkness.
There's really no certain No. 1 team but Santa Margarita (6-1) has inherited that ranking by The Times after last week's turmoil. Coach Chris Malec said the Eagles had lost 17 consecutive games to Orange Lutheran through the years and the key was playing good defense (one error) and his pitchers throwing strikes. Blake Wilson is hitting .500 this season for the Eagles.
"They've had a great program for a long time and for us to get a series win was a great week," Malec said.
Now Santa Margarita gets to face JSerra in a three-game series this week, so the competition doesn't get any easier.
The individual performances were many. Ricky Ojeda of Valencia struck out 19 against Saugus. Sophomore Donald Murray of La Mirada had an 18-strikeout performance. Luke Matlock of Cypress struck out 11 with no walks against La Palma Kennedy. Boston Bateman of Camarillo struck out 13 with no walks against Oak Park. Sterling Patick of South Hills threw a shutout against Gahr and is 4-0.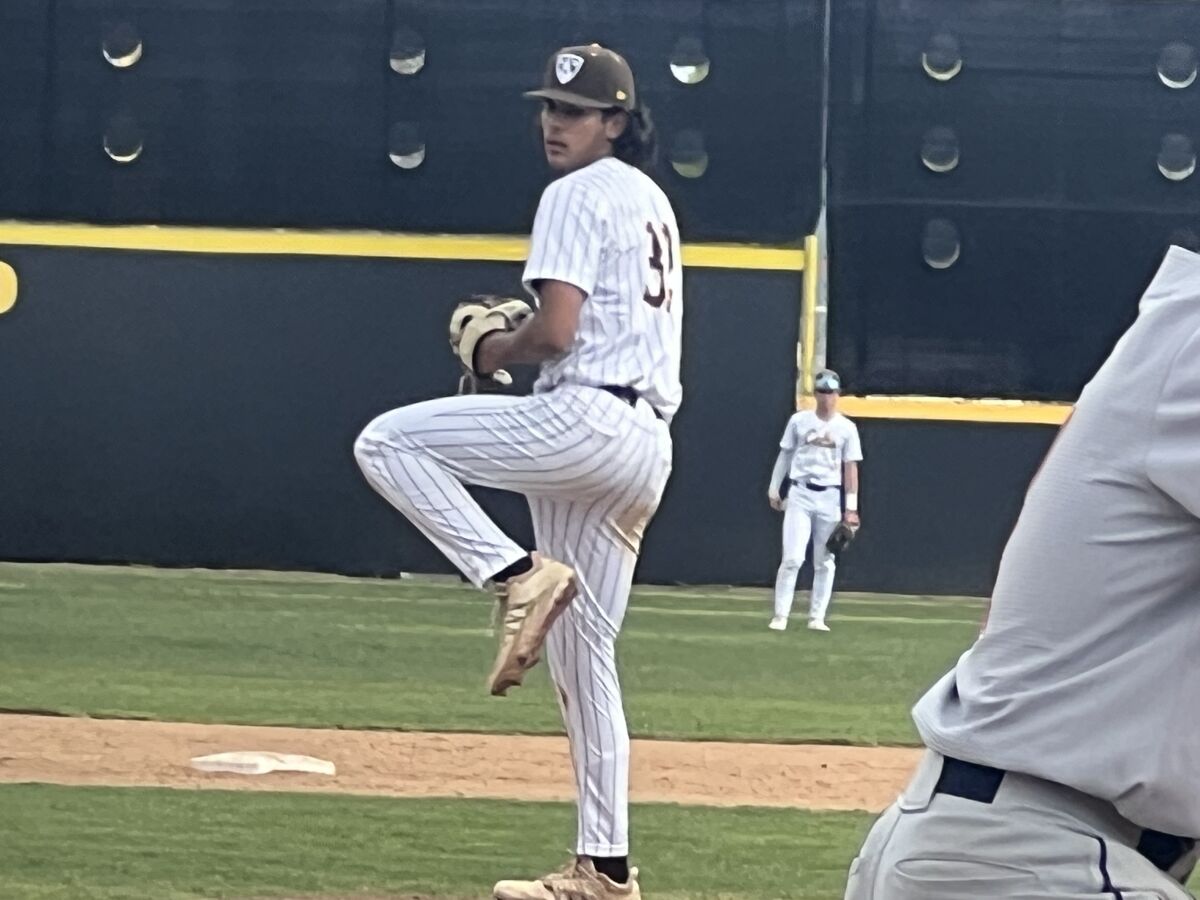 Diego Vazquez of Crespi, only a sophomore, has 16 hits and is batting .516 while also going 2-0 on the mound.
The big series this week is a three-game set in the Mission League between Harvard-Westlake and Notre Dame. The opening game is set for Wednesday night under the lights at Notre Dame. Harvard-Westlake will have pitchers Thomas Bridges and Bryce Rainer to go against Justin Lee and Oliver Boone. Barring weather issues, Harvard-Westlake is hoping Duncan Marsten can make his mound debut on Friday (he was scratched because of rain last week).
Granada Hills won its West Valley League opener over City Section title favorite Birmingham 1-0. It comes as no surprise, since Birmingham has never won a league title under coach Matt Mowry. He prefers City titles.
Softball
There's a new clear No. 1 team in softball in March, and that's unbeaten Norco (11-0), which won the Dave Kops tournament in Bullhead City, Ariz., beating Los Alamitos 13-8 in the championship game.
Sophomore Kimberly Neal came through with 3 1/3 innings of scoreless relief for Norco.
Oaks Christian is 8-0-1 and won a tournament in Las Vegas. Rylee McCoy went three for three with two RBIs for the Lions in an 11-1 win over Reno. Justine Lambert hit a home run.
The top 10 softball teams from CalHiSports.com for The Times from last week:
1. MURRIETA MESA
2. NORCO
3. LOS ALAMITOS
4. OAKS CHRISTIAN
5. MARINA
6. ORANGE LUTHERAN
7. HUNTINGTON BEACH
8. BEAUMONT
9. SANTA MARGARITA
10. ESPERANZA
Five new football coaches
The Oxnard Unified School District had five openings for football coaches and announced all five Friday.
Hueneme is getting former Sherman Oaks Notre Dame offensive coordinator Jake Goossen-Brown, who won a Southern Section title as head coach at Morro Bay and had the leading quarterback in the Mission League last season at Notre Dame.
Oxnard named alumnus Lonnie McCowan as its new coach. He was an assistant coach at Ventura College.
Del Sol, a new school set to open, hired Hueneme assistant James Nelson, who played at Buena, Ventura College and Texas El Paso.
Channel Islands hired Rashad Dunn, who coached last season in Georgia.
Camarillo promoted offensive coordinator Nate Anderson, who was a top assistant to retiring Jack Willard.
Track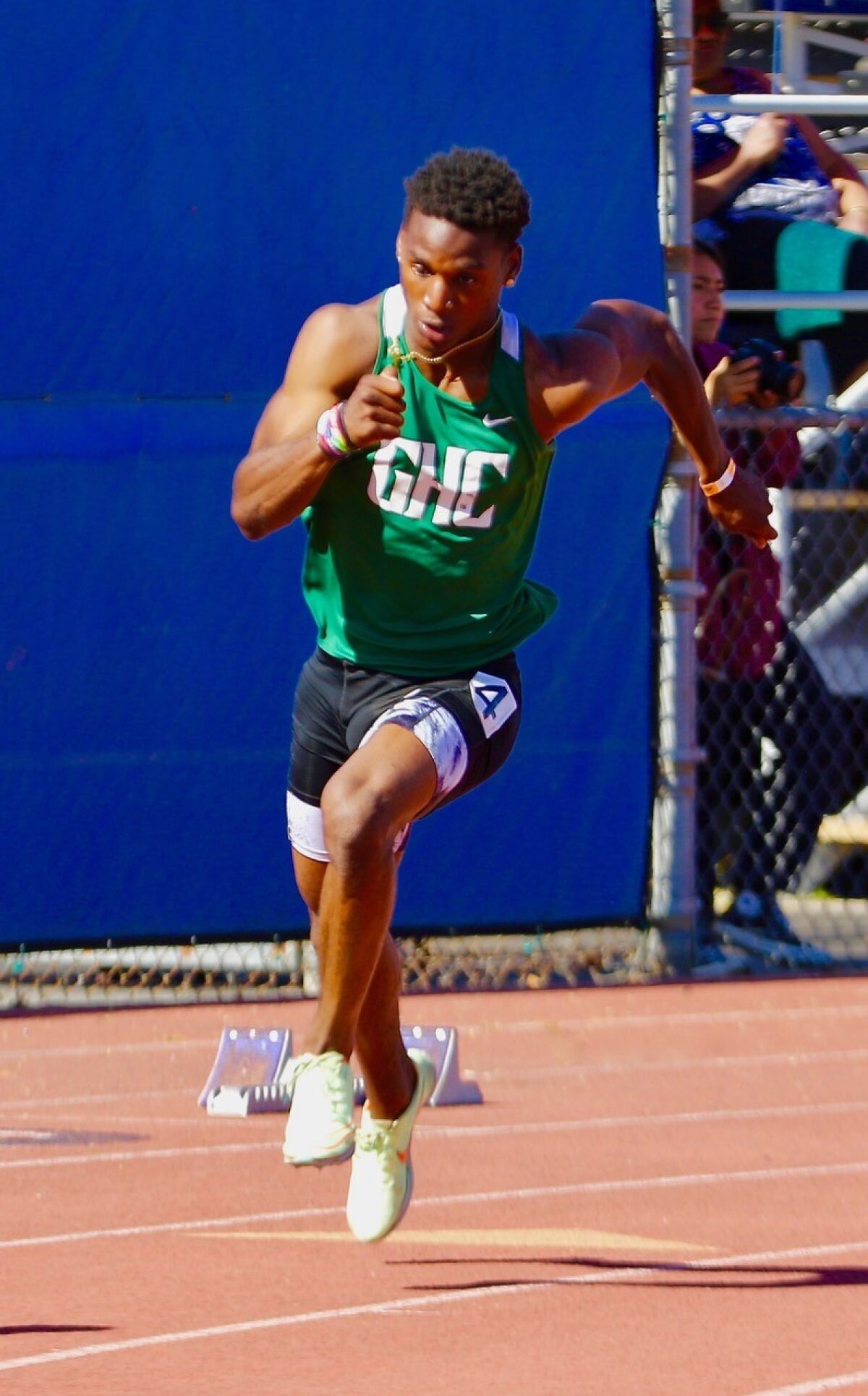 Dijon Stanley is leaving nothing to chance in his final months as a high school student. The Granada Hills senior is headed to Utah to play running back, but before he leaves, he's going to let fans get excited about what he accomplishes running the 400 meters.
In the opening month of the track season, Stanley is already showing he's going to be gunning for times rarely seen. In a 400 race this past weekend in Irvine, he ran 46.40, a career-best time in the nation and one of the fastest 400 meters ever for a City Section athlete. With continued improvement over the course of the season, running in the 45s is more than possible and setting a City Section record that has lasted since the days of Dorsey's David Gettis is very much within reach.
Long Beach Poly's Xai Ricks ran 47.74 at the Redondo Nike Festival.
Cajon's JeyQuan Smith served notice in the 100 meters, running 10.49 seconds at Vista Murrieta.
Carson freshman Christina Gray introduced herself in the girls' 100 at Redondo Union by winning in 12.06. The Colts might have the best group of female sprinters in the state.
Girls' football
The CIF is expected to finalize guidelines for the start of seven on seven girls' flag football this week that will help sections determine how to proceed with the inaugural season this fall.
Brian Seymour, the associate executive director of the CIF, said sections will have options how big the field will be, from 80 by 40 to 70 by 30 and whether to play one day of tournaments or weekly games. Games can have four 12-minute quarters. Still to be determined is how many games will be allowed. Will it be similar to football having a limit over 11 weeks or be like volleyball with no more than 28?
Each section will decide if there's enough teams to have championships. The City Section intends to have a championship.
Lacrosse
Mira Costa's boys lacrosse team considers its 10-9 win over defending Southern Section champion Corona del Mar perhaps the biggest in school history.
Sophomore Nick Marsh contributed three goals and one assist and goalie Simon Ferris had 13 saves.
Corona del Mar came in ranked No. 2 in the Division 1/2 coaches' poll behind Mater Dei.
Notes . . .
Troy Beverly is out as basketball coach at West Covina. . . .
Adam Conover has resigned as girls' basketball coach at Muir. . . .
Daniel Barlage is the new football coach at Norco. He has been an assistant at Riverside City College. . . .
Former L.A. Roosevelt football coach Jose Casagran has come out of retirement to become head coach at Monrovia. . . .
Standout basketball player Marcus Adams Jr. of Narbonne committed to Kansas. . . .
Juju Watkins of Sierra Canyon was selected the Gatorade girls' basketball player of the year from California. . . .
Steve Tolbert has resigned as boys' basketball coach at Campbell Hall, setting the stage for possible big changes at the North Hollywood campus, including Bryce James transferring from Sierra Canyon. Stay tuned . . .
For the 2024-25 releaguing cycle, Calabasas and Westlake will be leaving the Marmonte League for football, replaced by Oxnard Pacifica and Camarillo. . . .
Simi Valley Grace Brethren is returning to 11-man football this fall competing as an independent. . . .
Daniel Hernandez is the new football coach at Ocean View. He had been offensive coordinator at St. Paul. . . .
Nick Sainato is out as boys basketball coach at El Toro. . . .
Dan Murphy has stepped down as football coach at Palm Springs. . . .
Pitcher Makai Moody of Agoura as committed to Cal Lutheran. . . .
After serving as interim coach, Chris Segesman has been named girls' water polo coach at Mater Dei.
From the archives: Kyle Karros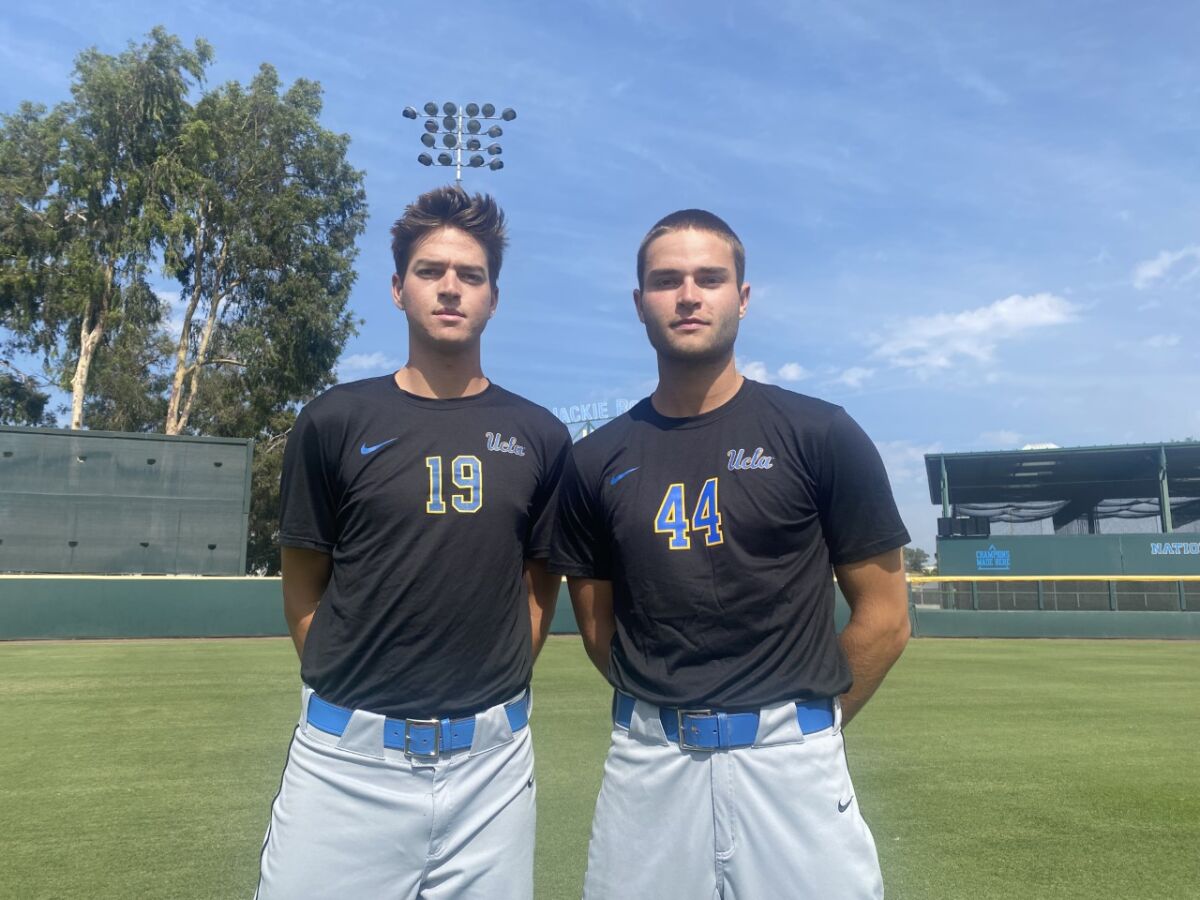 It's the draft year for former Mira Costa standout third baseman Kyle Karros of UCLA, and he's off to a great start. He's batting .359 with four home runs and 19 RBIs.
He is the son of former Dodger first baseman Eric Karros. His brother, Jared, a pitcher, signed with the Dodgers after pitching for UCLA.
Here's a 2018 story about the Karros brothers.
Recommendations
From Ilovetowatchyouplay.com, a story on why a daughter quit sports and what youth parents should know.
From the draftnetwork.com, a story on former Crenshaw standout Daiyan Henley.
From the Los Angeles Times, a story from Bill Plaschke on a deaf, autistic basketball player made the team at Cerritos College.
Tweets you might have missed
Until next time...
Have a question, comment or something you'd like to see in a future Prep Rally newsletter? Email me at eric.sondheimer@latimes.com, and follow me on Twitter at @latsondheimer.

Did you get this newsletter forwarded to you? To sign up and get it in your inbox, click here.
Get our high school sports newsletter
Prep Rally is devoted to the SoCal high school sports experience, bringing you scores, stories and a behind-the-scenes look at what makes prep sports so popular.
You may occasionally receive promotional content from the Los Angeles Times.