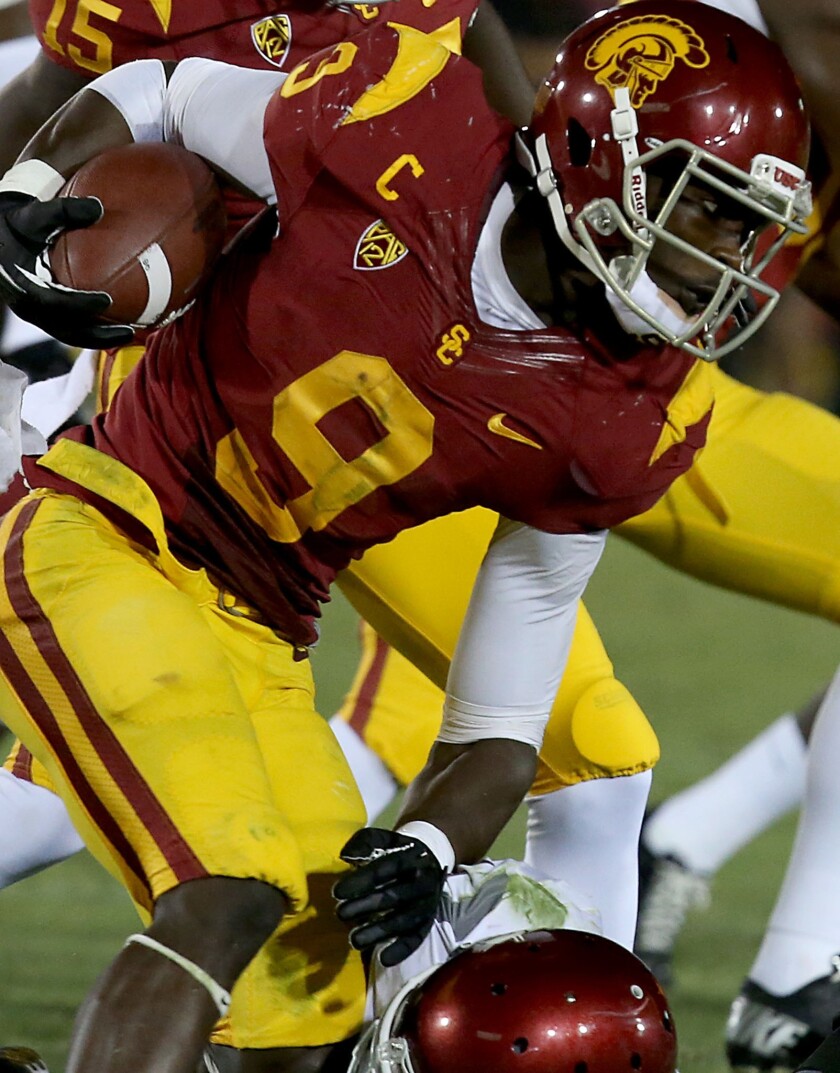 It was regarded as a foregone conclusion: Marqise Lee would finish this season as USC's all-time receptions leader then head off to the NFL.
Lee had caught a school-record 118 passes and won the Biletnikoff Award as a sophomore. The All-American needed only about half as many this season to supplant friend and mentor Robert Woods atop the career receptions list and perhaps make good on former coach Lane Kiffin's proclamation that he was the greatest receiver in Trojans history.
After suffering injuries and enduring Kiffin's firing, Lee fell out of contention to repeat his postseason honors.
But he is within striking distance of Woods' record going into Saturday's Las Vegas Bowl against Fresno State, which is expected to be Lee's final game before the junior makes himself available for the NFL draft.
BOWL TIMELINE: Matchups, schedule and picks
Lee, who has 50 catches this season and needs 12 to break Woods' record of 252, has said that he has not decided whether he will turn pro. He said he would sit down with his family to discuss his future after Saturday's game.
Despite scoring only two touchdowns this season, the 6-foot, 195-pound receiver remains a top prospect.
"He's a first-rounder," said an NFL scout, who requested anonymity because he is not authorized to speak publicly about prospects. "Teams are really going to like the person when they talk to him.
"He's had enough tape over the last couple of years where you can see the talent. He's an impressive player. He's got some savvy to him."
Lee, 22, has already established a USC career record with 3,537 yards receiving. He was the first Trojans player to win the Biletnikoff Award, recognizing college football's top receiver, and finished fourth in Heisman Trophy balloting last season.
"I never expected myself to come in and do things like this," he said.
He also could not have anticipated the tumult of the last two seasons.
Lee described the second half of the 2012 season as the low point of his career. "When you feel like the team is breaking down," he said.
After starting the season ranked No. 1, the Trojans lost five of their last six games, including a defeat by Georgia Tech in the Sun Bowl.
"We just knew we were not going to make it where we wanted to make it," Lee said of the collapse. "That's not to say we stopped playing — it just wasn't working out for us.
"And the Sun Bowl ending wasn't the best ending."
This season also was rough for Lee. He suffered a shoulder injury during training camp, struggled with timing upon his return and then suffered a knee injury in a loss at Arizona State that led to Kiffin's firing.
But 2013 also included what Lee regards as his most memorable achievement — the Trojans' 20-17 upset of Stanford at the Coliseum.
"I've watched that game over five to seven times," he said. "I've never seen anything like all those fans rushing the field."
Lee helped set the stage for the emotional outpouring.
With the score tied in the fourth quarter and the Trojans facing a fourth and two, offensive coordinator Clay Helton called a pass play for Lee, who was hobbling from a shin injury.
"You couldn't have kept him out of that play if you wanted to," Helton, USC's interim coach, said this week.
Lee went in motion from left to right and, after the ball was snapped, was hit by a defender as he ran a slant pattern toward the middle of the field. Quarterback Cody Kessler, who had handled a low snap, fired a pass just as Lee shed the contact.
"I looked up and the ball came and I just caught it," Lee said. "I was like, 'Oh my gosh, I got the first down. We're good.'"
Andre Heidari eventually kicked a 47-yard field goal, sending the crowd into delirium.
Lee hopes to make more big plays Saturday when the Trojans attempt to end their season with a 10th victory.
A 12-catch day is within Lee's range.
Last season, he had a career-best 16 receptions against Arizona and had 12 receptions twice. He has not caught more than eight passes in a game this season.
Lee quickly dismissed his football exploits when asked how he would like to be remembered by USC fans when his career ends.
"He was a nice guy off the field, he handled things he needed to handle, he was very focused and he presented himself well," he said. "I know I'm going to be remembered a little bit on the field, but I want to be remembered off it."
gary.klein@latimes.comTwitter: @latimesklein
Times staff writer Sam Farmer contributed to this report.
---