Manning family values Peyton and Eli's many Super Bowl moments, and dad Archie just enjoys the ride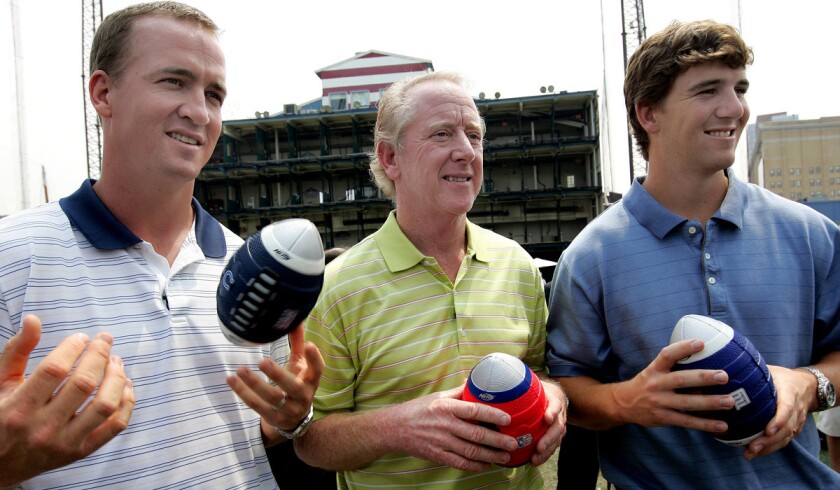 Reporting From SAN FRANCISCO —
They are words of wisdom Archie Manning has dispensed to his quarterback sons Peyton and Eli countless times: Enjoy the journey.
Now, as Peyton prepares to lead the Denver Broncos against the Carolina Panthers in Super Bowl 50, Archie is determined to take his own advice.
"Olivia and I sit here and pinch ourselves," he said, referring to his wife. "We can't believe we've had a son in six out of the last 10 Super Bowls."
Peyton is playing in his fourth Super Bowl — two with Indianapolis, two with Denver — and has a chance to win his second and catch his younger brother, Eli, who has won two rings with the New York Giants.
"If we've been to six Super Bowls as a family, that means we've won six championship games," Archie said. "I think those memories almost jump out more than the Super Bowl — of course we won all those games."
The first of those wins was Peyton's Colts coming back from a 21-3 deficit at home to beat the Patriots for the AFC championship in January 2007, setting up a Super Bowl victory over Chicago.
"The first thing that comes to mind [from that conference title game] is when we were trying to get back to Peyton's condo, and people were running through the streets of Indianapolis," he said. "Running. Through. The streets. I couldn't get over it. I was in a police car and we couldn't move. He said, 'I don't know how we're going to get through this.' I said, 'Don't worry about it. Let's just watch it.'"
A year later, Eli led the Giants to a 23-20 overtime victory in Arctic temperatures at Green Bay. The thermometer showed minus-1, but the wind chill was minus-23, making it the second-coldest game in the history of the Packers. (The wind chill dipped to minus-46 in the 1967 "Ice Bowl" against Dallas.)
"I just remember the cold," Archie said. "I remember [the deep-red color of] Tom Coughlin's cheeks. And it was Brett Favre's last game" with the Packers.
In January 2010, the Colts played host to the New York Jets for the AFC title, rallying from an 11-point deficit in the first half to post a convincing 30-17 win. Coach Rex Ryan had his Jets convinced they were going to the Super Bowl, and rookie quarterback Mark Sanchez had put together a strong playoff run to that point.
For Archie, the strongest memories from that time were of the Super Bowl matchup between the Colts and his hometown New Orleans Saints, his old team. The difficulty of that uncomfortable pairing lingers with him still — and not just because Indianapolis wound up losing, 31-17.
"That was the weirdest, most peculiar thing our family has ever gone through," he said. "That one was hard. You're not torn between who you pull for. You pull for your child. But the whole thing, we couldn't enjoy with all the Saints fans and all our friends because our son's playing for the other team.
"To be honest, when the Saints won, people are elated but they're not always real courteous."
Two years later, it was Eli's turn again. The Giants played at San Francisco, and wound up winning in overtime, 20-17, kicking a field goal after San Francisco muffed a punt deep in its own territory.
"I don't think I ever remember seeing a more physical football game," Archie recalled. "The whole game was them knocking the stew out of Eli, of the Giants knocking the stew out of them. It was just so physical, back and forth."
There was a poignant off-the-field memory from that game, too.
"Peyton surprised us and showed up," Archie said. "He said he wasn't coming. Then somebody comes down and says, 'Peyton's down in Roger Goodell's booth.' He flew out there with some other Colts players."
For the Manning parents, the closeness of their sons — Cooper, Peyton and Eli — is more important than anything the boys have accomplished in football.
"The way they get along is one of my life's great pleasures," Archie said. "I see some siblings that don't speak to each other or aren't close. I don't have but one sister and we're close. Olivia is the same way with her family. These three, they don't see each other that much but they do have fun with each other."
Finally, the Broncos beat the Patriots in two of the last three AFC title games — 26-16 two years ago, and 20-18 last week.
Archie said he was too nervous to watch the end of the most recent game, stepping out of the luxury suite filled with about 50 friends and family members to catch the last few minutes on the radio broadcast playing in the hallway.
"I wasn't alone out there," he said. "There were some more from our suite out there, too. I've got a lucky spot out in that hall."
The way he sees it, Archie has found a lot of lucky spots in his life as a dad.
"There's a song, one of my favorite songs and favorite themes," he said. "It's by Kris Kristofferson. It's, 'Why Me Lord.' I think that a lot."
---
Get our high school sports newsletter
Prep Rally is devoted to the SoCal high school sports experience, bringing you scores, stories and a behind-the-scenes look at what makes prep sports so popular.
You may occasionally receive promotional content from the Los Angeles Times.