Who's MVP of NFL so far? Voters leaning toward Chiefs' Patrick Mahomes over Rams' Todd Gurley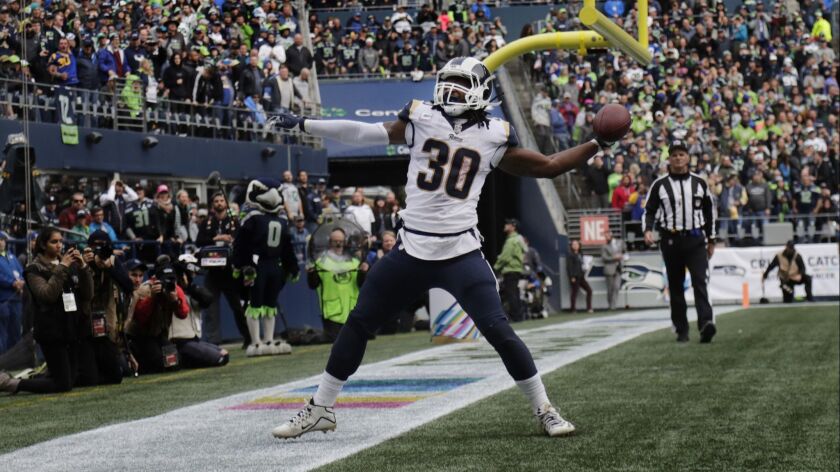 Everyone chases Todd Gurley on the football field, but it seems the Rams' running back has some catching up to do.
Patrick Mahomes isn't only putting up jaw-dropping numbers — 26 touchdown passes with six interceptions through the first eight games — but also the Kansas City Chiefs quarterback appears to be taking a big lead in the NFL most-valuable-player race.
The Times did an informal survey of the 2017 Associated Press voters — there are 50 of them in media, and they generally stay the same from year to year — and of the 34 respondents, 18 picked Mahomes and 10 chose Gurley.
New Orleans quarterback Drew Brees received two votes, Rams quarterback Jared Goff got one, and three of the voters said the field was far too close to call, invoking other possibilities, such as Rams defensive tackle Aaron Donald, Minnesota receiver Adam Thielen, Chargers quarterback Philip Rivers, and Houston defensive lineman J.J. Watt.
It's a purely academic exercise, of course. There's no such thing as a midseason MVP, and with eight games to go — and nine games for the 15 teams that already have had their bye — this derby is only in the backstretch. A lot can and will happen in the second half of the season.
Still, it's instructive to know that this season is following the pattern of so many before it in the quarterback-driven NFL. Ten of the last 11 MVPs were quarterbacks, with the lone exception being Adrian Peterson in 2012, when the former Vikings star came back from a torn ACL to run for 2,097 yards.
Mahomes and Gurley will be on opposite sidelines Nov. 19 when the Rams and Chiefs play in Mexico City, by far the best international game (on paper) the NFL has ever had.
The Times does not allow its reporters to vote on awards, but Gurley would be my choice. The defending NFL offensive player of the year leads the league with 1,151 yards from scrimmage and 15 touchdowns (11 rushing, four receiving) for the only undefeated team.
His decision last Sunday to take a dive at the four-yard line and allow his team to run out the clock, rather than score another touchdown — Green Bay was going to let him walk in — showed his poise under pressure and his team-first mentality. That should have won him some voters.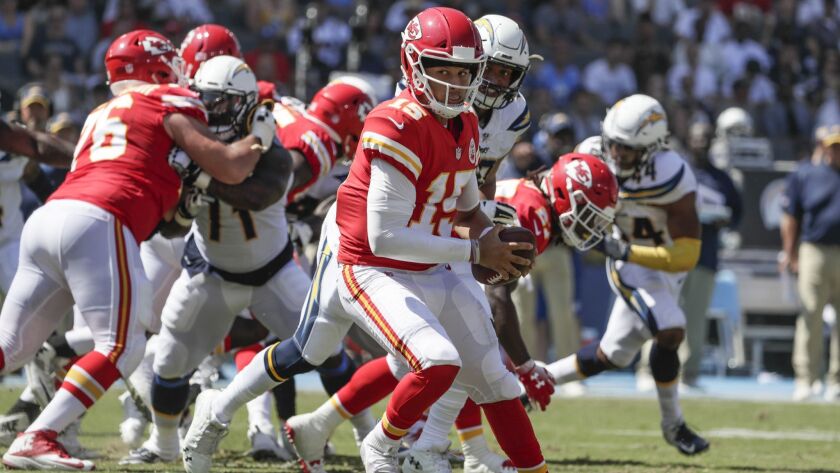 No question, Mahomes is having a phenomenal year. But with its special rules and protections, this league is set up for quarterbacks to pile up the yardage and touchdowns. Currently, nine starting quarterbacks have a passer rating of 100 or better, and 10 if you count intermittent Tampa Bay starter Ryan Fitzpatrick.
That's not to discount what Mahomes is doing, only to underscore that good quarterbacks can put up numbers that in another era would have meant a fast-pass to Canton. What's more, Mahomes is surrounded by a cast of playmaking rock stars: Kareem Hunt, Tyreek Hill, Sammy Watkins, and Travis Kelce.
If anyone needs a reminder of what a great running back means to an offense, look how Dallas quarterback Dak Prescott and the Cowboys' offense dropped off last season during Ezekiel Elliott's suspension. By some measurements, the Cowboys went from the league's most to least productive offense overnight.
Voter Jarrett Bell of USA Today said he's leaning toward Gurley at midseason, and that the Rams' back was his MVP last season. "Although Gurley's on track to put up even better numbers this year," he wrote, "this is not about the stats. It's about the versatility of the impact he brings to the Rams' offense."
Steve Cohen of SiriusXM concurs: "Todd would get my vote. He's scored 96 points, and would have had another touchdown but was smart enough not to. Kareem Hunt is the next-highest-scoring player with 60 points. What a disparity!"
Wrote Charean Williams of ProFootballTalk.com: "I probably would go with Gurley if I had to vote today. I think he means more to his team than anyone right now ..." She noted that the Chiefs have "tons of weapons" and that "at this point last season, [former Kansas City quarterback] Alex Smith had 15 touchdowns and no interceptions."
That said, almost twice as many of the voters surveyed said Mahomes is their midseason choice.
"I have Mahomes 1, Gurley 2, and Brees 3 at this point," NBC's Tony Dungy said. "I think Mahomes has done so much to take his offense to a high level. The Chiefs do not have a quality defense, and he's the reason they have only one loss. Gurley has been outstanding. He's been the best player on a tremendous offense, but I think if you took him out of the Rams' lineup they would still be potent and still win at a high level. If you take Mahomes out of the Chiefs lineup there would be more of a drop- off."
Adam Schein of CBS called the Chiefs quarterback "majestic," and wrote: "He's a superhero. Mahomes' talents and smarts are off the charts and he's put everything together for Andy Reid's team. Mahomes covers for a shaky KC D."
Still others who backed Mahomes see the race as neck-and-neck at the midway point.
Wrote NBC's Peter King: "My favorite after eight weeks is Patrick Mahomes, narrowly, over Gurley and Brees. But that could change by nightfall Sunday. I could change my winner based on the outcome of Rams-Saints Sunday — and based on whether Brees or Gurley is superb in a winning cause."
There was a touch of sentimentality in the vote of ESPN's Suzy Kolber, who noted the New Orleans quarterback is the league's all-time leader in passing yards, has 502 career touchdowns, and is leading a 6-1 team.
"Drew Brees!" she wrote. "What more does he have to do to win it?"
The night is young.
Follow Sam Farmer on Twitter @LATimesfarmer
---
Get our high school sports newsletter
Prep Rally is devoted to the SoCal high school sports experience, bringing you scores, stories and a behind-the-scenes look at what makes prep sports so popular.
You may occasionally receive promotional content from the Los Angeles Times.