Rams select Michael Sam, NFL's first openly gay player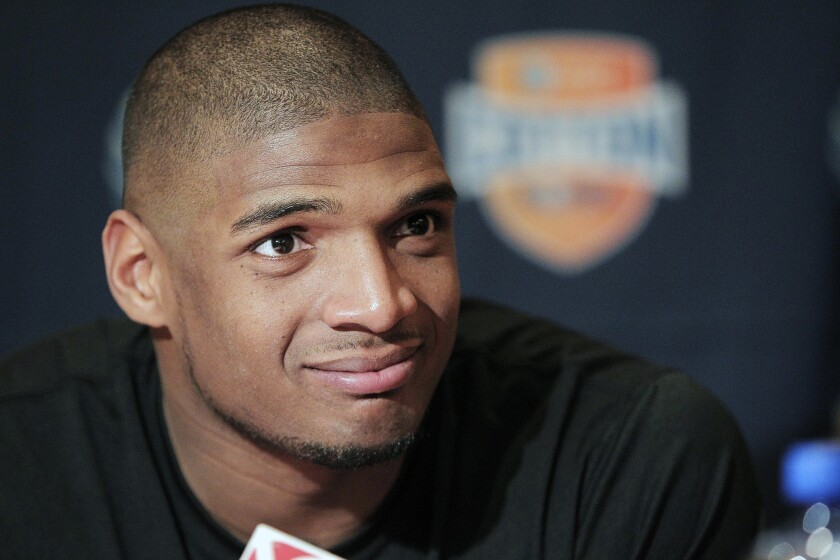 Reporting from New York —
It took nearly the entire draft, but Michael Sam and the NFL finally made history.
The St. Louis Rams used the 249th pick in the seventh round to select Sam, who has officially become the league's first openly gay player.
Being picked by St. Louis means Sam will stay in the state where he played college football as a standout at the University of Missouri.
Sam, the 2013 defensive player of the year in the Southeastern Conference, came out as gay to his teammates before last season. He disclosed his sexual orientation in media interviews this year. At the NFL scouting combine in February, he drew the largest media contingent that anyone there could recall.
"Thank you to the St. Louis Rams and the whole city of St. Louis. I'm using every ounce of this to achieve greatness!!" Sam tweeted after he was selected, including a picture of himself wearing a Rams cap and a pink polo shirt.
As productive as he was in college, Sam was generally regarded by NFL evaluators as a tweener, someone too small to be an effective defensive end, and too slow to drop into pass coverage — at least at an elite level. He was widely projected to be a late-round draft pick or free agent, despite his impressive credentials.
Sam granted almost no media interviews in the days before the draft, and he watched Rounds 4 to 7 on Saturday in San Diego with friends, family and his agent. There was a TV camera capturing the scene when Sam was selected. Like many players before him, Sam cried as he got the news over the phone.
"I knew I was going to get picked somewhere," Sam said. "Every team that passed me, I was thinking how I'm going to sack their quarterback."
Rams Coach Jeff Fisher said during an interview with ESPN: "In the world of diversity we live in now, I'm honored to be a part of this."
Later at a news conference, Fisher said he was "surprised [Sam] was there in the seventh round. When you look at the ability and the grade and our ability … we were able to take advantage of the compensatory picks there. That's a football player with ability that you just can't pass up. We discussed it privately … and felt like it was the right thing to do at the right time."
Mike Mayock, a respected draft analyst for NFL Network, said in February he expected Sam to be selected in a middle round or later, but that some teams would shy away.
"If I were a team, I'd hope that I would look at him and say, 'OK, this is what he is [as a player] and draft him in that range if he's available,"" Mayock said. "I think some teams are going to say, 'Hey, I give the kid credit for coming out. I'd like a tough-minded individual like that in my locker room.'
"But I think there will be other teams that are going to look at it and said, 'Do I want that distraction in my locker room?'"
Before the first round Thursday, NFL Commissioner Roger Goodell said in an ESPN interview he was pulling for Sam to be selected at some point in the three-day draft.
"We like to say the NFL is the ultimate meritocracy," Goodell said. "I have great respect for Michael, his courage, his decision to come public, and I'm optimistic he can get that opportunity, and hopefully he can play at this level."
In selecting Sam, the Rams used a compensatory pick, which cannot be traded. There were a total of 256 players selected in the three-day draft.
Many players have made it in the NFL without being drafted. In fact, toward the end of the draft, it's arguably preferably for a player not to be selected, so he can cut a deal as a free agent with a team whose needs coincide most closely with what he offers.
According to STATS, there were 530 undrafted free agents on NFL rosters during Week 17 of last season, and 404 players who had been drafted in rounds five through seven. However, the pool of free agents is obviously much larger than the finite number of players who can be selected in those rounds.
"There's an old saw in scouting that says when you're [near the end of the draft] and the talent level isn't outstanding, stay with the numbers, draft numbers, meaning people who have good 40 times, good height, good weight, good speed, who meet the parameters," former NFL executive Bill Polian said on ESPN. "And then sign as a free agent after the draft toughness and attitude."
Former NFL punter Chris Kluwe, in part known for his outspoken advocacy on behalf of gay rights, tweeted at the end of the sixth round: "Michael Sam still not drafted? Clearly teams are worried about the fact a gay player terrifies them.… I mean his intangibles."
Veteran NBA center Jason Collins was the first male athlete from a major U.S. sport to come out as gay, doing so after the 2012-13 season. He signed with the Brooklyn Nets in March.
Collins, who sent a congratulatory text to Sam when he was selected, told ESPN: "I think it's great. I'm looking forward to seeing him progress throughout his career.… I think it's a great day for the NFL, and for Michael and his family."
Derrick Gordon, a University of Massachusetts basketball player, last month came out as gay. He has at least one season remaining at UMass.
---
Get our high school sports newsletter
Prep Rally is devoted to the SoCal high school sports experience, bringing you scores, stories and a behind-the-scenes look at what makes prep sports so popular.
You may occasionally receive promotional content from the Los Angeles Times.