Some of these seven new NFL coaches are old hands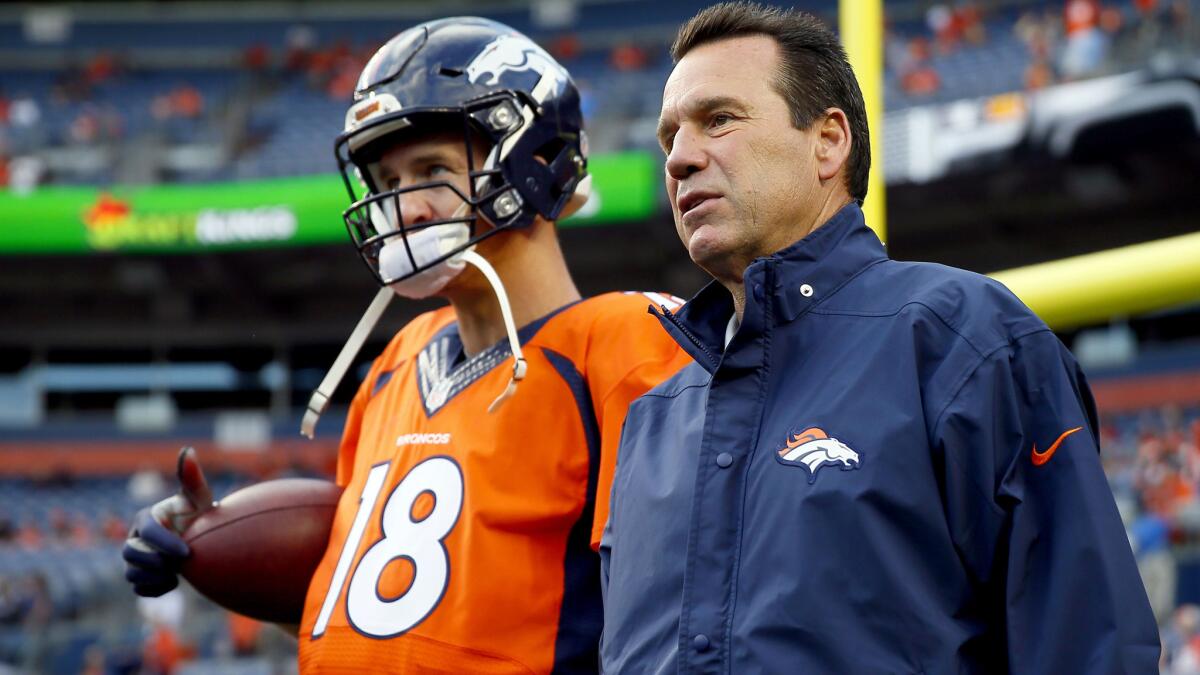 There are seven new coaches in the NFL this season, and six of those have backgrounds rooted in defense.
And the one offensive coach? His team faces the biggest offensive uncertainty of the bunch.
Gary Kubiak returns to Denver, where he once backed up Hall of Famer John Elway, and has installed his run-based scheme, one that on the surface seems like a bad fit for Broncos quarterback Peyton Manning.
It's a system in which the quarterback doesn't do much changing of plays at the line of scrimmage — Manning's specialty — and puts him under center, as opposed to back in the shotgun.
That puts the old-dogs-new-tricks theory to the test, as it's back to the drawing board for Manning, 39, who was on a most-valuable-player pace last season but cooled considerably when then-coach John Fox put renewed emphasis on running the ball.
Elway, the club's top football executive, said he went through a similar transition to Manning's late in his career with the Broncos, when it was no longer all about passing as he shared top billing with running back Terrell Davis. That resulted in Elway ending his career with back-to-back Super Bowl wins.
"You're just as valuable now at 38 or 39 as you were at 25," Elway said. "But your role changes, and what you can provide the team to make it better is what changes. Getting used to that adjustment sometimes can be difficult. But so far, so good with Peyton. He's buying in with what's going on, and understanding that."
Kubiak, the former Houston Texans coach who last season was Baltimore's offensive coordinator, dismisses talk that Manning is a misfit in his scheme.
"We're going to do what he does best within that scheme," he said. "To be honest with you, that's not even a factor for me. It's been fun for the two of us to work together, and for him to say, 'I like doing these things under center, these formations, these types of things.' We're going to work on them, and I'm going to listen.
"There are going to be some things thrown out the window, and some things where it's like, 'Hey, I really like this. Let's do this more.' That's what we've been working on."
The other six new coaches have their share of hurdles too:
John Fox, Chicago
One of four new coaches who have been NFL head coaches elsewhere, Fox directed both Carolina and Denver to Super Bowls.
Chicago's third head coach since 2012, he replaces Marc Trestman, who went 13-19 in two seasons and was part of a late December housecleaning. The Bears have failed to make the playoffs the last four seasons.
Fox, who was fired by Denver, took offensive coordinator Adam Gase with him on the way out. Fox also hired Vic Fangio as defensive coordinator, the coach who drew up those schemes for San Francisco's most recent Super Bowl team.
A big challenge for the Bears' staff will be helping restore some pride to a defense that was once emblematic of the city.
"They have a lot to prove on defense in Year 1 under John Fox," ESPN's Jon Gruden said. " But knowing Fox and Fangio, they'll find a way to scrap and be a good defensive team. They'll compete and make it tough on offenses with all the different things that they do."
Todd Bowles, N.Y. Jets
Returning to the Jets was a homecoming for Bowles, who began his NFL coaching career there in 2000 as the defensive backs coach. His odyssey then took him to Cleveland, Dallas, Miami, Philadelphia and Arizona. In three of those stops, he worked under Hall of Fame coach Bill Parcells.
Whereas most new coaches are given some leeway to turn around a team, Bowles is facing some lofty expectations. Yes, the Jets are coming off a 4-12 debacle, but they have a seasoned roster and, according to ESPN, the highest cash payroll in the league.
Then again, the Jets also are missing their would-be starting quarterback. Geno Smith was punched by a teammate this summer and suffered a broken jaw, meaning journeyman Ryan Fitzpatrick gets the nod for that job.
Bowles ran a more demanding training camp than his predecessor, Rex Ryan, with longer and tougher practices.
"It's been about getting this team out of its bad ways and setting the pace for this team to be where it needs to be, and what we expect us to be," guard Willie Colon told NJ.com. "We don't want to be just a good competition. We want to be a team that's feared, and we want teams to respect us."
Added Colon: "I like Bowles from the standpoint that he knows football. He came from a good football bloodline. You can feel it. You see it. People walk different when they're around him, and it feels good. It's just right."
Dan Quinn, Atlanta
Like Jacksonville's Gus Bradley before him, Quinn parlayed his job as Seattle's defensive coordinator into one as a head coach elsewhere. The Seahawks reached the Super Bowl in both of his years as defensive coordinator.
In 2014, Quinn's defense gave up a league-low 15.9 points per game. The Seahawks also yielded the fewest yards and yards passing, and were third against the run.
The Falcons are badly in need of a defensive makeover. They gave up a league-high 398.3 yards per game last season and were worst on third down, allowing opponents to convert 46.8% of the time.
It's so far, so good for Quinn — at least in the eyes of Falcons owner Arthur Blank.
"I think you can see the energy of the coaches transmitting to the player," Blank told reporters recently. "That's exactly what we hoped for and that's exactly what we're seeing."
Jack Del Rio, Oakland
The Raiders have had 12 head coaches since returning to Oakland in 1995, and Del Rio is the most authoritative since Gruden (nine coaches ago).
A former head coach in Jacksonville, Del Rio was most recently defensive coordinator in Denver. In his three seasons with the Broncos, his defense was ranked first in the AFC and third in the NFL in yards allowed (317.3).
He takes over a team with a excellent young quarterback in Derek Carr, a solid receiving corps that includes first-round picks Michael Crabtree and Amari Cooper, a promising back in Latavius Murray, and a defense that's on the rise.
"Jack Del Rio is the right coach for them," former Raiders coach John Madden told The Times.
"He's going to make them legitimate. They lived on the myth that the Raiders are tough and all that for a long time, when they weren't. Jack sees through that myth."
Jim Tomsula, San Francisco
Tomsula, the 49ers' defensive line coach for the last eight seasons, makes a big step up, not only in taking over as head coach but also trying to fill the shoes of the highly successful Jim Harbaugh.
Since 2007, San Francisco's defense ranks second in the league in rushing yards allowed (3.72). In 2011, the team set an NFL record by not allowing a rushing touchdown in the first 14 games of the season. Tomsula's line was a big part of that.
These are the new-look 49ers, however, with all sorts of defensive standouts no longer on the roster. Gone are defensive leaders Patrick Willis and Justin Smith, the troubled Aldon Smith, and rising-star linebacker Chris Borland, who decided to retire after his outstanding rookie season.
49ers owner Jed York called Tomsula "clearly the right man to lead this team," and players say the coach's personality is inspiring.
"I'm not sure I've ever been around a guy that loves the game as much as he does," tackle Erik Pears told the San Jose Mercury News. "He really has a fire for it. It's contagious."
Rex Ryan, Buffalo
If they were looking for a splash, the Bills made one in hiring the bombastic Ryan, who spent the last six seasons as coach of the Jets.
In each of his first two seasons with the Jets, Ryan led them to the AFC championship game. Before that, he spent 10 seasons molding the stellar defense of the Baltimore Ravens.
Ryan is a risk-taker, and that shows in the free agents he signed, among them guard Richie Incognito — at the center of the Miami Dolphins bullying scandal in 2013 — and moody receiver Percy Harvin.
"He's got a magnetic personality," Bills General Manager Doug Whaley said of Ryan. "It's a breath of fresh air."
Get our high school sports newsletter
Prep Rally is devoted to the SoCal high school sports experience, bringing you scores, stories and a behind-the-scenes look at what makes prep sports so popular.
You may occasionally receive promotional content from the Los Angeles Times.