Ask Farmer: Why don't announcers explain what terms like 'two deep' and 'RPO' mean?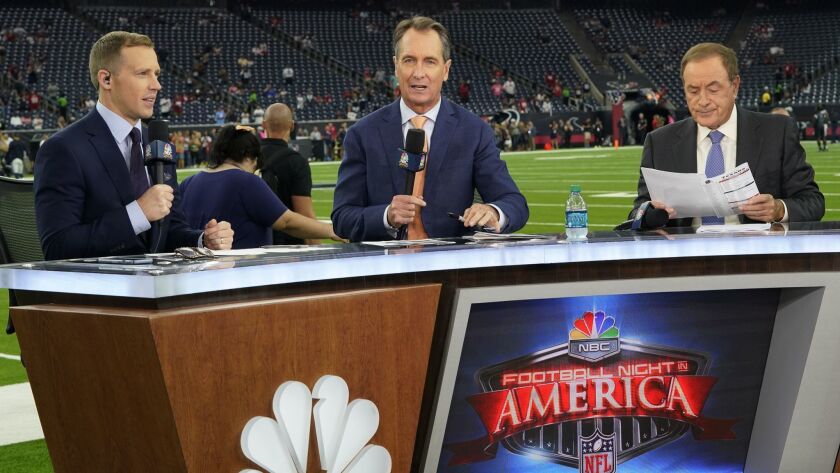 Have a question about the NFL? Ask Times NFL writer Sam Farmer, and he will answer as many as he can online and in the Sunday editions of the newspaper throughout the season. Email questions to: sam.farmer@latimes.com
I represent athletes and understand football vernacular, but I know a large part of viewership has no idea what terms like "two deep" and "RPO" mean. Why don't announcers explain what those terms mean?
Leigh Steinberg
Newport Beach
Farmer: Ah, yes, shop talk. So many insider terms, so stultifying to the millions of viewers whose eyes glaze over at the mention of them — RPO means Run/Pass option, but it might as well mean Really Pretentious Observation. When it comes to play-by-play announcers, nobody tops NBC's Al Michaels. So I turned to him for his philosophy on how much "two deep" is too deep.
"Cris Collinsworth and I don't have a hard-and-fast rule, but we know when we're going over the top with jargon," Michaels said. "We laugh about it. You can walk into any mall in this country, walk around, talk to 100 people.
"Now, can you tell me how many people know what a '3-technique tackle' is? Maybe one. You don't say, '3-technique tackle.' You say, 'This is a defensive tackle who lines up between the offensive guard and the tackle.' It's as simple as that.
"The term 'Tampa 2' is the kind of thing that's been used so much for so many years by so many analysts, that probably more than 1% would know what it is. But why don't you just say, 'They play two safeties that are deep'? All of this stuff can be utilized in terms of analysis by explaining what it is.
"We do a game in front of 20 million people. We're not doing it for football coaches. This is not a clinic. Our philosophy has always been to bring the casual fan into the game. We have this big tent, 'Come on in! We're not excluding you.' When you get too technical, you're excluding them."
A broadcaster who leans too heavily on those terms of art? A shutdown commentator.
::
If a team takes the opening kickoff in overtime and kicks a field goal as time expires, is the game over or is the game extended?
Enrique Martinez
Atwater Village
Farmer: If a team were to possess the ball for an entire overtime period, then kick a field goal at the end, that team would win. There wouldn't be a sudden-death period tacked on or a way for the other team to have a possession.
It's the only way a team can be denied a possession in overtime, yet lose by a field goal and not a touchdown.
Of course, the odds of that happening are slim, but it's more likely now that the overtime period has been reduced to 10 minutes.
---
Get the latest on L.A.'s teams in the daily Sports Report newsletter.
You may occasionally receive promotional content from the Los Angeles Times.