Ask Farmer: Why are NFL goal posts yellow, and not blue or red?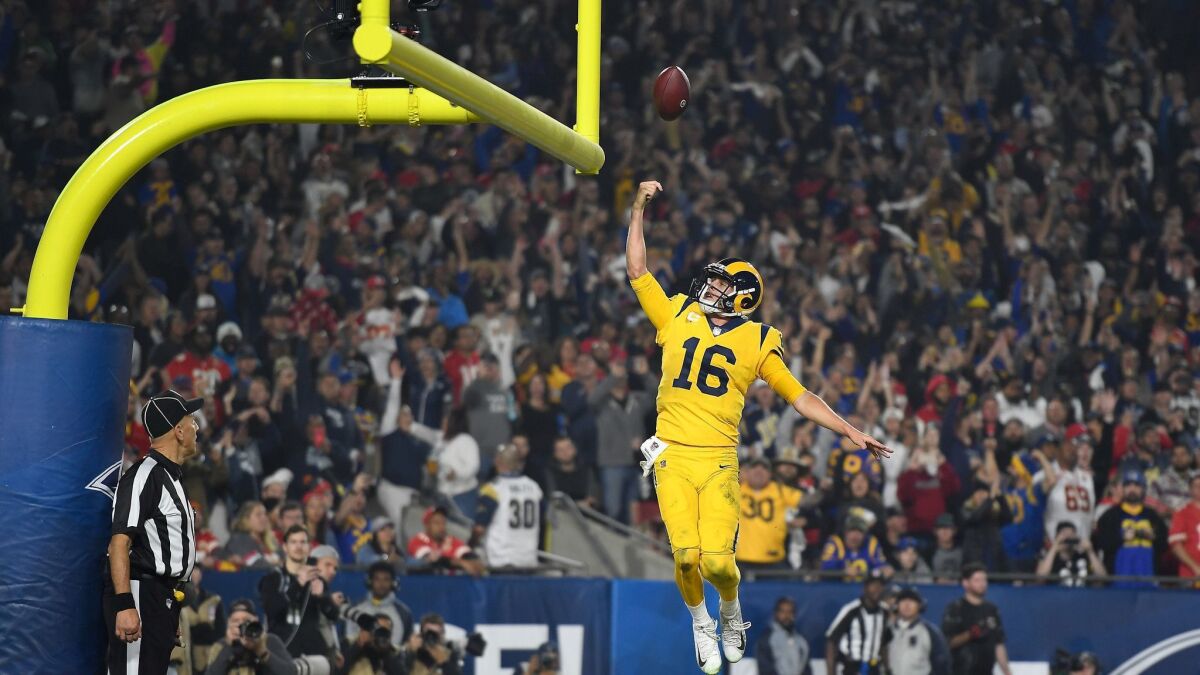 Have a question about the NFL? Ask Times NFL writer Sam Farmer, and he will answer as many as he can online and in the Sunday editions of the newspaper throughout the season. Email questions to: sam.farmer@latimes.com
Why are NFL goal posts yellow, and not blue or red?
Farmer: The author of this letter asked after the fact to have his name removed, perhaps believing that it was a dumb question. I took the question to heart and made a bunch of calls to try to figure out the story behind yellow goal posts. I checked with representatives from the NFL, the Pro Football Hall of Fame and the most prominent goal-post manufacturer. Nobody had a definitive answer, other than the obvious: Bright yellow not only provides good visibility for kickers but also for officials who need to determine if the ball sailed through the uprights.
What's more, that fluorescent yellow isn't the base color of any NFL team — although the Seattle Seahawks come close with some of their alternate uniforms — so there isn't likely to be a yellow background of fans behind the goal posts.
In my quest, I did find out some interesting tidbits, though. All NFL goal posts are sulfur yellow, and the color is applied by powder coat instead of paint, which tends to chip and fade. That change was made about 10 years ago. It was in 1966 that NFL owners mandated that all the league's goal posts should be bright gold. That's not universally the case at colleges and high schools, where goal posts are often white.
In 2014, NFL owners voted to extend the uprights by 5 feet to 35 feet, approving a proposal submitted by the New England Patriots. Two seasons earlier, Baltimore beat the Patriots on Justin Tucker's field goal that sailed high over the right goal post. Because there was no clear angle on the replay, it was impossible to tell whether the ball was between the uprights or not. After the game, New England's Bill Belichick grabbed the arm of an official in frustration as the two were running off the field. That earned the coach a $50,000 fine from the league.
George Wiley, a retired Pasadena police officer turned inventor, devised a mechanism that uses hydraulics to safely bring down goal posts in eight seconds, to prevent them from being torn down by exuberant fans. His goal posts are used at the Rose Bowl and elsewhere around the country.
But back to the topic of color. David Moxley is director of sales for Sportsfield Specialties, which has built and installed the goal posts at the majority of NFL stadiums. For competition, he has sold only white and yellow ones. But he has sold different colored ones to private clients.
"One guy wanted green [goal posts] so they would match into his trees because his neighbors were going to be mad at him," Moxley said. "Another guy wanted them in orange, because he went to Syracuse."
Why do people install goal posts at their homes? That's for another "Ask Sam Farmer ...."
---
Get our high school sports newsletter
Prep Rally is devoted to the SoCal high school sports experience, bringing you scores, stories and a behind-the-scenes look at what makes prep sports so popular.
You may occasionally receive promotional content from the Los Angeles Times.