The Giants' Tom Coughlin takes his leave, but Colts' Chuck Pagano will return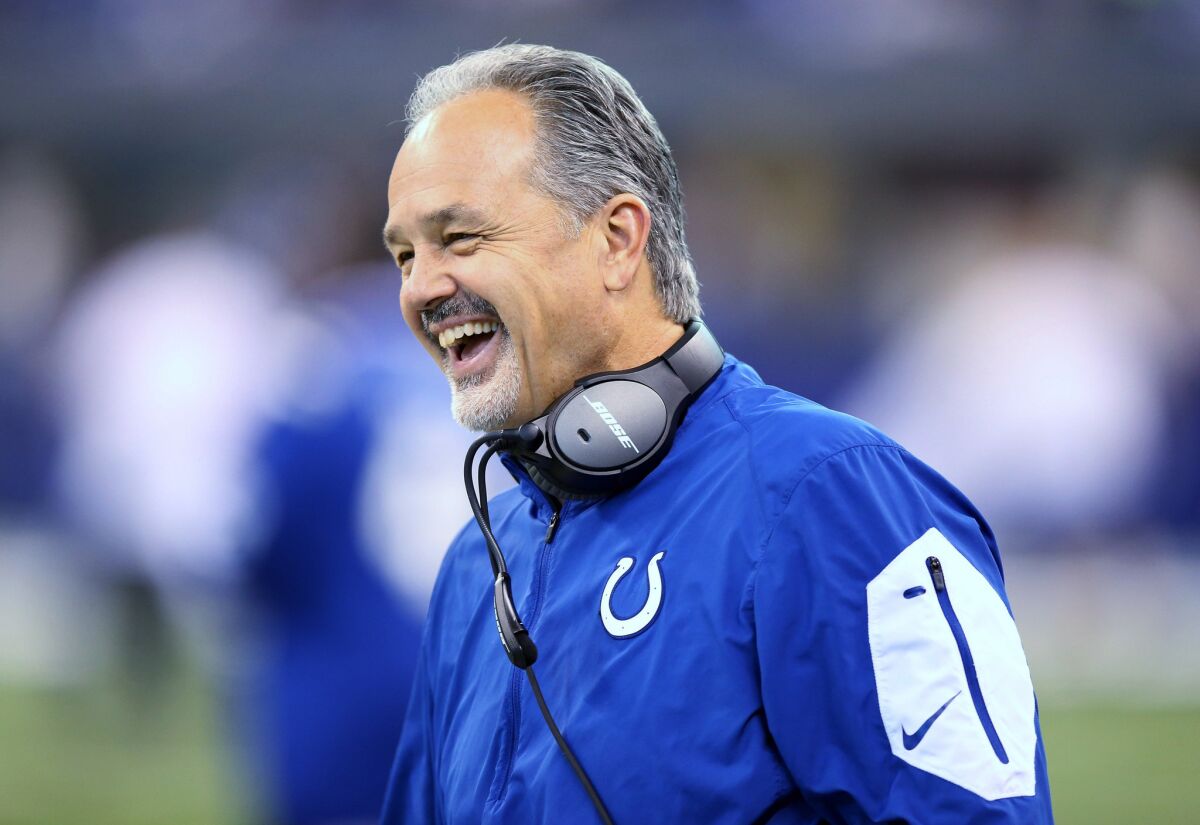 There wasn't a sense of bitterness at New York Giants headquarters Monday, only sadness.
Tom Coughlin, who led the franchise to five playoff appearances and two Super Bowl victories, resigned after 12 seasons as Giants coach, leaving players choking back tears as they spoke to reporters.
"He definitely has not failed these players – we failed him," said quarterback Eli Manning, whose team missed the playoffs for the fourth consecutive season after defeating the New England Patriots in the Super Bowl in February 2012.
"I learned so much from him. He's a great example of how you should do your job. He's a great coach."
Meanwhile, in a surprising twist Monday night, the Indianapolis Colts announced that they have extended the contract of Coach Chuck Pagano – thought to be in serious jeopardy of losing his job after an 8-8 season.
Colts General Manager Ryan Grigson, also widely believed to be on thin ice, is returning too.
The Colts held a news conference at 10:30 p.m. ET to make the announcement.
Until that point, the biggest coaching news of the day by far was the resignation of Coughlin.
Demanding and meticulous, Coughlin famously insisted that his players show up for meetings five minutes early to ensure that no one had to wait.
In that sense, Black Monday was on Coughlin time. Most of the firings around the league happened before the final Sunday of the regular season was over. The Philadelphia Eagles showed Chip Kelly the door last week; the San Francisco 49ers' Jim Tomsula and the Cleveland Browns' Mike Pettine were let go Sunday night.
More notable Monday were the coaches and executives who kept their jobs.
The San Diego Chargers announced that Mike McCoy was safe after a 4-12 season but that several of his assistant coaches would be replaced. The six assistants fired were offensive coordinator Frank Reich, offensive line coach Joe D'Alessandris, tight ends coach Pete Metzelaars, wide receivers coach Fred Graves, defensive line coach Don Johnson, and assistant offensive line coach Andrew Dees.
The Colts' Pagano has compiled a regular-season record of 41-23 over four years, the fifth-best winning percentage among active coaches with at least two seasons. He hasn't had a losing season and has won three playoff games.
Pagano found himself in the national spotlight during his first season as Colts coach, when he was diagnosed in the first month of the season with a treatable form of leukemia. Supporters formed the "Chuckstrong" movement – a play on Lance Armstrong's Livestrong – and in Pagano's absence assistant Bruce Arians was promoted to interim coach for 12 games.
With rookie Andrew Luck at quarterback, Arians guided the Colts to a 9-3 record and became the first interim coach to be named the NFL's coach of the year. Arians, now with the Arizona Cardinals, won the award again last season.
Pagano's teams finished 11-5 in his first three years and steadily improved in their playoff appearances, making it to the wild-card, divisional and conference title rounds in successive years.
The franchise took a big step backward this season, however, muddling through a .500 season marked by instability at quarterback – losing Luck, Matt Hasselbeck and Charlie Whitehurst – and amid a backdrop of tension and dissension between Pagano and Grigson.
Grigson made a number of costly personnel mistakes, overspending for three onetime stars who turned out to be over the hill – running back Frank Gore, receiver Andre Johnson, and linebacker Trent Cole – and failing to adequately address a long-standing offensive line problem.
Still, Grigson held on to his job.
Interim Coach Mike Mularkey is still around in Tennessee after the Titans' 3-13 season guaranteed them the No. 1 draft pick, but General Manager Ruston Webster was fired.
After San Francisco's 5-11 season, Tomsula is gone but General Manager Trent Baalke is still around – for now.
"I appreciate the confidence that ownership has shown in me," Baalke told reporters. "But I also understand the gravity of the situation and understand exactly what this fan base looks for and what this ownership looks for. It's the San Francisco 49ers. It's about championships."
Among the coaches who could be coveted candidates for openings are Cincinnati Bengals offensive coordinator and former Oakland Raiders coach Hue Jackson, former Buffalo Bills coach Doug Marrone and current New Orleans Saints Coach Sean Payton, who could wind up with another team.
As for Coughlin, he met with Giants co-owners Steve Tisch and John Mara and decided it was time to step down.
"I strongly believe the time is right for me and my family," he said.
"Obviously, the past three years have not been what any of us expect, and as a head coach, I accept the responsibility for those seasons."
Get our high school sports newsletter
Prep Rally is devoted to the SoCal high school sports experience, bringing you scores, stories and a behind-the-scenes look at what makes prep sports so popular.
You may occasionally receive promotional content from the Los Angeles Times.