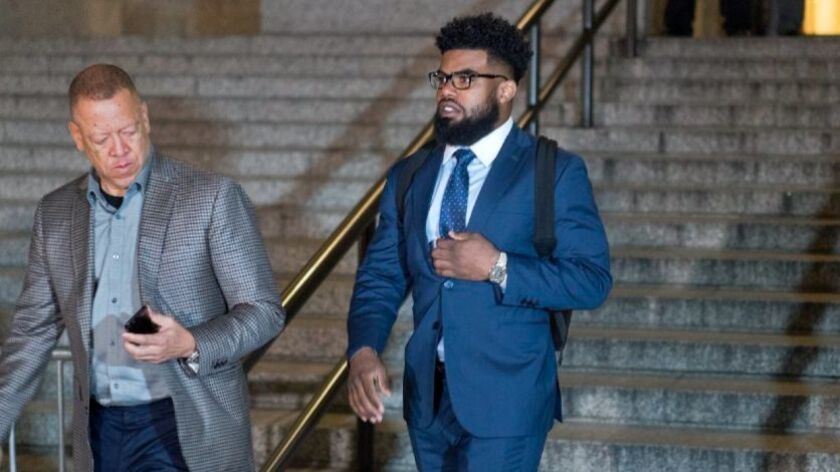 A federal judge cleared the way for the NFL to enforce a six-game suspension of Dallas Cowboys running back Ezekiel Elliott over domestic violence allegations.
U.S. District Judge Katherine Polk Failla on Monday night denied the request for a preliminary injunction from players' union attorneys working for Elliott. Failla put the ruling on hold for 24 hours to give Elliott's legal team time to appeal, a likely move.
It's the second time a federal ruling overturned a reprieve that kept Elliott on the field. Earlier this month, an appeals court threw out a Texas court's injunction and ordered the dismissal of Elliott's lawsuit there.
The NFL briefly enforced Commissioner Roger Goodell's suspension before a judge sitting in for Failla in the Southern District of New York issued a temporary restraining order that blocked the ban for the second time. If the suspension holds this time, Elliott will be out starting Sunday at home against Kansas City. He'll be eligible to return Dec. 17 at Oakland.
Elliott rushed for 150 yards and two scores in Sunday's 33-19 win at Washington. He has 690 yards rushing in seven games with eight total touchdowns.
The Seattle Seahawks agreed to acquire three-time Pro Bowl left tackle Duane Brown from the Houston Texans for cornerback Jeremy Lane and two draft picks, general manager John Schneider confirmed a day before the trading deadline.
Brown made his season debut Sunday against the Seahawks after a lengthy holdout. He was also at the center of the decision by the majority of the Texans' active roster to kneel during the national anthem in protest of comments made by Houston owner Bob McNair.
Lane, a onetime member of the Legion of Boom who'd been benched, had just nine tackles in five games.
The NFL suspended Bears linebacker Jerrell Freeman 10 games for another violation of the league's policy against performance-enhancing drugs.
It was the second PED suspension in as many years for Freeman, who received a four-week punishment last season and still led Chicago with 110 tackles. The league says he will begin serving this one immediately.
A sixth-year pro, Freeman is on injured reserve with a pectoral injury he suffered in a season-opening loss to Atlanta. He also suffered a concussion in the game that he said could end his career and is at the root of the latest PED violation.
Freeman posted on Twitter that he deliberately downplayed his head injury and has "been lying to friends, family and loved ones" who ask if he's OK. He said he has experienced memory loss.
"That being said, there's no excuse to cope with any problems by taking any kind of pills," he wrote. "I don't know my future, but a big thanks to the Bears and the NFL, if I would have used their programs and services earlier than I did I wouldn't be in this situation. Sorry again for the distraction."
Miami Dolphins quarterback Jay Cutler will return from cracked ribs to start Sunday against Oakland, according to coach Adam Gase. ...
Baltimore Ravens quarterback Joe Flacco has "zero" concussion symptoms after being knocked out of last week's game, and has a good chance to play Sunday at Tennessee, coach John Harbaugh said. ...
The San Francisco 49ers are placing safety Jimmie Ward on injured reserve with a broken arm. Left tackle Joe Staley will miss at least the next two games and could go on injured reserve with a broken orbital bone; defensive lineman Solomon Thomas will miss at least two games with a knee injury, and top receiver Pierre Garcon is questionable this week with a neck injury.
---