NFL: Titans' Pro Bowl tight end Delanie Walker on injured reserve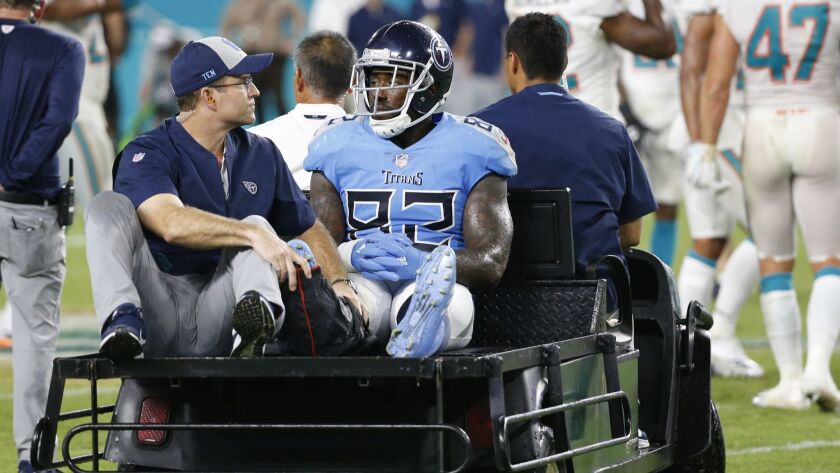 Three-time Pro Bowl tight end Delanie Walker will have surgery on his right ankle in the next few days, and Tennessee coach Mike Vrabel said the Titans will decide if the veteran might be able to return later this season.
The Titans placed Walker on injured reserve Monday and signed tight end MyCole Pruitt off Houston's practice squad.
"Disappointing because he puts a lot into it," Vrabel said of Walker's injury. "He plays hard, been a productive player for us and somebody that I was excited to coach and be with. But hopefully, we'll see where he's at after surgery and re-evaluate his potential return."
Walker was hurt with 3:33 left in the Titans' 27-20 loss in Miami when Dolphins safety T.J. McDonald tackled him at the end of a 15-yard reception. Walker was carted off after having his right ankle wrapped in an air cast.
No tight end has had more catches than Walker's 356 receptions between 2013 and 2017. Walker, 34, signed an extension through 2020 in training camp . He was the Pro Bowl MVP in January and has been quarterback Marcus Mariota's favorite target the past three seasons.
The rest of the Titans' tight end group includes Jonnu Smith, a third-round pick out of Florida International in 2017, eight-year veteran Luke Stocker who has started 58 of his 84 career games, and Anthony Firkser who spent last season on Kansas City's practice squad.
Combined, the trio has 56 career receptions and will be replacing a veteran who led the Titans with 74 catches last season alone.
Vrabel, who spent the past four seasons as an assistant coach with Houston, saw the 6-foot-2, 245-pound Pruitt on the Texans' practice squad. Pruitt has 12 catches for 102 yards in stops with Minnesota and Chicago before arriving in Houston out of Southern Illinois.
"Being able to see him on the practice squad last year and see what he did in Houston in his time there practicing against us and some of the stuff that he did was excited to be able to get him and tell (general manager) Jon (Robinson) that this is somebody that we think can help us," Vrabel said.
Packers' McCarthy says team awaiting more info on Rodgers
Green Bay Packers coach Mike McCarthy needs more information on the extent of Aaron Rodgers' knee injury to determine the quarterback's availability for next week's game against Minnesota.
Rodgers was sore when the team returned to Lambeau Field on Monday, McCarthy said. The Packers reviewed the thrilling 24-23 win on Sunday night over the Chicago Bears, in which Rodgers threw three touchdown passes in the fourth quarter after returning from an injury.
The Packers return to the practice field on Wednesday, when the first injury report for Week 2 is due.
"We do have some information and no decision has been made. We're still collecting all the information," said McCarthy, who added he did not think it would take the whole week to determine Rodgers' availability.
He did allow for a new morsel of information about the two-time NFL MVP. It was a short turnaround for everyone on the team after an emotional late-night victory.
"I don't think anybody's feeling great right now But yeah (Rodgers) is sore. He's walking around in a pair of shorts and tennis shoes and socks if that helps you with your story," McCarthy joked. "I mean I don't know what else to tell you."
Rodgers left in the second quarter against the Bears on a cart after slipping to the turf during a sack and reaching back for the back of his left leg. Rodgers had ACL surgery on his left knee in college.
But he was cleared to return at halftime and came back out for the Packers' first series of the third quarter.
Operating a no-huddle offense, but staying primarily in the pocket, Rodgers engineered a comeback from a 20-0 deficit early in the third quarter.
It was the first time in franchise history that the Packers won after trailing by 17 points or more entering the fourth quarter, according to the Elias Sports Bureau.
"It was going to have to take something really catastrophic injury-wise to keep me off the field in the second half," Rodgers said after the game.
The Packers had to make a similar adjustment late in the 2014 season, when Rodgers was hobbled by a calf injury.
"But he seemed like he moved a little more than I remember back in '14," left tackle David Bakhtiari said.
Rodgers said he would undergo more tests on Monday, but that he was planning to play next week against the Minnesota Vikings.
"No, I plan on playing. Yeah," he said.
Backup DeShone Kizer took over behind center while Rodgers was being evaluated in the locker room in the second quarter. The second-year quarterback accounted for two turnovers to Khalil Mack , having been stripped of the ball by Mack on a sack, and throwing an interception returned 27 yards for a score by the star linebacker.
Kizer, who was acquired in the offseason in a trade with Cleveland, started 15 games last year for the winless Browns. It included a 33-16 loss to the Vikings on Oct. 29 in London. Kizer was 18 of 34 for 179 yards that day, while also rushing for 18 yards and a touchdown on five carries.
Kizer won the backup job in Green Bay after Brett Hundley was traded to the Seattle Seahawks after the preseason.
"You've got to prepare as if you're the starter every week," Kizer said Monday.
Asked if he planned to get Kizer more work this week, McCarthy said "Well I mean DeShone will work, I don't think there's any question about that. He'll work a lot this week. Like I said, we're not that far."
Panthers coach mum on injuries to TE Olsen, RT Williams
Panthers coach Ron Rivera offered no immediate updates on the injuries to three-time Pro Bowl tight end Greg Olsen and second-team All-Pro right tackle Daryl Williams the day after were sidelined.
Carolina hopes to know more later Monday.
While the Panthers opened the regular season with a 16-8 win against the Dallas Cowboys, it did not come without a cost.
Olsen re-injured the right foot — the same one he fractured last season causing him to miss nine games — early on, and spent the second half of the Cowboys game watching from the sideline on crutches. Williams was carted off with a knee injury and did not return either.
If the players miss time as expected, rookie fourth-round draft pick Ian Thomas will get the start Sunday at tight end against Atlanta, while Amini Silatolu will likely fill in at right tackle.
---
Get the latest on L.A.'s teams in the daily Sports Report newsletter.
You may occasionally receive promotional content from the Los Angeles Times.