NFL: 49ers apologize for leaving Colin Kaepernick photos out of gallery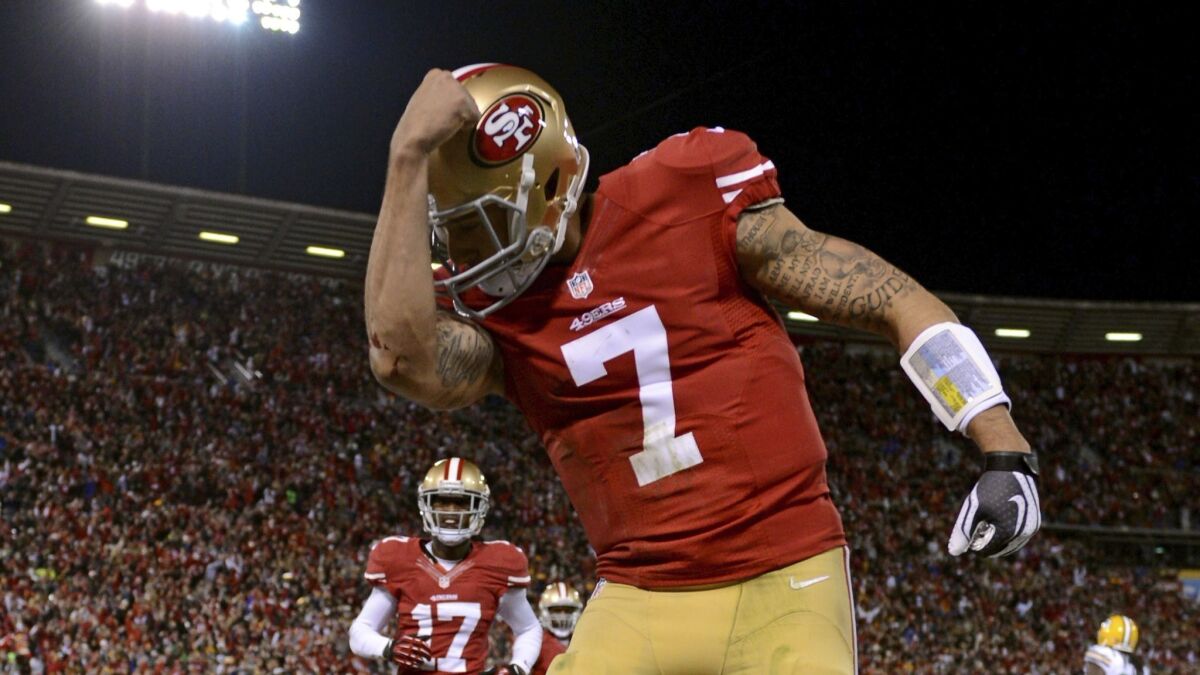 The San Francisco 49ers are apologizing for initially leaving Colin Kaepernick out of a photo gallery celebrating the team's history against the Green Bay Packers.
The team posted dozens of photos on its website of past games against the Packers before the teams meet again Monday night without at first including any of Kaepernick.
The team later added photos of Kaepernick. This is the first photo gallery the team has run this year but pictures of Kaepernick were included in all seven photo galleries posted on the team's website last year.
"Unfortunately there were a handful of obvious misses in this gallery posted by our website team and we appreciate them being brought to our attention," the team said in a statement. "The 49ers organization has tremendous respect and gratitude for the contributions Colin made to our team over the years."
Kaepernick set an NFL record for quarterbacks by rushing for 181 yards in a playoff win against Green Bay on Jan. 12, 2013, threw for 413 yards in a season-opening win against the Packers in 2013, and led a winning drive to win a playoff game in Green Bay on Jan. 5, 2014.
"We have fond memories of those games and that should have been displayed on our website," the team said. "This oversight does not properly reflect the appreciation our ownership and this team have for Colin."
The 49ers supported Kaepernick in 2016 when he decided to kneel during the national anthem to protest social and racial injustice and matched his $1 million contribution toward programs for social equality.
Kaepernick opted out of his contract the following offseason when the 49ers told him they planned to cut him. Kaepernick has been unable to find another team to play for the past two seasons.
Coach Kyle Shanahan was asked about bringing Kaepernick back after starting quarterback Jimmy Garoppolo went down with a season-ending knee injury and said he still didn't fit the team's offense.
"I made that decision just with the style of offense that we wanted to go with," Shanahan said on Sept. 24. "That's kind of what I said last year and it's kind of the same situation now. If you're thinking of if there'd be a different discussion now, I always look into what style of offense I want to do, what style of offense we've been doing for the last two years."
Dolphins' Tannehill questionable (shoulder) vs. Bears
Miami Dolphins quarterback Ryan Tannehill is questionable for Sunday's game against the Chicago Bears with a throwing shoulder injury that first bothered him last month.
Tannehill was limited in Friday's workout — the first time he has missed practice time because of the injury. He wasn't on the injury report last week, but was during the week of Sept. 24.
Brock Osweiler or David Fales would start if Tannehill can't play.
Left tackle Laremy Tunsil has been released from the concussion protocol and is listed as questionable. Tunsil was not limited in practice Friday, and coach Adam Gase said it looks "promising" that he'll be able to play.
Defensive end Cameron Wake is listed as doubtful with a knee injury.
Browns rookie WR Willies breaks collarbone, out indefinitely
Browns rookie wide receiver Derrick Willies broke his collarbone in practice and will miss several games.
Willies got hurt during Friday's workout as the Browns went through final preparations for Sunday's game against the Los Angeles Chargers. The injury is a costly one as Willies was filling in for Rashard Higgins, who is also sidelined with a right knee injury sustained in last week's win over Baltimore.
Willies replaced Higgins in the fourth quarter against the Ravens and turned a short pass from Baker Mayfield into a 39-yard gain in overtime to help set up Cleveland's game-winning field goal with 2 seconds left.
An undrafted free agent from Texas Tech, Willies finished with three catches for 61 yards. He was expected to get more playing time this week with Higgins out.
Damion Ratley will likely be active Sunday to replace Willies. Ratley does not have a catch this season.
Chiefs lose wide receiver Thomas to broken leg in practice
Chiefs wide receiver DeAnthony Thomas broke a leg during practice and could miss the rest of the season, the latest in a string of injuries to befall the unbeaten team.
The Chiefs also listed Justin Houston as doubtful for Sunday night's game against the Patriots in New England with a hamstring injury. Free safety Eric Murray has been ruled out with an ankle injury and offensive lineman Laurent Duvernay-Tardif is out with a broken bone in his leg.
Chiefs trainer Rick Burkholder said that Thomas was taking part in Thursday's practice when he got stepped on from behind, fracturing the same leg he broke in a game last December. Thomas had surgery to repair the break and had a metal rod inserted, though the latest break did not damage that repair.
"He had what we consider a freak accident," Burkholder said. "All indications are right now that he won't need surgery and he will heal up on his own, but he will need some time to heal up."
Thomas surprised many by making the Chiefs' roster in training camp, given his relatively modest production his first four years in Kansas City. And while he has just three catches for 15 yards and a touchdown, Thomas has proven to be valuable on special teams.
"I'm sorry for the kid. He's a tough little nut, man," Chiefs coach Andy Reid said. "He'll come back and he'll be all right. You hate that to happen, as hard as he worked to get back."
Reid characterized Houston as a "longshot" to play against the Patriots, likely leaving Kansas City without its top pass rusher against Tom Brady and Co. Tanoh Kpassagnon is likely to start alongside Dee Ford, though both of those outside linebackers have also been hobbled by injuries.
The Chiefs tried to shore up their pass rush this week by signing Frank Zombo, who was cut in camp after spending the past five seasons with them, and former Browns linebacker Nate Orchard.
Zombo's familiarity with the defense means he could play Sunday. Orchard also could be active.
"I think he could come out and help you if needed. He can do that," Reid said. "He is good enough to be worked in, plus he was familiar with us being in Cleveland for a year, with this system."
In the defensive backfield, the Chiefs are almost certain to be without Eric Berry, who continues to be listed as doubtful and has not practiced since early in training camp with a heel injury.
Fellow safety Daniel Sorensen is also on injured reserve with a broken leg, which means the latest injury to Murray leaves the Chiefs desperately short on depth. Jordan Lucas will likely start opposite of Ron Parker, though he's played primarily special teams since arriving in a trade with Miami.
Lucas did pick off Jaguars quarterback Blake Bortles in last week's win over Jacksonville.
"He's played quite a little bit before he got here and then he played for us last week," Reid said. "He knows what's going on and actually had some nice plays back there."
---
Get our high school sports newsletter
Prep Rally is devoted to the SoCal high school sports experience, bringing you scores, stories and a behind-the-scenes look at what makes prep sports so popular.
You may occasionally receive promotional content from the Los Angeles Times.