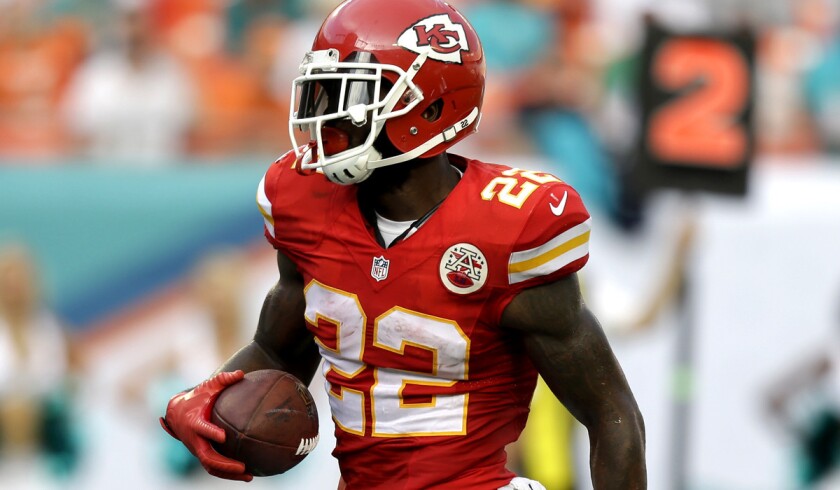 Kansas City Chiefs running back Joe McKnight ruptured his Achilles' tendon and is out for the season.
The announcement came Friday after McKnight was injured during practice Thursday. Defensive tackle Mike DeVito and linebacker Derrick Johnson sustained the same injury in a Week 1 loss to Tennessee.
McKnight, who spent last season out of the NFL, has been plagued by injuries dating to his days at USC. He had been impressive for Kansas City, catching six passes for 64 yards and two touchdowns in a 34-15 victory Sunday at Miami.
::
Detroit Lions tight end Joseph Fauria, a former UCLA standout, has been ruled out of Sunday's game against the New York Jets because of a twisted ankle after what Coach Jim Caldwell described as a misstep around the house. Lions star receiver Calvin Johnson is listed as questionable because of an ankle issue, but he was able to practice in a limited fashion Friday.
::
Philadelphia Eagles left tackle Jason Peters was fined $10,000 by the NFL and Washington Redskins nose tackle Chris Baker $8,268 for their roles in a brawl between the teams last Sunday. The fight began after Baker laid out Philadelphia quarterback Nick Foles with a blindside hit on an apparent interception in the fourth quarter.
Buffalo Bills wide receiver Mike Williams was docked $11,025 for violating the NFL's dress code. He wore red socks instead of blue like his teammates. Bills linebacker Brandon Spikes and San Francisco wide receiver Anquan Boldin were each fined $8,268 for unnecessarily head-butting an opponent. Pittsburgh running back LeGarrette Blount was fined $5,000 for throwing the ball into the stands after his touchdown last week against Carolina.
::
San Francisco 49ers tight end Vance McDonald is expected to play Sunday against the Eagles. Tight end Vernon Davis refused to commit to playing, perhaps shying away after making a definitive statement last week and not playing. Eagles inside linebacker Mychal Kendricks will sit out for the second consecutive week because of a calf injury.
::
Miami Dolphins defensive tackle Randy Starks has been ruled out of Sunday's game against Oakland in London because of a back injury.
::
Chicago Bears receiver Brandon Marshall and defensive end Jared Allen are questionable for the Sunday game against the Green Bay Packers. Neither player practiced this week. Packers linebacker Clay Matthews is listed as probable for the game.
::
Washington Redskins left tackle Trent Williams is not expected to sit out any games despite a right knee injury he suffered against the New York Giants.
::
Carolina Panthers Coach Ron Rivera said that DeAngelo Williams is expected to play Sunday at Baltimore.
::
The Arizona Cardinals released defensive tackle Christian Tupou, a former USC player, from the practice squad.
---