Rams coaching search: Hall of Famer Tony Dungy explains how the Rooney Rule should work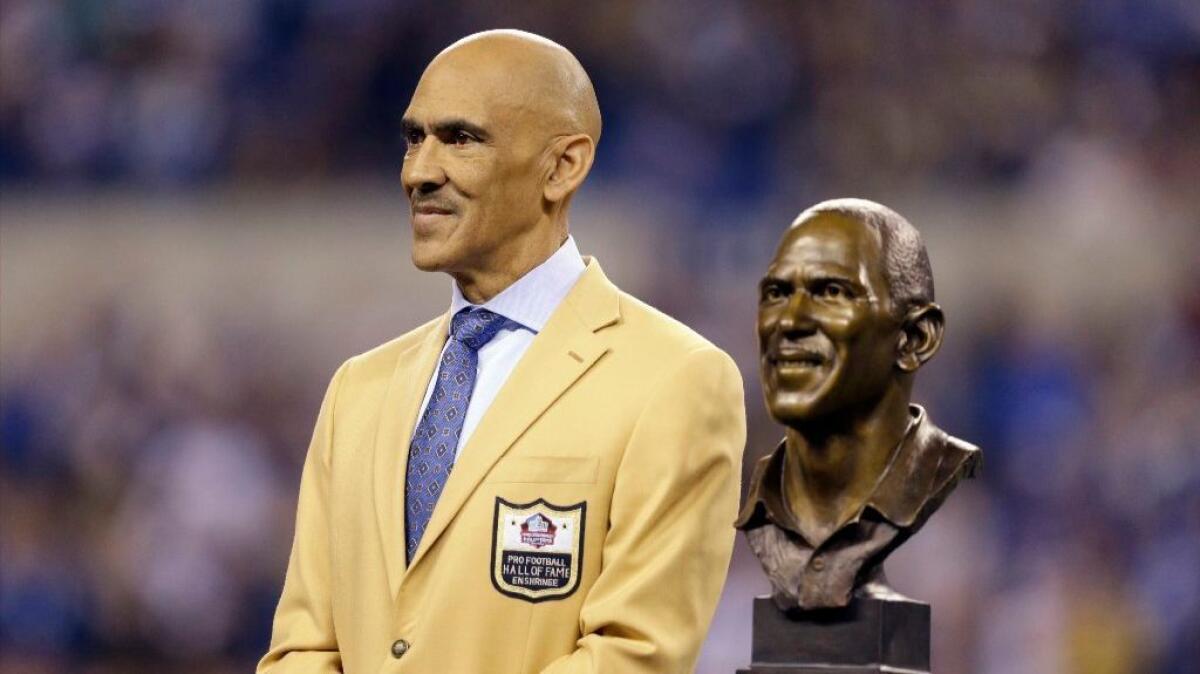 What should the Rams keep in mind when hiring their next coach? NFL legends Tony Dungy, Ron Wolf, and Jimmy Johnson weigh in with their first-person perspective in this three-part series on finding a coach who best fits a franchise. Saturday: Tony Dungy. Sunday: Ron Wolf. Monday: Jimmy Johnson.
First up is Dungy, one of 23 coaches in the Pro Football Hall of Fame. A former defensive back, he was coach of Tampa Bay (1996-2001) and Indianapolis (2002-08), winning a Super Bowl with the Peyton Manning-quarterbacked Colts at the end of the 2006 season. He's a color analyst for NBC's "Football Night in America."
Dungy is a strong proponent of the Rooney Rule, a policy the league put in place in 2003 that requires teams to interview minority candidates for head-coaching and senior football operations jobs.
Where I think so many people fail when it comes to hiring a coach is they don't know what they want. I'll have people talk to me, "Who would you recommend?" or, "Who do you think would be a good candidate?" And I'll say, "What are you looking for? Do you want a young coach, a defensive coach, an offensive guy, a disciplinarian?" Every guy that's a good coach might not be the right fit. You have to know what you're looking for, and find out who's going to be the right person.
That's one of the reasons the Rooney Rule is good. To me, the goal wasn't to get more minority coaches hired. It was to make people slow down and hire the right person for them. If that happens, then it's successful.
The spirit of the rule is really good. But what people have done more recently is, rather than figuring out what they're looking for and drawing up some parameters and saying, "OK, let me look for some minority coaches who fit these parameters. Let's discuss it and hire the right person," people are saying, "Let me just interview a minority candidate and then get down to the business of hiring who I feel like I should hire."
Rushing the process is where mistakes are made. I understand why that is. Your franchise hasn't been winning recently, and you're getting a lot of negative publicity.
There is a great deal of pressure to get who is deemed the hot candidate, or the No. 1 guy on certain people's radar, whether it's the best coach for you or not.
To me, rushing the process is very short-sighted and not very smart. You shouldn't want to have to get the jump on people. You should say, "Let me investigate. Let me figure out what I'm looking for." And go about getting that guy.
It might take a long while. You might go through 10 or 15 interviews. You might lose a candidate to someone else. But you've got to make sure you get the right candidate for your team, and that's going to take some time. Hopefully, this is a 10-year decision. So to say, "I'm going to fire my coach so I'm going to get a jump on people and make this decision before anybody else gets their oars in the water," I wouldn't look at it that way.
Owners or GMs will call me and they'll say, "Can you give me some advice?" I say, "Call [Steelers owner] Dan Rooney and ask him how he does it." He's hired three coaches in 47 years, they've all won Super Bowls, and he's never had to fire a coach. He's got a formula. He knows what works for him.
He looks for young defensive coordinators who are under the radar, but they connect with the city and connect with him. That's his formula, and he doesn't care what people think. He didn't care when he hired Mike Tomlin that people thought Russ Grimm or Ken Whisenhunt should have gotten the job. He knows what he wants.
Now, he's got enough of a track record that he can do that, but that's an easy formula. Figure out what you want, look around and take your time and say, "Who do I really like?" Then do it, and don't worry about public opinion or anything else. Then stand by them, and it's going to work.
In the case of the Rams, they've got a lot to sell. They have a tremendous defense. They have a young running back. They've got a lot of things going for them, so they're going to be attractive. They've got to figure out who that right person is, then make a pitch to him. It's, "I don't care if I'm competing with 10 people a month from now or not, I want to get the right person."
Some people think the Rams need a celebrity coach. If you win, you're going to be the hottest thing in town. Get that person who's going to win, and whether they're well known or popular doesn't really matter. I promise you, you start winning and the stadium is going to fill up. Everybody loves a winner. That's what the ownership should think of: Who's going to give us the best chance to win?
I wasn't the popular choice in Tampa when I got the job in 1996. Jimmy Johnson was No. 1 in everyone's mind because he had won at Dallas and he had won at the University of Miami. The next guy was Steve Spurrier. Both of those guys turned down the job.
There was no buzz, and nobody was buying tickets because I got there. It didn't start off pretty for us. We won one of our first nine games. It was tough on our owners, because they said, "We think we hired the right person. You're going to have to trust us."
But a year later, by Week 4 of our second year, we were sold out, and you couldn't get a ticket after that.
Follow Sam Farmer on Twitter @LATimesFarmer
Get our high school sports newsletter
Prep Rally is devoted to the SoCal high school sports experience, bringing you scores, stories and a behind-the-scenes look at what makes prep sports so popular.
You may occasionally receive promotional content from the Los Angeles Times.