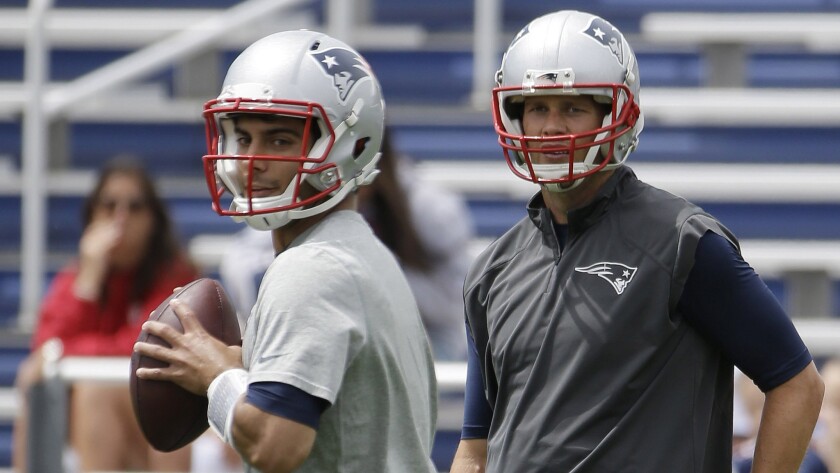 NFL training camps open this week, and questions abound.
Who will start the season as New England's quarterback? Have aging stars who have switched teams improved their odds of winning a Super Bowl? Which franchises are on the rise, and which are on the decline?
Most of the answers will reveal themselves during the next four weeks, when rosters are trimmed and depth charts are solidified.
Twenty questions as the league heads into the dog days of August:
How prepared is New England quarterback Jimmy Garoppolo?
Tom Brady has appealed his four-game suspension, and Commissioner Roger Goodell has yet to issue a ruling on that. In the meantime, Garoppolo has to be prepared to start the first four games of the season. This month, Patriots receiver Brandon LaFell told reporters the second-year Garoppolo has "grown a lot" and, "I'm pretty sure Tom will be in Jimmy's ear helping him prepare each and every way he can to go out here and lead this team." Remember, the Patriots won 11 games with Matt Cassel at quarterback after Brady went down with a knee injury in 2008.
Will Green Bay surpass Seattle as the NFC favorite?
The Packers are 0-3 against Pete Carroll and Russell Wilson, dating to the "Fail Mary" game in 2012, but this could be the season Green Bay claws its way back to the top of the NFC. A couple of factors to watch for at Packers camp are Mike McCarthy handing the play-calling duties to offensive coordinator Tom Clements, and the continuation of Clay Matthews spending more time at inside linebacker than on the outside.
Can the Carson show avoid another cancellation?
The Arizona Cardinals are 16-6 with Carson Palmer at quarterback, so keeping him healthy is paramount. Bruce Arians, named the NFL's coach of the year in two of the last three seasons, did an astounding job leading the franchise to the playoffs last year despite cycling through four quarterbacks.
Is a year off going to take a toll on Adrian Peterson?
Peterson turned 30 this spring, a chronological milestone that often marks a productivity downturn for running backs. He's a freak of nature — witness his spectacular comeback from a devastating knee injury — so he probably still has a lot of tread on his tires. But will there be a psychological hurdle associated with him sitting out all but one game of the 2014 season? Judging by the lucrative contract extension they gave him, the Vikings are betting he'll be just fine.
Jameis Winston or Marcus Mariota, which quarterback makes a bigger impact as a rookie?
Tampa Bay's Winston and Tennessee's Mariota were the top two picks this spring, just the second time in 16 drafts quarterbacks were chosen back-to-back at the top. Former Buccaneers star Derrick Brooks has said he plans to communicate with Winston every day to help mold him into a pro. Mariota has gotten rave reviews from his Titans coaches, including for his passing accuracy, but he took a while to sign, finalizing his contract in the third week of July.
Will Darrelle Revis be key to a power shift in the AFC East?
The All-Pro cornerback returned to the New York Jets this spring after a forgettable season with Tampa Bay in 2013, and winning a Super Bowl ring with the Patriots last season. Revis was key in those successful Jets teams under Rex Ryan, and he figures to be just as pivotal in the pressure-heavy scheme of first-year Coach Todd Bowles.
Rams, Raiders, Chargers … who's going to be training in Los Angeles at this time next year?
One or more of these teams could be on the verge of relocating to the nation's second-largest market, with Rams owner Stan Kroenke planning to build a stadium in Inglewood, and the Chargers and Raiders backing a competing proposal in Carson. In a highly unusual move, the NFL has called an Aug. 10-11 owners-only meeting in Chicago to address the future of pro football in L.A. That will set the table for a decision within the next six months.
Is it Super Bowl or bust for Indianapolis?
Of course every team is aiming to win a Super Bowl every year, but the Colts clearly feel they're within striking range. To that end, they signed a couple of impact players who might have a season or two left in their legs — running back Frank Gore and receiver Andre Johnson. Whereas a lot of teams are undergoing youth movements, the Andrew Luck-led Colts are adding some age and wisdom to their locker room.
Do the Chargers finally have their best running back since the heyday of LaDainian Tomlinson?
San Diego was the second team to take a running back off the board, trading up two spots to select Wisconsin's Melvin Gordon with the 15th pick. Gordon rushed for 2,587 yards last year, leading the nation in that category, and should provide a big boost to a team that averaged 3.4 yards per carry last season, second-worst in the NFL.
Is San Francisco headed south?
With Jim Harbaugh gone, new Coach Jim Tomsula starts with a clean slate. That's not necessarily a good thing, as the club has lost a constellation of stars and budding stars — running back Gore, linebackers Patrick Willis and Chris Borland, defensive lineman Justin Smith, and offensive linemen Anthony Davis and Mike Iupati. Has quarterback Colin Kaepernick made enough strides, and does he have enough talent around him, for the franchise to stay competitive? It's showtime for all those young players General Manager Trent Baalke has stockpiled in recent years.
Is Philadelphia Coach Chip Kelly a mad scientist or just plain crazy?
Philadelphia made several dramatic changes this off-season, including getting rid of running back LeSean McCoy, receiver Jeremy Maclin and quarterback Nick Foles, and adding the likes of quarterback Sam Bradford, running back DeMarco Murray and linebacker Kiko Alonso. So much is riding on Bradford, whose last two seasons were cut short by torn knee ligaments. Bradford has said he'll be ready for the start of camp, and in Mark Sanchez the Eagles have a backup who can win games too.
Murray is gone, but will it even matter who's running the ball for Dallas?
The Cowboys have the league's premier offensive line, one that has gotten even better with the addition of rookie La'el Collins. He was considered a first-round prospect this year, but went undrafted when his name was linked to a double homicide. The Cowboys signed him as a free agent, and like what they've seen of him at right tackle and left guard. Murray led the NFL in rushing last season with 1,845 yards. The Cowboys have a trio of backs who will look to pick up that slack — Lance Dunbar, Darren McFadden and Joseph Randle.
What happened to RGIII?
A few years ago, Washington quarterback Robert Griffin III looked as if he'd reinvent the game. Now, after consecutive disappointing seasons, he looks average at best. He threw just four touchdown passes in nine starts last season, quite a comedown from his rookie total of 20 in 15 starts. The Redskins have hired former NFL quarterback Matt Cavanaugh to tutor players at the position, and Coach Jay Gruden says he's already seeing positive results from Griffin.
Pittsburgh can move the ball through the air, but will the Steelers be able to stop the pass?
Ben Roethlisberger has some talented receiving weapons in Antonio Brown, Markus Wheaton and Martavis Bryant, so scoring shouldn't be an issue. But for this franchise that historically has leaned on its defense, the big questions are on that side of the ball. That means the young front seven has to step up its game, and the Steelers need to refashion a secondary that's dicey at the corners and is now missing Troy Polamalu, who retired this off-season.
Did the Seahawks make the best move of the off-season?
Trading for New Orleans tight end Jimmy Graham could be huge for Seattle, giving the Seahawks a target they didn't have in that soul-crushing interception in the Super Bowl, and providing all kinds of headaches for opposing defenses. With Marshawn Lynch in the backfield, and the 6-foot-7 Graham ready to pull down a big catch over the middle, the Seahawks have the ideal red-zone combination.
Is this Peyton Manning's last hurrah?
With a big birthday around the corner — he turns 40 in March — Manning begins another campaign for a second Super Bowl ring. He does so with Gary Kubiak as Denver's head coach, and that should be interesting. If history is a guide, Kubiak prefers a run-oriented offense that has the quarterback under center for much of the time, and that hasn't been Manning's style. Something's got to give.
Rex Ryan got off to a great start with the Jets. Can he do the same with Buffalo?
When Ryan took over the Jets in 2009, the club hadn't won a playoff game in four seasons. His teams reached the AFC title games in his first two seasons. The Bills haven't won a playoff game since 1995. Challenge No. 1 for Ryan is finding a quarterback, and so far the trio of EJ Manuel, Cassel and Tyrod Taylor hasn't generated a lot of excitement.
Did Oakland make the right move drafting a receiver with the No. 4 pick?
The Raiders finally have a potential franchise quarterback in Derek Carr, and now they've given him an explosive, sure-handed target in Alabama receiver Amari Cooper. But to get Cooper, they passed on USC defensive lineman Leonard Williams, who would have been a great fit for them too. Sometimes, a defensive player helps a quarterback more than a receiver does. We'll see whether the addition of Cooper does the trick for a team that has been ranked 24th or lower in points scored the last three seasons.
What does the future hold for Giants defensive star Jason Pierre-Paul?
A fireworks mishap on July 4 led to the amputation of Pierre-Paul's right index finger. His future with the Giants was already murky because he hadn't signed his contract tender. There hasn't been a lot of news on his condition, but former teammate Justin Tuck recently told NJ.com that he has been in "constant conversation" with Pierre-Paul and that "he's going to have a great year."
Meanwhile, Tampa Bay cornerback C.J. Wilson, who lost two fingers in a separate fireworks accident, has announced he plans to step away from football at least for the time being, and the Buccaneers have placed him on the reserve/retired list.
Is Johnny Manziel's NFL career salvageable?
It's amazing how quickly things have gone south for Manziel, whose first year was a major disappointment on and off the field. The J.M. who appears far more suited for the Cleveland quarterback job is Josh McCown, more serviceable than spectacular. Manziel did make one wise move this off-season: he's dumping that finger-rubbing money sign he used to do in celebration, a holdover from his heady days at Texas A&M. He's also been tutored by former coach Jon Gruden.
Still, barring an unexpected U-turn, Johnny Football will remain Johnny Bench.
---