Rich McKay, whose Atlanta Falcons are near pinnacle, cites a lesson from his dad, John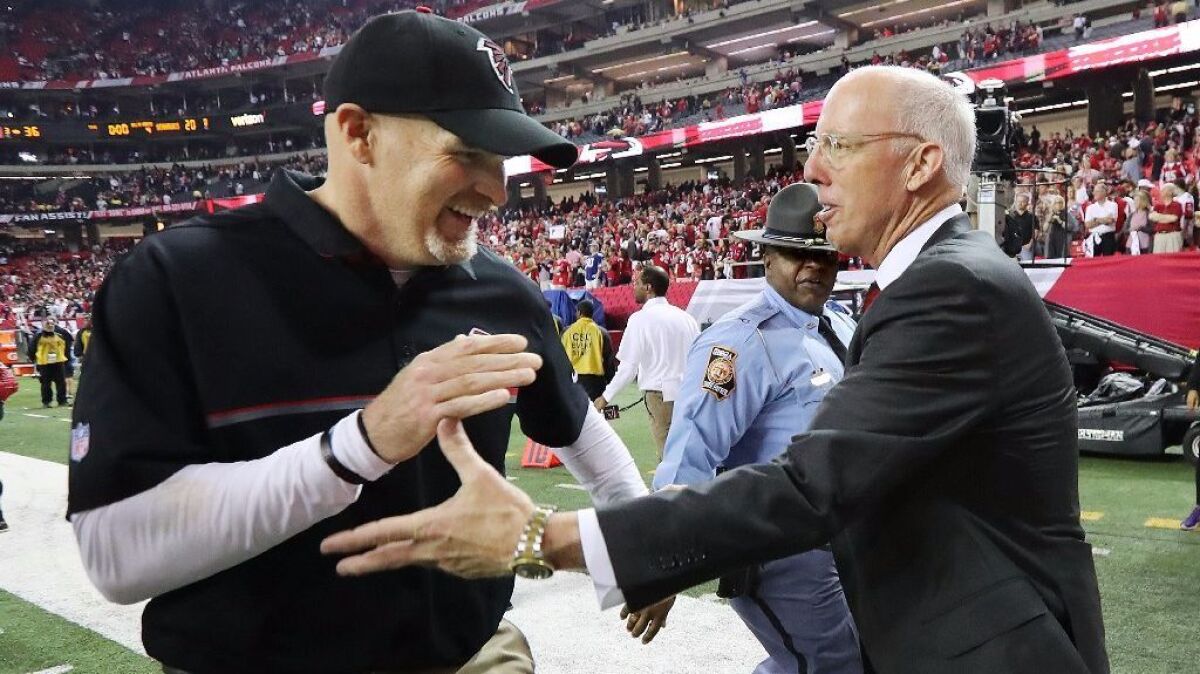 houston —
Among the many qualities Atlanta Falcons President Rich McKay appreciated about his famous father, a legendary college football coach, was his unwillingness to walk away from difficult situations.
"Finish the drill, that's what he believed," McKay said of his late father, John, who won four national championships at USC during a coaching tenure that lasted from 1960 to '75.
John McKay was coach of the Tampa Bay Buccaneers in 1976 and '77 when the expansion team lost its first 26 games. He might have felt the urge to bail out, but didn't, and that franchise went on to reach the playoffs three times before he retired in 1984, and advanced to the NFC championship game in 1979.
"He clearly could have gone back to college and done whatever he needed to do, and he wasn't doing it," the younger McKay said. "He was going to get it right, and that was a really hard time from a family standpoint but so rewarding to see it finish the way it finished.
"Whatever the dark days are, you have got to hang in."
That coach routinely finished the drill. Now, his son has a chance to finish the job.
Rich McKay, whose team plays New England on Sunday in Super Bowl LI, endured some incredibly trying times with the Falcons, the worst of which came in 2007 when star quarterback Michael Vick went to jail for his involvement in a dog-fighting ring, and coach Bobby Petrino — who was brought in to mold Vick into an elite player — quit when the Falcons were 3-10 to take the coaching job at Arkansas.
"Everybody wrote the same articles," McKay said. "It was 'This team will be terrible for five years. It will never be able to come out of it. There's no talent left here.' … What we did as an organization is we said, 'Hey, hunker down. This too will pass.'"
The next season, with No. 3 pick Matt Ryan under center, the Falcons made the playoffs, and would do so again in 2010, '11 and '12.
McKay didn't escape the turmoil unscathed; he had to relinquish some of his control. The franchise hired Thomas Dimitroff as general manager in 2008, and he took over most of the personnel responsibilities. McKay's main focus shifted to getting the new stadium on track, a glistening, futuristic venue that will open next season and host a Super Bowl the season after that.
For McKay, that turbulent 2007 season is a distant memory, but one that reinforced some important life lessons.
"At the end of that one it was very hard because we were going to change the organization, we were going to bring in a general manager," he said. "I really had to say, 'What's the right thing to do here?' But you needed to finish the drill. You needed to get this organization back where it needed to be. It turned out for me to be fantastic."
McKay has been instrumental in carrying out the vision of Falcons owner Arthur Blank, co-founder of Home Depot. The club is now one victory away from its first Lombardi Trophy.
McKay has reached the NFL mountaintop before. He was general manager of the Buccaneers when they won the Super Bowl at the end of the 2002 season. Less than a year later, he was terminated by the organization after a clash of philosophies with coach Jon Gruden. McKay was immediately hired by the Falcons, who made the NFC championship game the following season with Jim Mora as coach.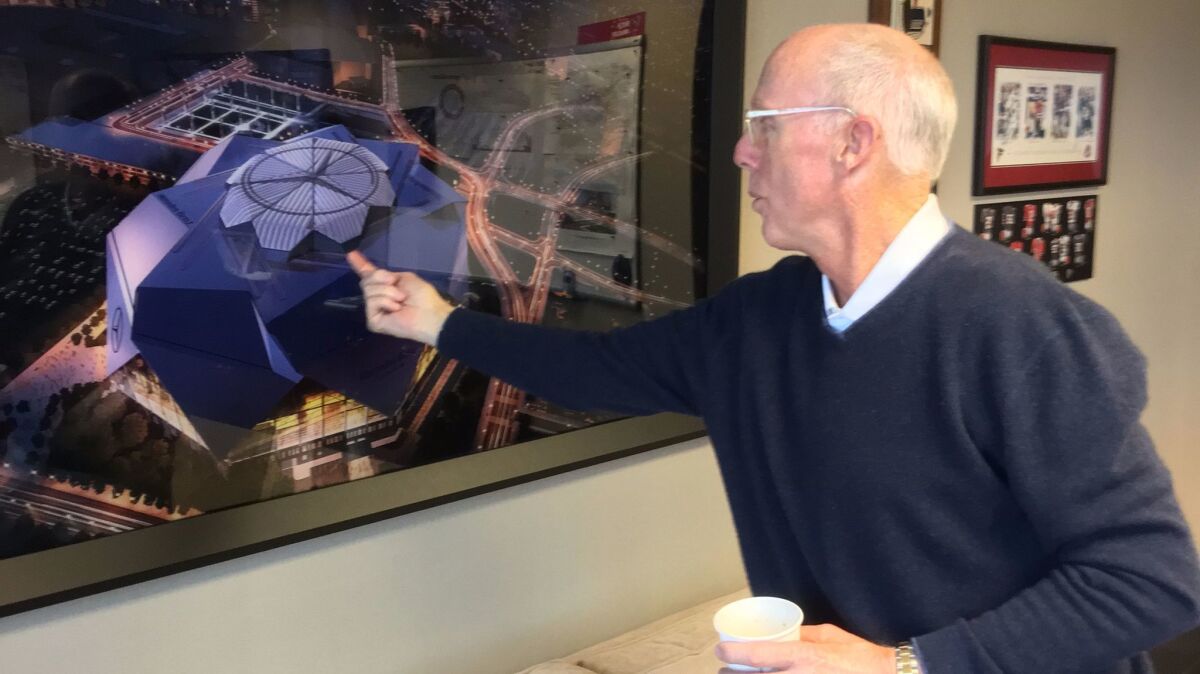 Twelve years later, the Falcons have inched one step closer to the NFL's ultimate prize, and McKay is in an enviable spot. His second-floor office at team headquarters in Flowery Branch, Ga., has a huge window overlooking the practice fields and is decorated with blueprints and renderings of the $1.5-billion Mercedes-Benz Stadium, which features the world's largest video board — one that encircles the upper inside of the venue like a halo — and a retractable roof that opens like the aperture of a camera.
The Falcons are trying a novel approach to concessions at their new stadium: They're being fair with the prices. That includes $2 refillable sodas, $3 pizza, $5 beers, and a host of Atlanta restaurants that won't charge any more for their food inside the stadium than they do on the outside.
"I give Arthur credit because it's not without cost to us, and revenue to him, but it's the right thing to do," McKay said. "Our fans, when you read surveys, they say the No. 1 complaint is food. Biggest reason? Value. So why do you take a captive who's paid you real money for that seat, and then decide to charge them captive pricing for that food? Didn't make any sense to us. We just wanted to give them street pricing. Whatever it costs on the street, it should cost in here."
For McKay, it's all part of putting the best entertainment product in front of the fans. Of course, with one big drill left to finish, the biggest prize awaits.
Follow Sam Farmer on Twitter @LATimesfarmer
Get our high school sports newsletter
Prep Rally is devoted to the SoCal high school sports experience, bringing you scores, stories and a behind-the-scenes look at what makes prep sports so popular.
You may occasionally receive promotional content from the Los Angeles Times.