Rams move up to No. 1 in the draft in deal with Titans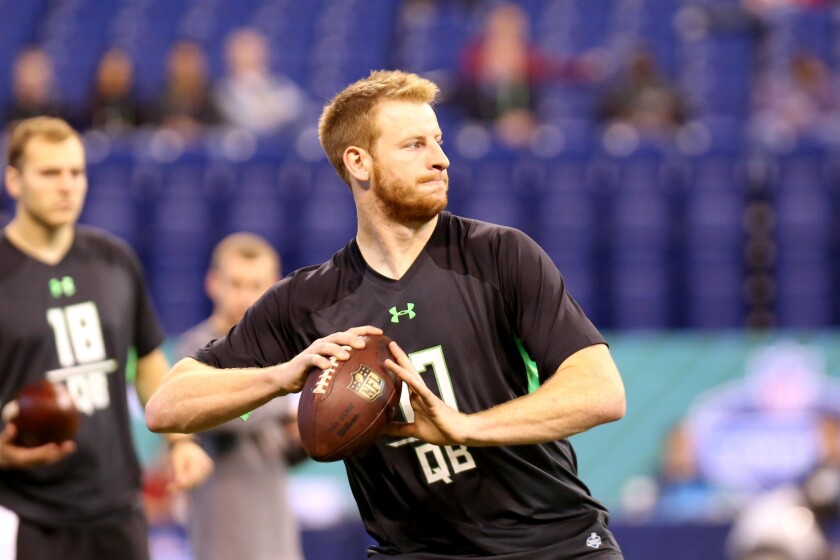 The Rams' decision about whether they will select Carson Wentz or Jared Goff probably will not be known until the April 28 NFL draft.
But the blockbuster trade that enabled them to acquire the No. 1 pick, and their impending choice between the quarterbacks, had its genesis in another draft — the selection of hotel suites for the annual NFL scouting combine in Indianapolis.
That's where the Rams and the Tennessee Titans — who ended up in neighboring rooms — first began discussing a deal that put the Rams in position to make a major splash in their return to Los Angeles.
The trade was completed Wednesday night, but the teams held off announcing it until Thursday morning in reverence to Kobe Bryant's final game with the Lakers.
"This is the best thing for our football team," Coach Jeff Fisher said of the trade during an afternoon news conference in Oxnard. "When you take into consideration what's ahead for this franchise and the enthusiasm and excitement, the timing couldn't have been better."
The Rams moved further to get to the top than any team in draft history.
They gave up their No. 15 pick in this year's draft as well as two second-round picks, a third-round pick and first- and third-round picks next year. They also received the Titans' fourth- and sixth-round picks this year.
"A few storms collided," General Manager Les Snead said. "There's a player we like and there was a team that was willing to come back [in the draft]. And our roster was at a point where it's young and has a foundation, so let's go do it."
The Rams will open off-season workouts Monday with Case Keenum as their presumptive starter, and with Nick Foles and Sean Mannion also on the roster.
But Fisher and Snead had made no secret of their desire to upgrade at quarterback. The question was whether they had enough draft picks to entice a team picking among the top five.
Snead broached the subject of a trade with Titans General Manager Jon Robinson at the outset of the combine, where North Dakota State's Wentz and California's Goff were among more than 300 draft hopefuls. At the combine, Snead said, teams "draft" for suite location, which are used for player interviews.
"Lo and behold, the Titans were our neighbors this year," Snead said, "So it was easy for Jon and I to sneak out the back of the suite there and act like we were going to the restroom, and [we'd] chat about the pick."
The talks continued through March and heated up a few weeks ago.
"They did say they were chatting with other teams as well," Snead said, adding, "Both organizations decided, 'You know what, let's come together. If we're going to do this, let's do it sooner than later.'"
Last weekend, Snead said, he and Robinson decided, "OK, time to stop flirting and start dancing a little bit."
They continued to speak each day. Snead said Robinson told him Wednesday, "Hey, we want to do it today."
Fisher, Snead and Chief Operating Officer Kevin Demoff got the blessing of owner Stan Kroenke and completed the deal late Wednesday afternoon.
"That's when we had the conversation that, 'We'll keep this quiet and you guys keep this quiet,'" Fisher said. "Let's honor Kobe and the Lakers and L.A. fans … and we'll do something in the morning."
Snead and Fisher said a Week 17 loss last season against the San Francisco 49ers, that included a blocked-field goal attempt, positioned the Rams for their historic move.
"If the field goal goes through upright and is not blocked, we're picking 19," Fisher said. "Can you get from 19 to 1? I don't know…. But if that hadn't happened we wouldn't be sitting here today."
Snead said his wife — former NFL Network reporter Kara Henderson — always tries to make him feel better after losses by saying the defeat might pay off come draft time.
"As always, she's correct," he said. "In April, it feels a little better than that night in January."
Now the Rams can look ahead.
They conducted private workouts with Wentz and Goff in February and early March, Fisher said.
With the anticipated selection of one or the other, the Rams could have four quarterbacks on the roster when training camp begins. But Snead said a quarterback could be traded.
"Obviously, that's something we'd have to look at," he said. "We're focused on getting this trade accomplished and getting through the draft and well see where it goes."
So will it be Wentz or Goff?
Neither Snead nor Fisher tipped his hand, saying their choice would be revealed on draft day.
"There will be suspense leading all the way up," Snead said.
ALSO
Warriors rout Grizzlies to set NBA record with 73 wins
Kobe Bryant in shock after scoring 60? Pretty much
Kobe Bryant goes out shots blazing in magical finish, even for him
---
Get the latest on L.A.'s teams in the daily Sports Report newsletter.
You may occasionally receive promotional content from the Los Angeles Times.