Neal Dahlen, 77, has 77 cents in his pocket — and seven Super Bowl rings
The rings are tucked away. Slipping them on would require Neal Dahlen driving to the bank near his home in Aurora, Colo., and retrieving them from a safe-deposit box.
Dahlen isn't the type to show off. The retired NFL executive would prefer to stay in the background as a living, breathing — and golfing — Trivial Pursuits answer.
He's the answer to question: Who is tied with New England Patriots Coach Bill Belichick for the most Super Bowl rings, with seven?
"I've got nine grandchildren," Dahlen said by phone. "They were excited about the rings. They've taken pictures with them. For me, it's more than the rings, it's the memories."
And does Dahlen have memories. As a front office executive, his teams were 7-0 in Super Bowls. He won five with the San Francisco 49ers and two with the Denver Broncos. Not bad for a guy who was a football coach at Hillsdale High in San Mateo for 17 years before getting a job in the NFL.
"When I was coaching, I was a fan of 49ers football and I'd seen enough ups and downs, so I knew each year was a new season unto itself and there's no guarantee you'll ever get back to the Super Bowl again," he said.
His favorite of the seven rings was his fifth with the 49ers, commemorating San Francisco's 49-26 victory over San Diego in Super Bowl XXIX.
"That's the one that looks best to me," he said. "It's a beautiful ring with five Lombardi Trophies on it. But they're all nice."
He began working part-time for the 49ers in 1979, and eventually took on more responsibilities. He was with that organization until 1996, when he was hired as director of player personnel for the Broncos. He was promoted to general manager in 1999, moved to director of football administration in 2002, and retired the following year.
Even some of his former players are unaware of his Super Bowl bounty.
"Wait, Neal has seven rings?" said legendary Broncos running back Terrell Davis, informed of that this week. "That's amazing."
He gets no argument from Dahlen on that.
"I attribute my good fortune to three key elements: Joe Montana, Steve Young and John Elway," he said, listing the Hall of Fame quarterbacks who led those triumphant teams.
Belichick has a chance to claim the record outright Sunday when the Patriots play the Philadelphia Eagles in Super Bowl LII at U.S. Bank Stadium in Minneapolis.
Belichick has won a record five rings as coach of the Patriots, and two as an assistant coach with the New York Giants. A year ago, before New England's comeback win over Atlanta in Super Bowl LI, his four rings equaled those of Pittsburgh's Chuck Noll. Green Bay's Vince Lombardi, who won the first two Super Bowls, also won six NFL championships before the Super Bowl era.
"If [Belichick] gets the record, he's certainly deserving of it," Dahlen said. "Life goes on. Whether or not you have a record for a certain amount of time, you expect it to be broken at some point."
Seven coins, 77 cents, and we ended up with seven Super Bowl rings. It was a coincidence, but it's fun.
Neal Dahlen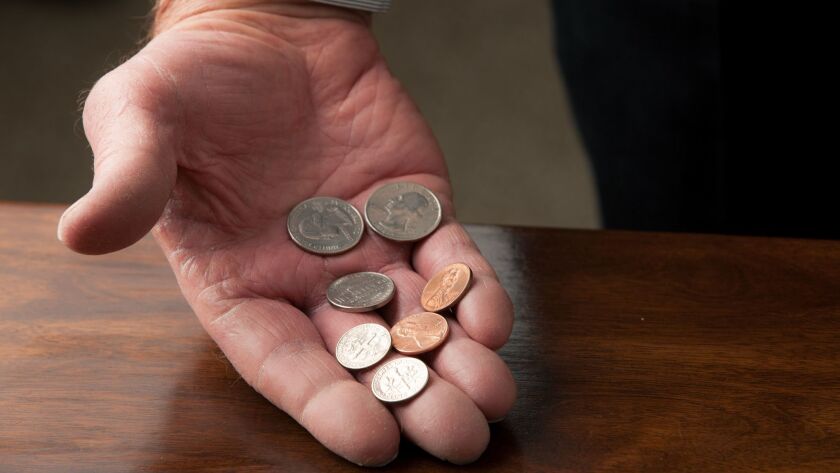 Surely, the men have a similar mentality about their jobs.
"You don't stop to think about these things for very long," Dahlen said. "In the business, you just think about the next game. After you win the Super Bowl, you smile that evening, and the next morning you're thinking about what you have to do for the next season. That's what makes it beautiful, because you don't dwell on it."
Besides, Dahlen is perfectly happy sticking with seven rings. It's poetic, in fact.
"When I was a kid, Mickey Mantle was my baseball hero, and he wore No. 7," Dahlen said. "And along the way, when I was a high school coach, before we ever won one Super Bowl, I always used to put seven coins in my pocket to start the day that came out to 77 cents. Seven coins, 77 cents, and we ended up with seven Super Bowl rings. It was a coincidence, but it's fun."
Sunday, he'll be watching the game from the comfort of home. What 77-year-old guy has it better?
Follow Sam Farmer on Twitter @LATimesfarmer
---
Get our high school sports newsletter
Prep Rally is devoted to the SoCal high school sports experience, bringing you scores, stories and a behind-the-scenes look at what makes prep sports so popular.
You may occasionally receive promotional content from the Los Angeles Times.