The 'pure happiness' of Katie Ledecky's opening triumph in the Rio pool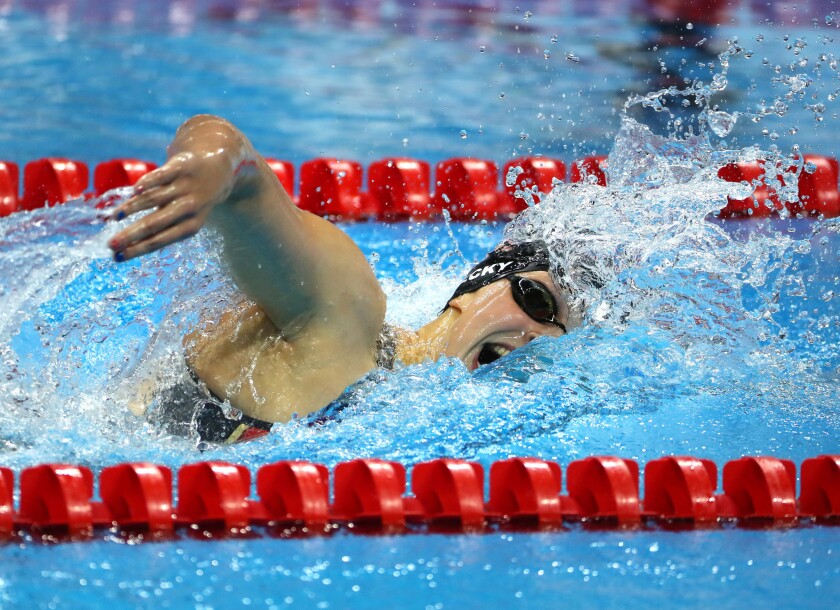 Reporting from Rio de Janeiro —
What was the first thing Katie Ledecky did when she climbed out of the Olympics Aquatics Stadium pool Sunday night after making history?
What do you think a 19-year-old would do?
Still dripping wet, officials waiting for her, fans shouting for her attention, the kid momentarily stopped and turned back toward a replay on the video board.
She couldn't resist watching herself win again. It was like taking a giant selfie.
"Awesome," she said.
Yeah, pretty much, a gold-medal blowout, a world record by nearly two seconds, and a first splash toward becoming one of America's Rio Olympic sweethearts.
"Pure happiness," said Ledecky after winning the 400-meter freestyle by the approximate length of a ride at Raging Waters.
It was pure Katie, a human jet ski who barely makes a sound, big smile, wide eyes and savage soul, winning the first of what is expected to be three individual gold medals here by defeating runner-up Jazz Carlin of Britain by nearly five seconds with a time of 3:56.46.
"I just let it all out,'' said the kid who tucks her long blond hair tight up under her dark swimming cap before unleashing her powerful stroke with a humble yet harrowing style. She does hold the world record in all three of her events here: the 200, 400 and 800 freestyle.
She casually walked up to the blocks Sunday night with a towel around her shoulder like she was heading to the condo pool. The towel came off, the goggles were tightened, the race started, and the 5-foot-11 cruiser began flying across the water as if riding a perpetual wave.
She sailed into a commanding lead after one trip down the pool. Seven trips later, she headed into the final stretch with such a big lead that it was as if she was swimming by herself. By then, several thousand screaming fans weren't cheering for a win, they were cheering for a world record, and once again, Ledecky gave them both.
After she touched the wall and pumped her fist, runner-up Carlin and third-place finisher and USA teammate Leah Smith required seven strokes to catch her.
Said an overwhelmed Carlin: "I'm a bit gobsmacked, really.''
Added Smith: "If I'm anywhere near [Ledecky], I'm probably having a good race.''
Everyone seemed appropriately awed except Ledecky, who shed no tears during the medal ceremony and properly sang every word of the national anthem with her hand over heart.
"I was really relaxed," she said with a grin. "Not shaking.''
She says things like that, goofy quotes, kid quotes, nothing that makes headlines but everything that feels real.
"I mean this in a positive way but, she doesn't care," said her coach Bruce Gemmell recently. "She doesn't care it's the Olympics any more than she cares it's a championship meet at home, any more than she cares it's her high school championship. She gets excited about all of them."
A fire in the Summit Valley area , Michael Phelps  and Katie Ledecky  winning gold, Delta Air Lines delays , and a mother and daughter killed in Long Beach .
She's a year out of high school, a couple of months before enrolling in Stanford, and still seemingly blissfully unaware of the fame that awaits her.
She's such an unknown, she was recently walking through an Atlanta shopping mall when two girls asked her to take a photo. Only, the girls wanted Ledecky to hold the camera, not pose for it. Yes, they wanted her to take a picture of them, and she happily agreed.
She's still doesn't seem media-savvy. In the recent USA swimming video featuring the team in a carpool karaoke video, she appears to stop the car and unlock the door.
"All right, I'm out," she says, looking seriously uncomfortable. "I don't feel safe driving four other Olympians."
A big player on social media? Not even close. According to her Twitter account, in four years she has tweeted exactly 746 times, a figure which some 19-year-olds hit in one week. She has 44,000 followers, far less than even some sportswriters.
Most of her tweets are compliments for family and friends, including this memorable one on May 8 in which she honors her mother with words from a song by writing, "Who's the best mom in the whole wide world? It's Mommy! It's Mommy!''
She's still a gawky kid, one who drinks chocolate milk after swim practice and has motivated herself by writing, "want times'' on slips of paper that she hides.
If she looks a little clumsy on land, well, it's because she is. She initially wanted to play basketball, but that dream ended when she slipped on a wet spot in fourth grade and broke her arm.
She is a typical swimming rat, from the suburbs of Washington, D.C., joining a team at the local club at age 6 with her older brother Michael because their mother wanted them to have friends. She grew tall and strong and became a national age-group champion by 12. Three years later, she wound up being the youngest and perhaps most obscure member of the 2012 Olympic swim team.
How did she prepare for her first shining moment? She played Stratego with her brother.
What happened in that moment? She won a gold medal in the 800 free in the second-fastest performance ever. The most notable part of that might have actually been afterward, when, on the medal stand, she cried. Katie Ledecky cries?
In the post-race interview session, she was asked if she used performance-enhancing drugs, which she immediately denied, but the question is a fair one for all swimmers who are so dominant.
In Ledecky's defense, she has been leaving girls in her literal wake since childhood, she is lanky enough not to resemble a typical steroid giant, and she doesn't train with folks with a reputation for drugging. All that, and she has reportedly passed 15 doping tests this year.
Here's hoping she is as clean as she appears. Here's hoping America can enjoy more sweet moments like Sunday, after the medal ceremony, when fans offered two American flags for Ledecky and Smith to carry.
Ledecky took her flag and immediately shared it with Smith during their parade around the pool, giving her a piece of her victory, a equal share of the glory, keeping her as close as any swimmer will get to Ledecky all week.
Twitter: @billplaschke
ALSO
Rio roundup: Crash keeps U.S. from winning medal in women's road race
Massialas makes some fencing history but falls short of gold
---
Get the latest on L.A.'s teams in the daily Sports Report newsletter.
You may occasionally receive promotional content from the Los Angeles Times.