Korean women's hockey coach, daughter of former L.A. Kings coach, faces hurdles with new players from the North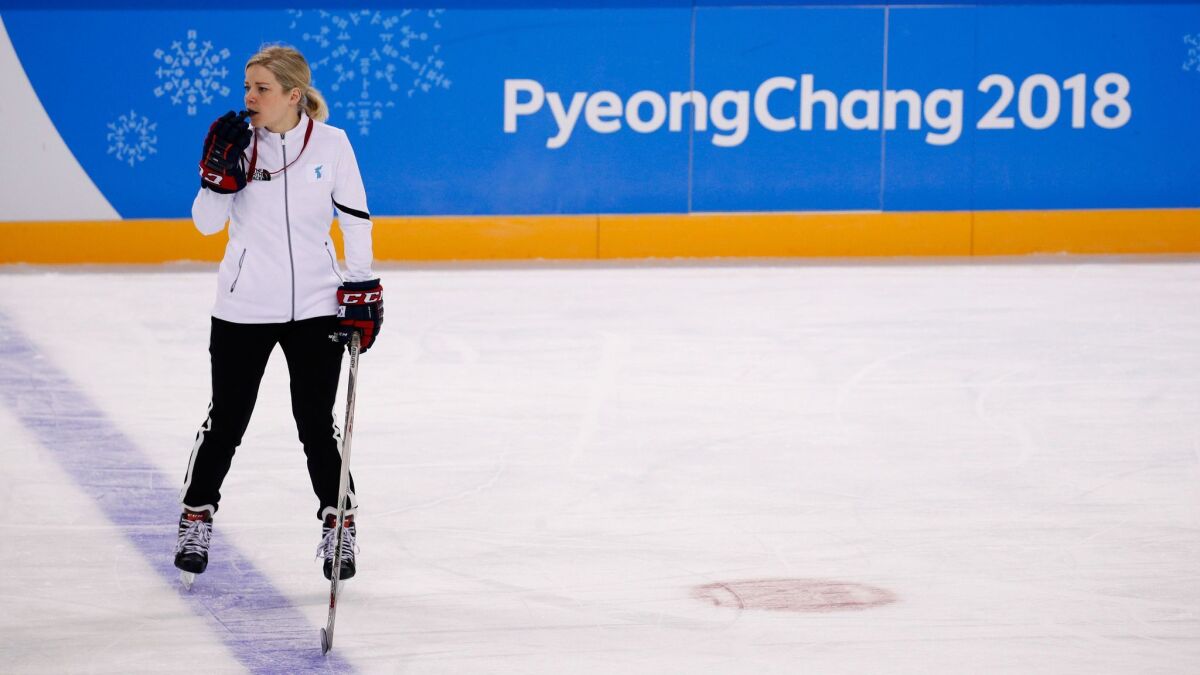 Reporting from INCHEON, South Korea —
The recently combined women's hockey team representing North and South Korea debuts Saturday at the Winter Olympics — an early chance to see how the politically symbolic mash-up will work.
For Sarah Murray, the Canadian American head coach unwittingly thrust into the international sporting spotlight, it's a test of what she calls the "situation."
The situation invites media frenzy. The situation complicates coaching. The situation means that members of Murray's original squad — after training together for years — might be pushed aside for the newcomers from the North.
Not much in this situation outwardly seems ideal for Murray, 29, a two-time national champion as a collegiate player and the daughter of former L.A. Kings coach Andy Murray.
"This whole situation is out of our control," said Murray, "so we're trying to make the best of it."
Doing so requires combining her original 23-member squad with 12 unfamiliar and less experienced players from North Korea, who only arrived in the last two weeks.
The team — which includes two new players who list a steel mill as their pro club — grew out of negotiations over North Korea's participation in the Games, which open Friday in Pyeongchang, South Korea.
Those talks were held at a diplomatic outpost inside the heavily fortified demilitarized zone separating the two countries, and they didn't include Murray.
Her team will be the first-ever combined Olympics squad in any sport for Korea, which split into two nations after World War II and has remained divided under an uneasy truce since the Korean War ended six decades ago.
Only 22 players may dress for each game, and at least three must be from North Korea, according to the agreement with the International Olympic Committee. In Sunday's friendly against Sweden, a loss, Murray dressed four players from the North, including one who got a shot on goal.
They will compete as Korea — using the acronym COR — under a unification flag, a white rectangle with a light blue silhouette of the peninsula.
Overall, nearly two dozen athletes from the North will take part in the Games, a show of cooperation that, at least for now, seems to have reduced the potential for conflict on the peninsula.
But the deal — and especially the hockey team — has sparked complaints and protests in South Korea.
Many here deeply distrust the motives of the North's totalitarian regime, which has developed long-range ballistic missiles and nuclear weapons in violation of international resolutions, raising tensions worldwide.
Politics aside, the situation poses practical challenges for Murray, a Minnesota native who doesn't speak Korean.
The team members, like people in their respective countries, speak a generally common language, but bring different accents, dialects and hockey vocabulary onto the ice, making communication difficult.
The players from the North, an isolated nation that restricts its citizens' access to outside news and South Korean culture, also are not living with their teammates — either at their training facility here west of Seoul or in Gangneung, an eastern city hosting the Games' indoor sports, such as curling, skating and hockey.
That too is a situation outside Murray's control.
This whole situation is out of our control, so we're trying to make the best of it.
— Sarah Murray
"In an ideal world, yes, we would be in the same building and we would stay together," she said. "We're one team, but, unfortunately, it didn't work out that way. So we're just going to deal with it."
South Korea is a long way from home for the Minnesota native, whose life was centered on hockey from an early age as her father progressed through numerous coaching jobs — including with Canada's national team and the L.A. Kings (1999-2006) and St. Louis Blues (2006-2010).
Murray's first action in competitive hockey came at age 7 in Winnipeg, Canada, and led to a standout college career at the University of Minnesota Duluth. She went on to play professionally in Switzerland and China, and joined the South Korean team in 2014 after a chance meeting with Jim Paek, the first Korean-born athlete to play in the National Hockey League.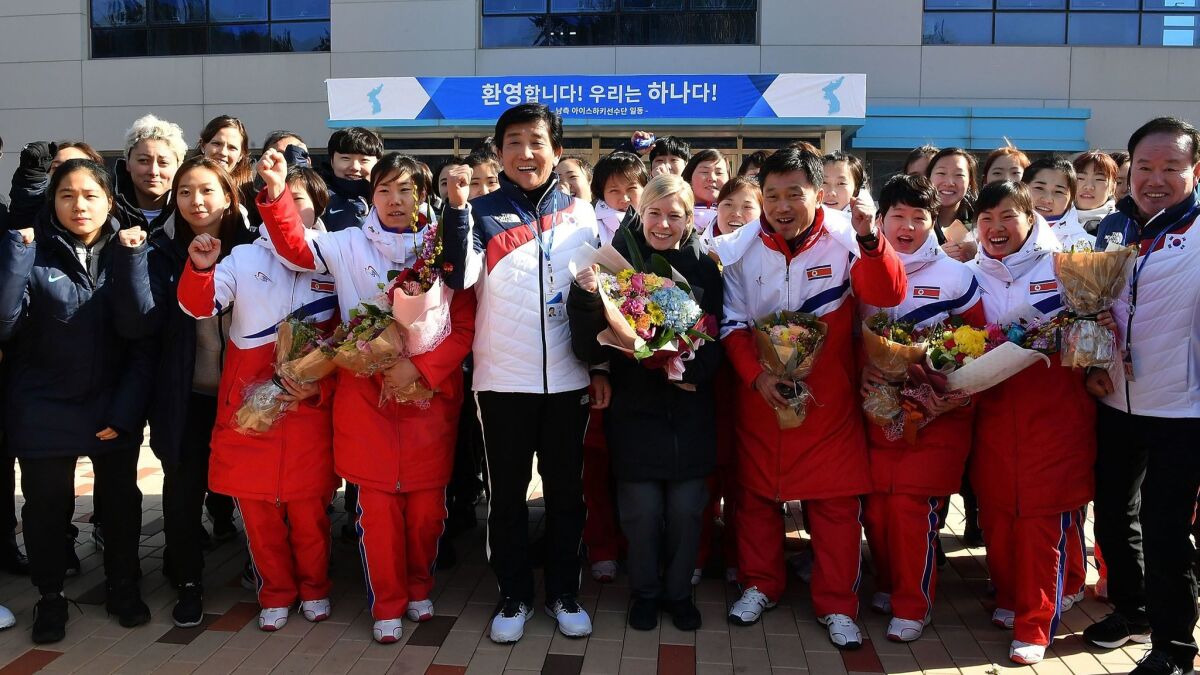 With little coaching experience outside camps and watching her father, Murray inherited a hockey program still in its infancy. South Korea at the time had no professional leagues or major university teams, and many of the players were young and inexperienced. She drew on her father's advice, changing the players' workout and practice regimes — and developing her own confidence along the way.
"She gets it," said Andy Murray, who's now the head coach at Western Michigan University. "We're real proud how she's matured as a person and as a hockey coach."
As for these Games, Sarah Murray's goals are modest.
"We would love to do that," she said of the squad's chances of medaling in Pyeongchang. "Our goal was to advance out of our division."
The team's latest effort, the 3-1 loss to Sweden, was a spectacle for South Korean hockey. More than 3,000 fans packed an arena here to watch. After the game, Murray — dressed in a bright white parka emblazoned with the Korean unification flag — faced several dozen reporters and television cameras in a frigid basement-level practice rink.
The 20-minute news conference included statements by Park Chul-ho, the North Korean team's coach, and Jong Suhyon, the North Korean forward who got a shot on goal. Murray confidently answered questions in a scene her father said appeared more fitting for a post-game press event during the Stanley Cup.
The exchange with reporters, of course, wasn't possible without an interpreter — much like team meetings, which can drag on between the explaining in English and the various Korean phrase variants needed to communicate clearly with the players from the North and South.
It's yet another situation Murray faces — one that's unlikely to change any time soon.
Stiles, a special correspondent, reported from Incheon and Seoul, South Korea. Times staff writer Helene Elliott in Los Angeles contributed to this report.
---
Get the latest on L.A.'s teams in the daily Sports Report newsletter.
You may occasionally receive promotional content from the Los Angeles Times.