Snowboarder Red Gerard claims first gold for U.S. in slopestyle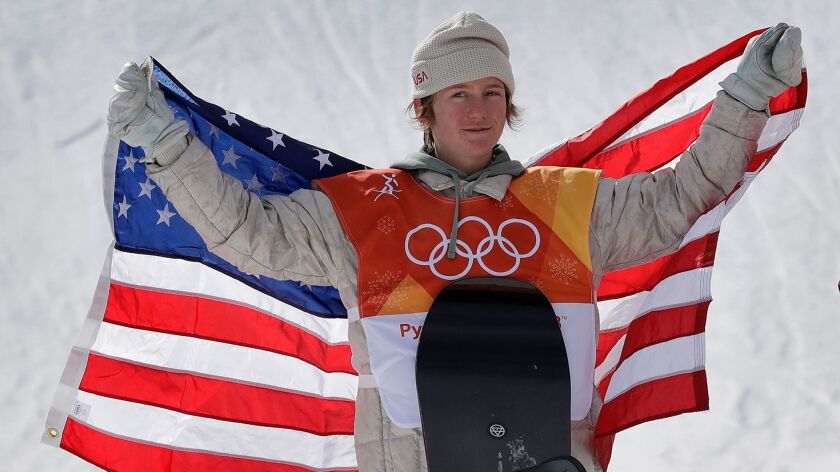 Reporting from PYEONGCHANG, South Korea —
Nerves don't usually bother Red Gerard.
The mop-haired snowboarder from Colorado is known for his relaxed demeanor, even during his first trip to the Winter Olympics.
That changed Sunday,as subzero winds ripped through the slopestyle course at the Phoenix Snow Park and Gerard faced his final run.
His previous two tries had been forgettable, leaving him in last place among 11 riders.
"I think I was just a little nervous," Gerard said. "I came all the way out here, and I just wanted to land a run."
The 17-year-old did much more than that. He flew through a flawless, jaw-dropping run that earned a score of 87.16 to pass three heavy favorites in the event and claim the first U.S. gold medal of the Games.
"He is such a calm and collected kid, he can handle himself no matter what," said Kyle Mack, a fellow U.S. snowboarder who is Gerard's roommate. "He laid down the run of his life."
The run made history, too. Gerard is the youngest Olympic snowboard medalist in any event and the second-youngest man ever to win a medal at the Games in an individual event. Finland's Toni Nieminen won a ski jumping gold at age 16 in 1992.
After finishing, Gerard clapped repeatedly, then pumped his left arm in the air. A large group of family and friends roared. They waved American flags, chanted "U-S-A!" and held up larger-than-life photo cutouts of his face. Someone thrust a handwritten sign above the fray: "We're here to get Gerarded."
Even IOC President Thomas Bach was on hand for the event.
Gerard, who stands 5-foot-5 and weighs 115 pounds, knew he had done something special.
"It's just mind blowing," he said. "I can't believe everything worked out."
Born in Ohio and raised in Silverthorne, Colo., Gerard started snowboarding at age 2. By the time he was a teenager, he had a slew of sponsors and a website that offered a simple mission statement: "Always in search of the funnest ways to shred." He developed his arsenal of tricks on a course in his backyard.
The night before his historic run, Gerard fell asleep in the middle of an episode of 'Brooklyn Nine-Nine.' He set two alarms to make sure he'd wake up. Mack ensured his roommate got coffee and a breakfast sandwich, then got him on the bus to the snow park.
"Apparently I'm a good roommate," Mack said.
On Gerard's final run, the mistakes that plagued his first two tries disappeared. The difficult weather conditions didn't seem to matter. He navigated the rails section — he likened it to a jungle because of the plethora of options — with his usual creativity.
Let Gerard, who will also compete in the big air contest Feb. 24, describe the final stretch:
"Then frontside Miller Flip 540 into switchback backside 12," he said without pausing for breath, "and then a front double 10 out of the side hit into a backside triple cork."
Gerard had to watch runs by four more competitors before the gold belonged to him.
Canada's Max Parrot scored an 86.0 in the final run of the event to finish second, touching off another raucous celebration by Gerard's entourage.
"He's a very creative rider," Parrot said of Gerard.
Another Canadian, Mark McMorris, who had led the event until Gerard passed him, placed third. He fell on the final jump of his final run, skidding headfirst down the hill.
Gerard, who figured he'd probably be in school if he wasn't at the Games, remained in shock.
"I'm shaking right now, maybe from the cold or from the excitement, I don't know," he said. "But I'm ecstatic. … To get first is crazy."
The celebration nearby grew louder.
Twitter: @nathanfenno
---
Get the latest on L.A.'s teams in the daily Sports Report newsletter.
You may occasionally receive promotional content from the Los Angeles Times.