U.S. Senate weighs in on women's hockey boycott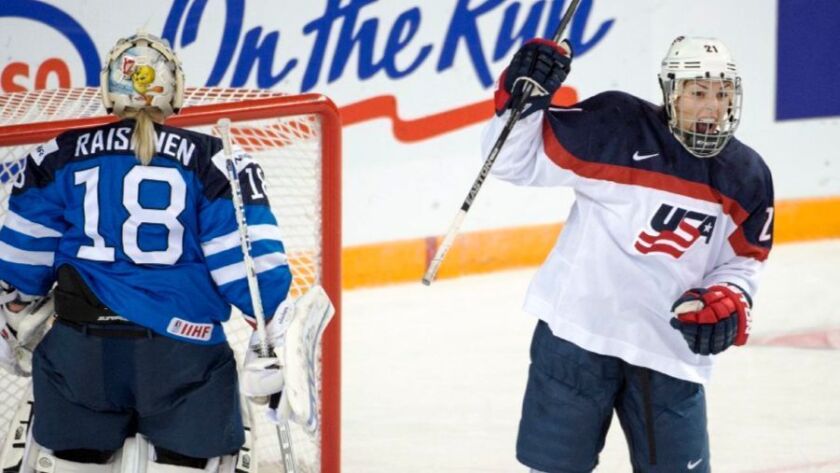 Just days before the women's world championships, a group of U.S. senators has written a letter urging USA Hockey to reach a settlement with top American players who have vowed to boycott the tournament.
Sen. Elizabeth Warren (D.--Mass.) and more than a dozen of her colleagues raised concerns on Monday about whether the women's team is receiving "appropriate compensation."
"These elite athletes indeed deserve fairness and respect, and we hope you will be a leader on this issue as women continue to push for equality in athletics," the letter stated.
The boycotting players said earlier they were awaiting news from a last-minute USA Hockey board meeting that could resolve the differences the two sides discussed during recent East Coast talks.
"We are hopeful that at [Monday's] meeting of USA Hockey's board of directors, the members will agree to the terms that those at the negotiating table in Philadelphia saw as a reasonable path forward," the players said in a joint statement.
USA Hockey and its female players have been at odds for more than a year over issues that include compensation, funding for staff and junior development.
The athletes have complained about inequitable treatment, contending they receive less support than the men's program.
USA Hockey insists that it has devoted ample resources to make the women's program successful.
The women have won a string of world championships and have won medals in every Winter Games since their sport was added to the Olympic program in 1998.
The 2017 world championships are scheduled to begin in Plymouth, Mich., later this week with a field that includes teams from Canada, Finland, Germany, Russia and Sweden.
Veteran U.S. players such as Meghan Duggan, Hilary Knight and Amanda Kessel announced the planned boycott earlier this month. National officials have said they will seek to field an alternate team if the situation is not resolved.
Several college and pro players told the Associated Press they were contacted by USA Hockey but declined to participate.
Follow @LAtimesWharton on Twitter
---
Get the latest on L.A.'s teams in the daily Sports Report newsletter.
You may occasionally receive promotional content from the Los Angeles Times.