U.S. Olympic Committee fostered a culture that allowed Larry Nassar to molest its athletes, investigation finds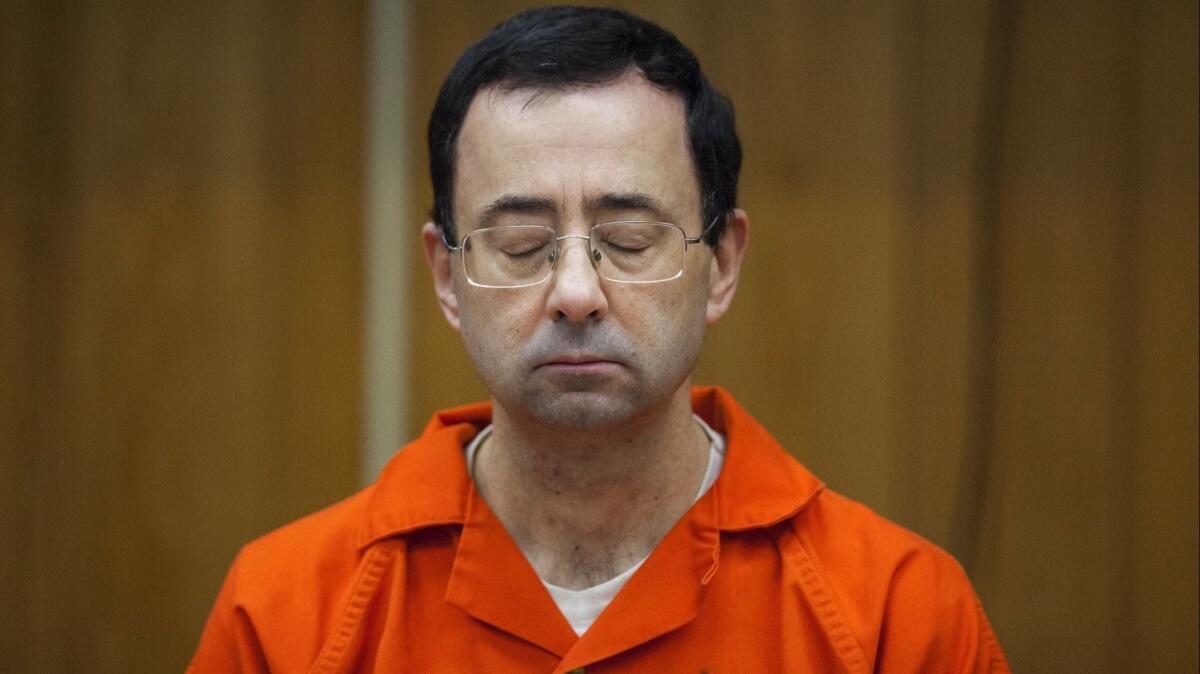 An independent investigation has provided new insight into the U.S. Olympic Committee's role in the Larry Nassar sexual abuse scandal, criticizing the organization for participating in a culture that "facilitated" the crimes and willfully ignored warning signs.
The USOC, which commissioned the 233-page report, responded to its release Monday by firing key executive Alan Ashley and vowing to make further changes.
"It is simply unacceptable what happened," chief executive Sarah Hirshland said. "We know that our work will not stop."
The investigation by the law firm of Ropes & Gray reached beyond the USOC, examining the actions of USA Gymnastics and coaches Bela and Martha Karolyi, as well as FBI agents who were slow in pursuing the case.
"While Nassar bears ultimate responsibility for his decadeslong abuse of girls and young women, he did not operate in a vacuum," the report states. "Instead, he acted within an ecosystem that facilitated his criminal acts."
Hundreds of young athletes have come forward with accusations that the former sports doctor — who worked in various capacities for Michigan State, USA Gymnastics and the U.S. Olympic team — molested them under the guise of providing medical treatment.
Nassar, 55, is expected to spend the rest of his life in prison after pleading guilty to charges of sexual assault and possession of child pornography.
The scandal prompted a wave of lawsuits, and Michigan State announced it would set aside $500 million to settle current and future claims. USA Gymnastics and the USOC also face litigation.
"The USOC has been trying to pretend for the better part of two-and-half years it had nothing to do with this," said John Manly, a Southern California attorney representing many of Nassar's victims. "What's clear is that the conspiracy to conceal was from the top down."
Monday's report confirmed that Steve Penny, then president of USA Gymnastics, contacted the USOC to discuss allegations against Nassar in the summer of 2015.
Former USOC chief executive Scott Blackmun and Ashley, the chief of sport performance, subsequently deleted emails about the matter and kept the conversation to themselves, choosing not to inform their colleagues or anyone at Michigan State.
Asked why the USOC board was not notified, outgoing chairman Larry Probst said: "I'm not sure I have a good answer for that but, obviously, going forward there needs to be more transparency."
USA Gymnastics also contacted the FBI in 2015. While that investigation languished, the report states, Penny tried to keep the matter from going public and offered to help an FBI agent get a job with the USOC.
Over the next 14 months, Nassar quietly stopped working for USA Gymnastics but continued to see patients, molesting dozens of more athletes, before the Indianapolis Star began writing about the allegations against him in late 2016.
"USAG's and the USOC's inaction and concealment had consequences," the Ropes & Gray report stated.
Investigators placed some blame on the culture of gymnastics which, at its elite level, forces young women to train constantly and be absolutely obedient to coaches who determine the rosters for national teams.
The famed Karolyi coaching duo, who guided U.S. gymnastics to great success on the international stage, were instrumental in bolstering this Eastern European approach. Nassar committed many of his crimes while working with athletes at the Karolyi ranch near Houston.
"Criticisms of the Karolyis' training methodology were often 'drowned out by applause' as their athletes kept winning medals," the report said.
At the USOC, Blackmun was similarly lauded for overseeing successful Olympic teams and raising millions in sponsorship dollars for an organization that had struggled before him.
The committee did not seem to pay as much attention to the national governing bodies for each sport — such as USA Gymnastics, USA Swimming, etc. — under its umbrella.
"In this governance model, the USOC exerted its broad statutory authority and monetary influence over individual sports primarily for the purpose of encouraging success at the Olympic Games, effectively outsourcing any decisions regarding on-the-ground child-protective practices to the NGBs," the Ropes & Gray report said.
Amateur sports did not keep pace with other types of youth groups that adopted rules amid heightened awareness of sexual molestation. In particular, athletes seeking to report abuse faced a "convoluted" process that left them vulnerable to retribution, according to the report.
Hirshland acknowledged that the USOC "at times, lost sight of the fact that the core of what we do is the athletes."
The new chief executive took over last winter when Blackmun retired, saying he needed to focus on dealing with prostate cancer. Probst will step down as chairman at the end of the year and be replaced by current board member Susanne Lyons.
USA Gymnastics has also undergone leadership changes and filed for Chapter 11 bankruptcy. Penny was recently arrested for tampering with evidence in the Nassar case.
The USOC has initiated a process that could eventually strip the national governing body of its authority. Hirshland pointed to a number of recent developments — including more funding for the fledgling U.S. Center for SafeSport — as evidence of improvement.
Though Monday's report could lead to further action, she said: "Changing culture for an organization can take time."
Follow @LAtimesWharton on Twitter
Get the latest on L.A.'s teams in the daily Sports Report newsletter.
You may occasionally receive promotional content from the Los Angeles Times.