Former Ram Chris Long has a chance to follow in his father's footsteps and win a Super Bowl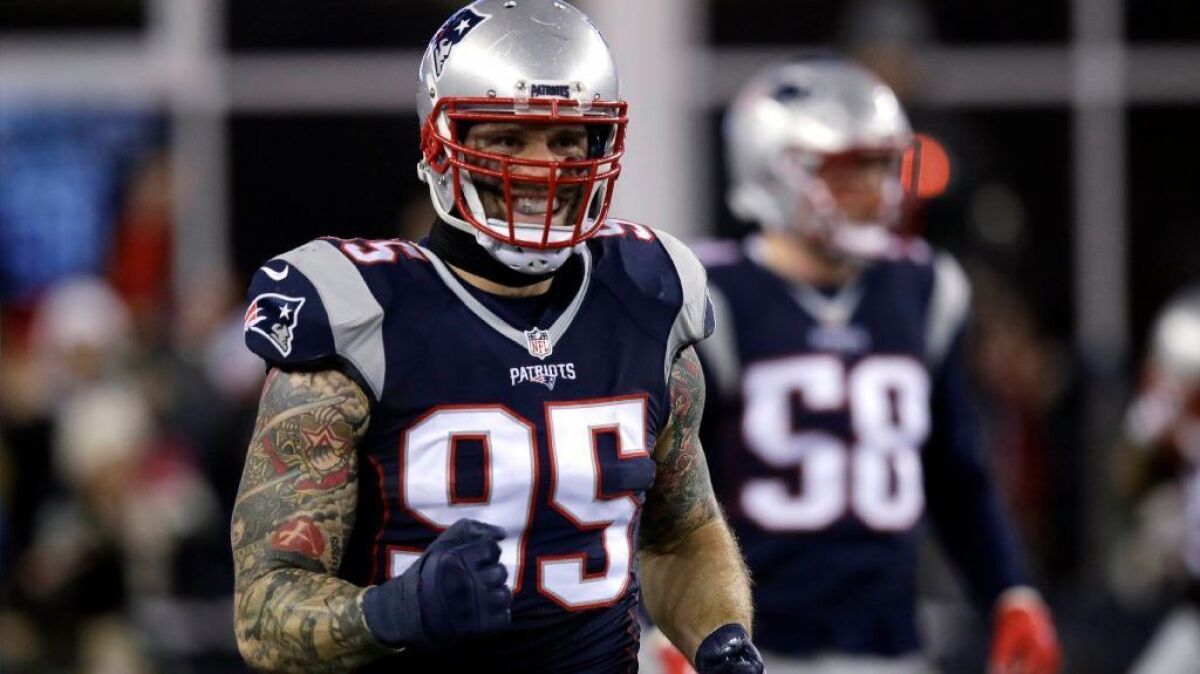 Reporting from houston —
With the spectacle that is Super Bowl media night swirling about him, Chris Long sat at a podium in Minute Maid Park answering rapid-fire questions from reporters as fans in the bleachers shouted.
Last January, he could not have imagined being a part of the frenetic scene. He had just finished his eighth season with the Rams, his second in a row marred by injuries.
"A year ago I was thinking a lot about football or no football?" he said. "I was thinking about if I wanted to keep going, where I would be?
"So I never could have dreamed of this."
On Sunday, Long will achieve a lifelong goal when he competes for an NFL championship.
The veteran defensive lineman is a key role player for a New England Patriots team that will meet the Atlanta Falcons in Super Bowl LI at NRG Stadium.
And his father, Howie Long, a Super Bowl champion and Pro Football Hall of Fame player, will be on site watching closely — and rooting for his son — while working as an NFL analyst for the "Fox NFL Sunday" show.
"Just pinch me," Howie Long said Monday.
This is how both Chris Long and his father hoped the season would play out after Chris signed a free-agent contract with the Patriots in March.
About a month after the NFL gave them permission to move from St. Louis to Los Angeles, the Rams released Long, linebacker James Laurinaitis and tight end Jared Cook as part of a salary purge and youth movement.
Long, 31, considered joining several teams, including the Falcons, before signing with a Patriots franchise that went on to earn a record ninth Super Bowl appearance.
"It always came back to playing to win," Howie said.
That made the Patriots a proven choice.
Chris, however, described it as "a leap of faith" by both himself and Patriots Coach Bill Belichick.
"Nobody was like pulling a muscle to open their checkbook for me after my last two years because I was hurt and I wasn't very good," Chris said. "But Bill took a chance on me and I'll always appreciate that."
Long, who received a four-year, $48.2-million extension from the Rams in 2012, signed a one-year contract with the Patriots for about $2.4 million, according to spotrac.com.
He started seven games during the regular season and had four sacks, increasing his career total to 58 ½. He had one tackle in the AFC title game, a 36-17 victory over the Pittsburgh Steelers that improved the Patriots' record to 16-2 and put them in the Super Bowl for the second time in three seasons.
Long has infused the Patriots with "veteran energy," Belichick said.
"Some of these players that have been with the Patriots for a while have had a lot of successful seasons and won a lot of games," Belichick said. "Chris hasn't.
"I think he appreciates the winning a lot and I think that energy and spirit that he has about winning carries over to some of the guys."
Long, the oldest of Howie and Diane Long's three sons, was born in 1985. That was two years after his father helped the Los Angeles Raiders cap the 1983 season with a victory over the Washington Redskins in Super Bowl XVIII at Tampa, Fla. Long's brother Kyle, 28, is an offensive lineman for the Chicago Bears.
Long has seen "black and white" tape of his father playing in the Super Bowl.
"He was flying around the field like a madman," Long said.
Howie, 57, played in college at Villanova and was selected by the Raiders in the second round of the 1981 draft. At 6 feet 5 inches, he played at 268 pounds. In 179 games over 13 seasons, he recorded 84 sacks and was enshrined into the Hall of Fame in 2000.
Chris, 6-3, 270, played at Virginia and was the second overall pick in the 2008 draft. Like his father, he said, he relies on quickness, explosiveness and effort.
"But there's no comparison," he said. "He's got the gold jacket. I'm just out here trying to make a name for myself."
Long did that during his Rams career.
He was productive and a locker-room presence. In December, former coach Jeff Fisher described Long as "one of my all-time favorites."
"It was just time to move on," Long said of his release, adding that Fisher, "knew he was doing me a favor, maybe, and giving me a new opportunity and a fresh start.
"And that's what it's been. This year, I've been able to kind of get back to being me. It's a different role here, but it's football."
Winning football.
During his eight seasons with the Rams, none that ended with even a .500 record, Long never participated in a playoff game.
"I ran out of things to say on Sunday night, I really did," Howie said. "As a dad, as someone who played, 'It will be better next week. It will be better next year.'
"Eight years? That's hard to do."
Long has participated in two playoff games this season.
"These guys have earned the right to be in games like this for a long time," he said after the victory over the Steelers. "And that's exactly what it takes.
"You've got to earn it. That's something I learned this year. You don't just snap your fingers and you're here. It's a grind, and we've grinded it out and now we've got an opportunity."
Long remains in regular contact with former Rams teammates, including such defensive linemen as William Hayes, Eugene Sims and Robert Quinn.
"They're my brothers — like family to me," he said, adding, "We played a lot of good football together. Maybe not had the successes we wanted, but hey listen: When I'm out here playing in the playoffs and taking advantage of this opportunity, I'm thinking of those guys too."
The Super Bowl will mark only the second time in Chris' NFL career that his father will be on site to watch him play. In 2013, Fox gave Howie the day off to watch Chris play for the Rams against Kyle and the Bears.
Howie has told Chris to enjoy the Super Bowl experience; to relish and take advantage of the opportunity.
Chris intends to do so.
"More than just football advice — he's always been a great father to me and a great friend," Chris said. "He's always done a great job of putting that first and football second.
"The things that he's taught me as a man have kind of taught me on the football field."
Follow Gary Klein on Twitter @latimesklein
Get the latest on L.A.'s teams in the daily Sports Report newsletter.
You may occasionally receive promotional content from the Los Angeles Times.