Jared Goff should be the Rams' starting quarterback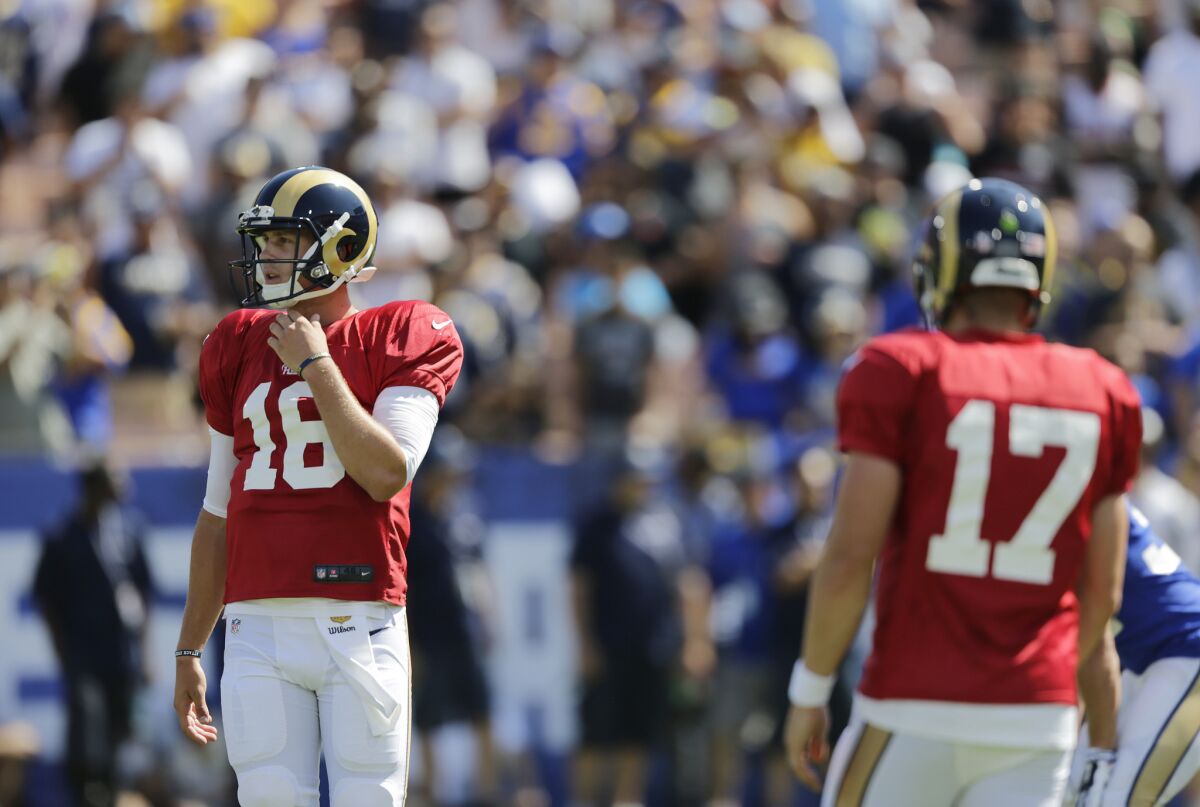 The Rams were bold when they acquired a massive chunk of land in Inglewood and planned a $2.6-billion stadium, bold when they seized a Los Angeles market gathering dust for two decades, bold when they made a historic leap up to the No. 1 pick in the draft.
And they should be bold again in making rookie Jared Goff the starting quarterback.
Goff is working with the No. 2 offense — Case Keenum is the starter — but with each practice the former University of California standout is showing he's increasingly ready to take the reins. The exhibition opener against Dallas on Saturday will shed more light on how far he has come.
The Rams are closely monitoring how quickly Goff is picking up the offense, how he's seeing the field, his anticipation in terms of throwing to spots and letting receivers go get the ball, as opposed to aiming for the receivers themselves. Day by day, he's getting increasingly comfortable.
"You can see it, especially when you go back and hit rewind a few times on the film," General Manager Les Snead said after Saturday's practice at the Coliseum. "I always give the quarterback credit because he's actually doing it without rewind, in real time."
The Rams transformed the Coliseum into their home field Saturday for a trial run before hosting the Cowboys in a preseason game next week. Gary Klein, Sam Farmer and Lindsey Thiry recap the practice. 
Snead says he sees a distinct difference between this Goff and the one in Organized Team Activity workouts in the spring. Remember, Goff has had to relearn taking a snap from under center, something he hasn't done with any regularity since his freshman year of high school.
"In OTAs, he was memorizing the vocabulary words, now he's applying them," Snead said, comparing learning the playbook to learning a new language.
First, you learn Spanish words. Then, you use it in everyday life. When you start dreaming in Spanish, then it's your language.
From the start, Coach Jeff Fisher has made it clear he's not going to rush Goff onto the field, or put any absolute deadlines on when he needs to get out there. Fisher has taken a when-he's-ready-we'll-know approach.
Regardless, when the games are real, Goff should be the starter. The argument against that is the risk of putting a young quarterback out there too early and destroying his confidence. Hey, Aaron Rodgers got to learn at the elbow of a seasoned pro in Green Bay. Same for Philip Rivers in San Diego. But those teams had Brett Favre and Drew Brees as starters. The Rams have Keenum, who is at best a temporary fix.
In 2008, rookie quarterbacks Matt Ryan (drafted third by Atlanta) and Joe Flacco (18th by Baltimore) started every game for their teams and each made NFL history by reaching the playoffs. Since, every rookie quarterback selected No. 1 overall has opened his season as the starter — that's Matthew Stafford, Sam Bradford, Cam Newton, Andrew Luck and Jameis Winston. So it would actually be breaking with tradition to sit Goff.
No matter when he takes over, Goff will encounter some type of turbulence. Of course there will be a learning curve. But his ability to withstand that is one of the reasons the Rams fell for him in the first place, that he worked through the rough patches and took Cal from 1-11 to 5-7 to 8-5. That included a 55-16 humiliation in a monsoon at Oregon, when the freshman Goff lost two fumbles on the Bears' first three possessions and was benched near the end of the first quarter. His passing numbers: three for six for 11 yards.
Coach Sonny Dykes resisted the pressure to replace him as the starter after that debacle, and Goff now looks at that moment as one that shaped who he is today. He didn't crack; he grew from it. The Rams took that into account when they traded up 14 spots to draft him.
Dykes told The Times before the draft that Goff and his family are as "low maintenance" as any people he has encountered as a coach.
"We threw that poor kid to the wolves his first year," Dykes said. "He just got teed-off on play after play, and nobody ever said a word. Mom and dad were never, 'Hey, wait a minute guys, what are y'all doing to my son?' They were just supportive, exactly the kind of people you would want."
Obviously, a player's parents aren't part of that equation in the NFL, but that's reflective of the fact that Goff is tough, not a Faberge egg to be coddled. He has shown he's capable of handling pressure, and growing through it.
The Rams open Sept. 12 at San Francisco, and they've had months to prepare for that game. If they decide to start Keenum, they'll have to give him the majority of the snaps in the days and weeks leading up to that, which will slow Goff's progress.
For Goff, a Monday night start at San Francisco would not only be a homecoming, but would bring the family's story full circle. His father, Jerry, a former major league catcher, got his first career hit at Candlestick Park. You can bet the researchers at ESPN will have a video clip of that at the ready.
The future is now for Goff, and his team has made lots of gutsy moves to get to this point. Why stop now?
sam.farmer@latimes.com
---
Get the latest on L.A.'s teams in the daily Sports Report newsletter.
You may occasionally receive promotional content from the Los Angeles Times.