Kurt Warner took a one-of-a-kind route to the Hall of Fame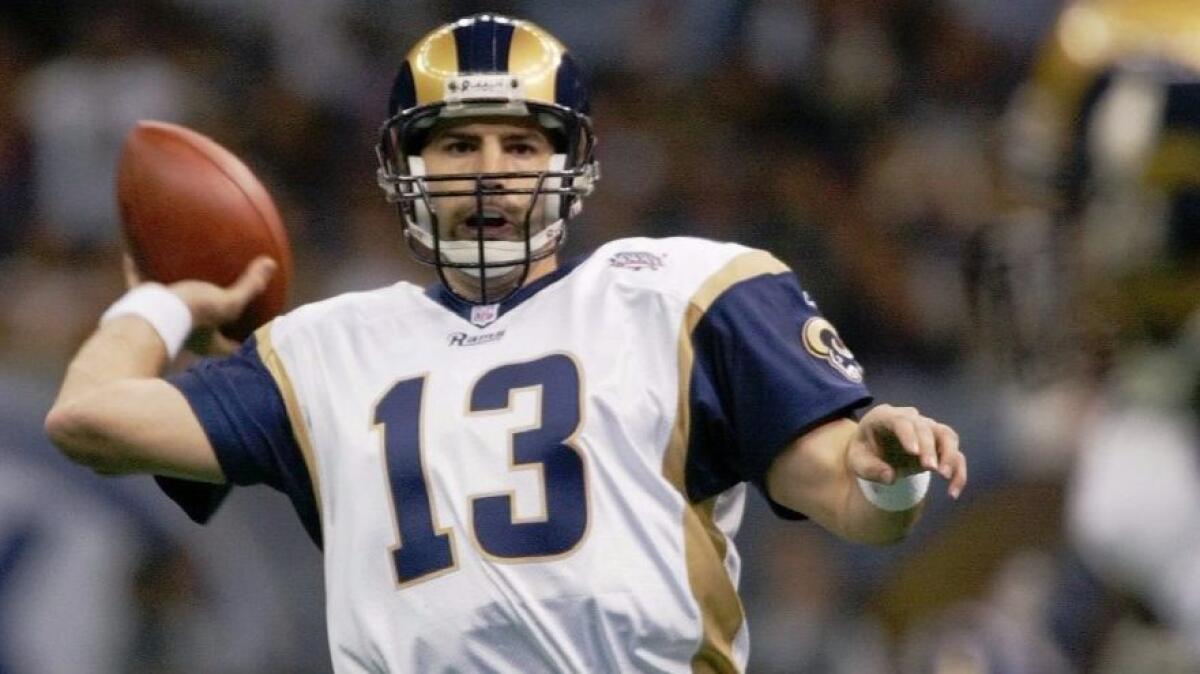 After years of waiting for an NFL opportunity, Kurt Warner's finally arrived.
He had been cut by the Green Bay Packers, stocked shelves in an Iowa grocery store, starred in the Arena Football League, and played in NFL Europe.
When St. Louis Rams quarterback Trent Green suffered a knee injury late in the 1999 preseason, the then 28-year-old Warner was tabbed to start. He was confident but also nervous.
"I knew, unlike other guys, I wasn't getting another chance," Warner said Thursday. "This was it. This was my one chance."
Warner made the most of it.
He set NFL passing records and was voted the league's most valuable player while leading the Rams to a Super Bowl title. As the triggerman for the Rams' "Greatest Show on Turf" offense, he won the MVP award again two years later with another run to the Super Bowl.
Warner also led the Arizona Cardinals to the Super Bowl in the 2008 season.
When his 12-year career ended, Warner had amassed more than 32,000 yards passing — eclipsing 300 yards in 52 games — and 208 touchdowns.
On Saturday, he will be inducted into the Pro Football Hall of Fame in Canton, hio.
"I was going through all these different routes and these different setbacks and I was just thinking to myself, 'Why couldn't I be the one to take that straight path? Why couldn't it have worked out like that for me?'" Warner said during a teleconference. "And it is funny now that you find yourself here and you look back and I can't say thank you enough for the route that I ended up taking.
"I wouldn't want to change anything now because it is a route that will never look like anyone else's, it will always be different."
New Rams coach Sean McVay, 31, grew up in Atlanta and attended the Rams' Super Bowl XXXIV victory over the Tennessee Titans at the Georgia Dome. He marvels at Warner's resiliency.
"It's a great story of just overcoming the odds and you never know when your time is going to come, but when it does let's be ready to deliver," McVay said. "We talk about those things all the time and he's the epitome of it."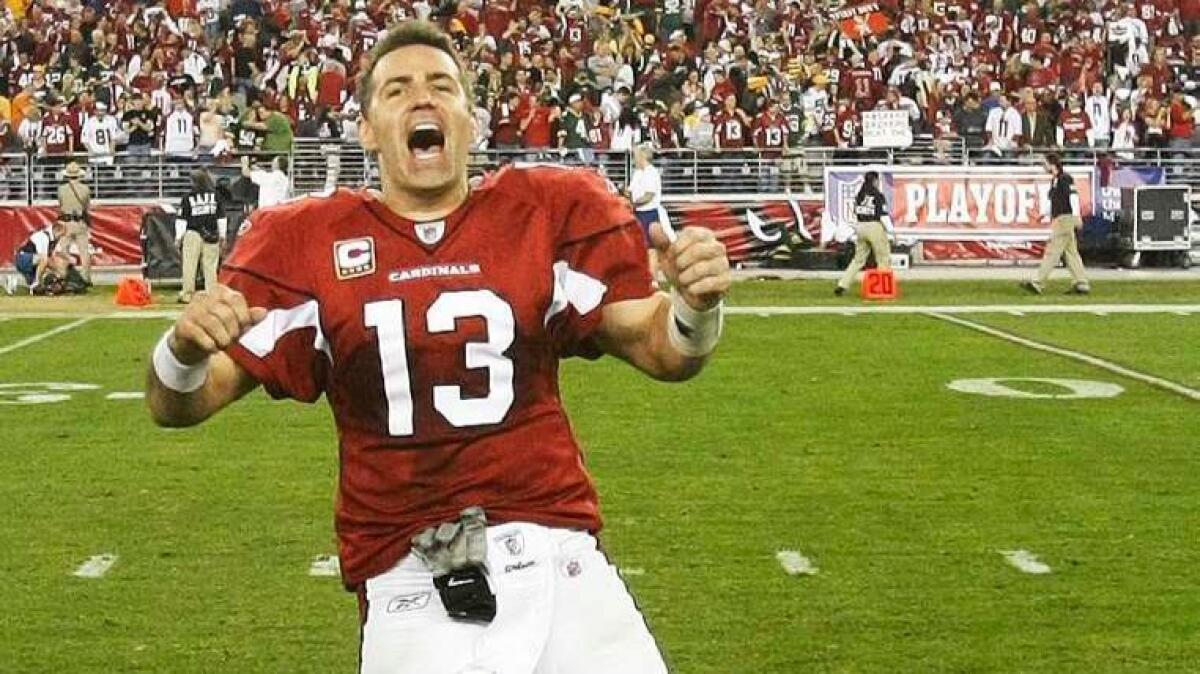 Warner said passion for the game and supreme confidence in his ability kept him motivated throughout setbacks.
"Every time I picked up a football and got a chance to play, I felt alive, I felt like it was what I was supposed to do," he said. "I felt like that is what I was born to do."
Warner, 46, started only one season in college at Northern Iowa before he began his NFL odyssey.
He went to training camp with the Packers as an undrafted free agent, but was released from a team that included quarterbacks Brett Favre, Mark Brunell and Ty Detmer.
Warner persevered in the Arena league, leading the Iowa Barnstormers to two championship game appearances. In 1997 he signed with the Rams, who sent him to play for the Amsterdam Admirals in NFL Europe.
Warner played in only one game for the Rams in 1998 before his unexpected breakout in 1999.
Green's preseason injury opened the door, and Rams coach Dick Vermeil turned to Warner.
On a team that included Hall of Fame running back Marshall Faulk, receivers Isaac Bruce, Torry Holt and Az-Zahir Hakim and Hall of Fame tackle Orlando Pace, Warner passed for 309 yards and three touchdowns in a season-opening victory over the Baltimore Ravens. He finished the season by passing for 414 yards and two touchdowns in a Super Bowl victory over the Titans.
"I'm never going to tell you I expected it to play out like it did the first year," he said.
The Rams released Warner after the 2003 season. He played with the New York Giants in 2004 before signing with the Cardinals.
Four years later, as he did with the Rams, Warner led the Cardinals to the Super Bowl.
"To have the opportunity to be a part of helping change the culture of two organizations is by far the crown jewel of my entire career," he said.
Warner retired after the 2009 season. He now works as a broadcaster.
The Rams returned to Los Angeles last season after more than two decades in St. Louis, but Warner's legacy is secure. He led the franchise to its only Super Bowl victory.
Asked if he had any advice for Rams quarterback Jared Goff, the No. 1 pick in the 2016 draft, Warner said Goff should be himself.
"Try to get away from the noise and try to get away from all of these expectations that are going to be placed on you, because they're going to be there — you're the No. 1 draft pick and you get put in that place," Warner said. "Those expectations come with it, but don't let that be what drives you and pushes you and what you chase after.
"Chase after who you are and the player that you are, allowing the game to come to you and allowing that talent that you have to take over."
That's what Warner did.
And he knows his story might inspire others to not be deterred from achieving their goals, regardless of setbacks.
"I wanted that straight path for so long and now I've got this really winding, curvy path and I look back and say, 'Man, I am so glad that it went that route,'" he said. "I am so glad that I had those experiences to be able to, hopefully, help encourage and inspire other people too.' "
Follow Gary Klein on Twitter @latimesklein
Get the latest on L.A.'s teams in the daily Sports Report newsletter.
You may occasionally receive promotional content from the Los Angeles Times.