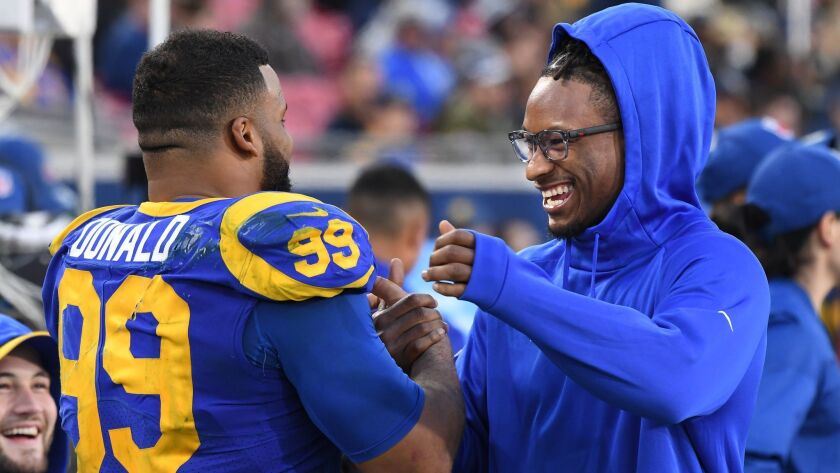 After sitting out two games because of left knee soreness, Rams running back Todd Gurley is on the road to recovery.
And he spent this week navigating it on a bike — a stationary one.
"Trying to get my cardio back," Gurley said Thursday before the Rams broke for two days off.
Gurley and his teammates will reconvene Sunday to begin preparations for a Jan. 12 divisional-round playoff game at the Coliseum. They won't know their opponent until late Sunday afternoon, after the weekend's wild-card games are done.
The Rams are seeded second in the NFC behind the New Orleans Saints, and will play the highest-seeded remaining team. The fourth-seeded Dallas Cowboys are playing host to the fifth-seeded Seattle Seahawks on Saturday, and the third-seeded Chicago Bears are playing host to the sixth-seeded Philadelphia Eagles on Sunday.
Gurley lost an opportunity to win the NFL rushing title because he did not play in the final two games against the Arizona Cardinals and the San Francisco 49ers. But he said his left knee, which became an issue during a Dec. 16 defeat to the Eagles, was improving.
"I've been able to do a lot more this week," he said. "It's been reacting pretty good.
"But that's going to be the main thing, obviously, that cardio, since I haven't been able to do much the last two or three weeks. Then, just seeing how my knee responds in the game."
Coach Sean McVay reiterated Thursday that he was confident in Gurley's ability to play well after sitting out.
"He's shown that he can play at a really high level even if he's coming off a little bit of a break," McVay said, alluding to Gurley's absence from the lineup for preseason games. "So, that's kind of what we're hoping."
Gurley, 24, signed a $60-million extension before the season and then amassed 1,831 yards from scrimmage and a league-best 21 touchdowns in 14 games.
But after a pregame workout in Arizona, he was held out to prevent exacerbating the condition of a knee that was surgically repaired in 2014 after he suffered a torn anterior cruciate ligament in college at Georgia.
Gurley also watched from the sideline at the Coliseum on Sunday as the Rams finished a 13-3 season with a victory over the 49ers.
"I knew those guys was going to take care of business, so I just kind of was up there and just try to be the hype man every now and then," Gurley said. "We've been getting the wins, so that makes everything much better because if we didn't win, I would feel like it would be my fault."
After the loss against the Eagles, the Rams signed running back C.J. Anderson to provide depth. The sixth-year pro responded by producing back-to-back 100-yard rushing efforts.
"He just came in and he's been doing better than me," Gurley said, laughing. "So, he's been killing it, man."
Now the Rams have a 1-2 punch.
"C.J.'s earned the right to be on the field," McVay said. "How much or what we end up doing is kind of to be determined and a lot of that is predicated on our opponent."
Anderson is ready for whatever role McVay decides upon.
"I'm here to do what the team wants me to," Anderson said. "If Todd comes back and I'm carrying it eight times, I'm going to make sure them eight opportunities are the best eight.
"And if he doesn't come back, for whatever reason, and I got to carry the load, then that's something I got to do."
The Rams' 26-13 wild-card round loss to the Falcons occurred a year ago. But it remains fresh in the mind of McVay and his players, including Gurley, who rushed for 101 yards in 14 carries.
"I just remember it being real fast," he said. "I mean, not much room for error, not much room to make moves."
But the experience could pay off.
'We just came out there, had a home-field game and didn't get it done," Gurley said. "That just wasn't an excuse.
"So, hopefully this year, we just know what to do — go out there and try to attack that team, whoever we're playing."
Gurley will watch the prospective opponents on TV this weekend, and root for friends playing for other teams.
Next week, he plans to get back onto the field for at least a few workouts.
"I definitely don't want to just go straight into the game," he said. "At least be able to get two good days under my belt just to see how I'm feeling and stuff, but we'll see."
Etc.
Quarterbacks coach Zac Taylor is scheduled to be interviewed in the next few days for head coach positions with the Arizona Cardinals, Cincinnati Bengals and Denver Broncos. Passing game coordinator Shane Waldron also is scheduled to interview with the Bengals. "Those guys have done a great job of not allowing this to be a distraction," McVay said, "but they'll also be prepared to handle themselves in the best way possible to present something that demonstrates somebody that you want leading your organization if that's the case."
Follow Gary Klein on Twitter @latimesklein
---