Bears quarterback Mitch Trubisky is following the same path as Rams' Jared Goff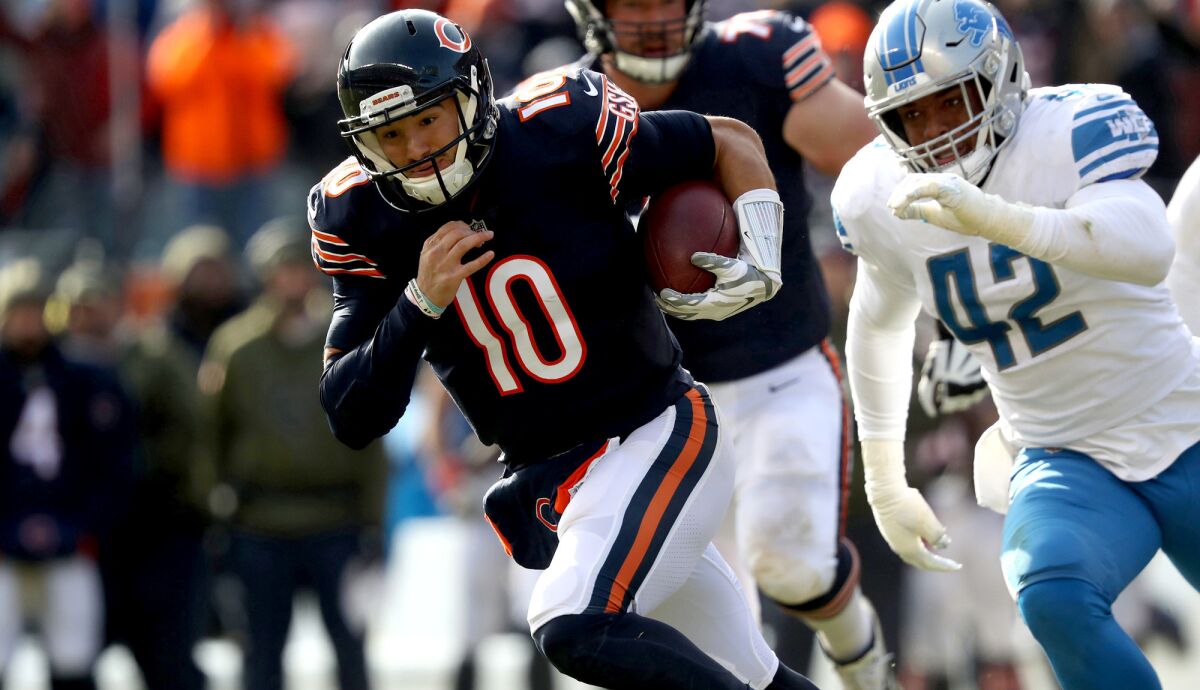 Reporting from chicago —
They are represented by the same agency, so during the offseason quarterbacks Jared Goff and Mitch Trubisky shared a house for about a month while training in Newport Beach.
Goff, the No. 1 pick in the 2016 draft, was coming off a Pro Bowl season under first-year Rams coach Sean McVay, a young offense-minded savant who helped Goff leave his rocky rookie year behind.
Trubisky, the second pick in the 2017 draft, was coming off an inconsistent rookie season with the Chicago Bears, and he was preparing for a new one under first-year coach Matt Nagy.
"If he had any questions," Goff said, "I gave him whatever I had."
The two quarterbacks, both 24, have led their teams to the top of their divisions heading into a Sunday night game at Soldier Field.
The Rams, at 11-1, have already clinched a second consecutive NFC West title behind Goff, who has passed for 27 touchdowns with seven interceptions. A victory over the Bears would clinch a bye through the wild-card round of the playoffs and keep the Rams on track for possible home-field advantage throughout the playoffs.
The Bears are 8-4 and atop the NFC North. Trubisky, sidelined the last two games because of a shoulder injury, has passed for 20 touchdowns with nine interceptions.
Trubisky said he learned much from hanging out and training with Goff. They talked about routes they liked to throw, watched film together and discussed situations.
Trubisky's main takeaway was the need for resiliency.
"Learning from your past mistakes," Trubisky told reporters in Chicago this week, "but not dwelling on it and continuing to get better and grow."
Goff demonstrated that ability last season after going 0-7 as a starter under former coach Jeff Fisher and his staff in 2016.
The Rams hired McVay, added left tackle Andrew Whitworth and receiver Robert Woods through free agency and drafted receiver Cooper Kupp and tight end Gerald Everett among others, giving McVay more pieces to build around running back Todd Gurley and Goff.
Goff flourished — he passed for 28 touchdowns with seven interceptions — and led the Rams to their first playoff appearance since 2004.
This season, despite a less-efficient performance in a Week 13 victory at Detroit, he is continuing his ascent as one of the NFL's top young quarterbacks.
"He has never really been shaken," Trubisky said. "A lot of people wrote him off after that first year. But watching him and how he handled himself, he's very composed. Never really rattled.
"He believed in himself and has had really two amazing years since then. So I know you just have to have confidence in yourself so that your teammates will believe in you as well."
Trubisky has applied that principle while operating under Nagy, who learned at the elbow of Kansas City Chiefs coach Andy Reid. Nagy was a member of Reid's staff with the Philadelphia Eagles, and then joined him as quarterbacks coach and later offensive coordinator with the Chiefs.
As a rookie under former coach John Fox and his staff, Trubisky had a 4-8 record and passed for seven touchdowns with seven interceptions.
The Bears added receivers Allen Robinson and Taylor Gabriel as well as tight end Trey Burton, and Nagy expanded the role of running back Tarik Cohen as a receiver. Trubisky has nearly tripled his touchdown passes in a multidimensional offense that shares many of the concepts in the Chiefs' high-powered attack.
Seeing how Goff played in his second season provided motivation for Trubisky.
"It just shows me that anything is possible," he said. "Just because everybody writes you off one year doesn't mean you can't come out and have a really good year the next year.
"Especially with a great coach coming in here and helping this organization and just being a lot different on offense as far as scheme and philosophy and how everything goes."
Rams cornerback Aqib Talib said Trubisky's mobility alternately creates "the Russell Wilson effect" and "the Cam Newton" effect.
"He's kind of like both of them put together," Talib said.
Fellow Rams cornerback Marcus Peters played his first three seasons with the Chiefs. He said Nagy learned well from Reid and has been impressed by the Nagy-Trubisky pairing.
"[Nagy] and Trubisky are going to grow that same relationship, just as much as us with Jared and Sean," he said.
Etc.
Rams defensive tackle Ndamukong Suh was fined $20,054 for a horse-collar tackle and, though he was not penalized in the game, linebacker Dante Fowler was fined $26,739 for unnecessary roughness on a play during the Rams' 30-16 victory at Detroit, a person with knowledge of the situation said. Lions defensive lineman Ezekiel Ansah was fined $20,054 for a hit on Goff.
Follow Gary Klein on Twitter @latimesklein
---
Get the latest on L.A.'s teams in the daily Sports Report newsletter.
You may occasionally receive promotional content from the Los Angeles Times.