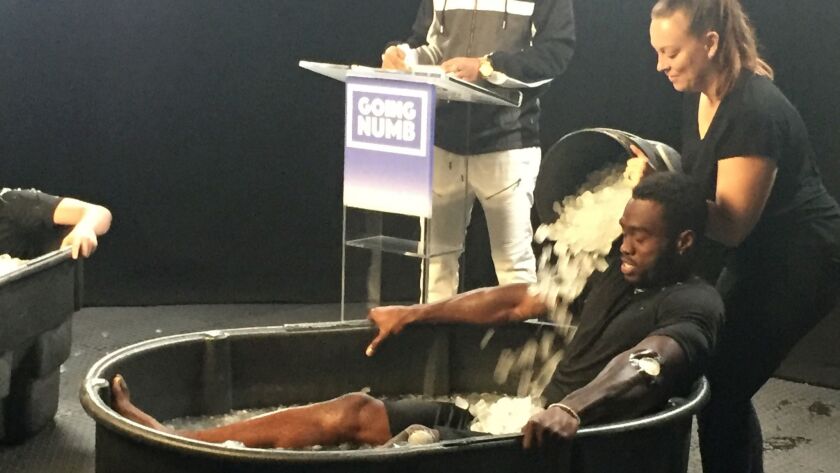 The route did not require Rams receiver Brandin Cooks to blow past or outmaneuver a cornerback for a deep pass. Nor would he cross the middle of the field before an imminent collision with a linebacker.
This week, on a darkened sound stage in a hip, scenester part of Los Angeles, Cooks stared down a more formidable challenge: lowering his body into a freezing tub of ice water.
Cooks was appearing on "Going Numb," Champs Sports' popular online video game show series, where star athletes face off against fans in a trivia contest while submerged in gallons of ice.
Cooks, in shorts and a body-clinging shirt, closed his eyes and braced as he slid into the plastic tub, shivering while good-naturedly sparring with his Generation-Z opponent and host Christian Crosby.
It's the kind of commercial exposure that would not have come Cooks' way as easily in New Orleans or New England. Those were his previous NFL stops before Rams coach Sean McVay traded for the speedy receiver and brought him to endorsement-rich Hollywood.
"Opportunities have increased, for sure," Cooks said in the green room before Tuesday's shoot. "But I'm kind of in the moment and want to settle in and focus on football."
Cooks' outstanding play has helped the Rams to an 8-0 start heading into Sunday's game against the Saints in New Orleans. That's where Cooks played for three seasons after the Saints selected him with the 20th pick in the 2014 draft.
Cooks' studiousness, work ethic and production have provided McVay and the Rams with more than they envisioned in April, when they sent a first-round draft pick to the Patriots in exchange for a player who amassed more than 1,000 yards receiving in three of his first four NFL seasons.
"I don't think there's any way that you're limited in how you can utilize Brandin," said McVay, who was eyeing Cooks as a potential addition shortly after being hired in January 2017.
Before Cooks played a training camp snap, the Rams signed him to a five-year extension that could be worth as much as $81 million. He has 35 catches for 643 yards and two touchdowns — his 18.4 yards-per-catch average ranks sixth in the NFL — and his deep-ball threat has opened the field for other receivers and running back Todd Gurley.
"Coach McVay is a such a mastermind," Cooks said, adding, "I'm known for speed, but I truly believe I can do a lot more different things, and I think he's been helping me be able to showcase that."
Said quarterback Jared Goff: "He's almost been exclusively used as a deep-ball guy early on in his career, and we've used him in a bunch of different ways and intermediate and short. … A complete receiver, and he can do all those little things."
With the Saints, Cooks teamed with future Hall of Fame quarterback Drew Brees for 215 receptions, 20 for touchdowns.
The Patriots gave up a first-round pick to acquire Cooks before the 2017 season. Playing with future Hall of Famer Tom Brady, the 5-10 target caught 65 passes, seven for touchdowns, and helped the Patriots reach the Super Bowl.
Now Cooks, 25, could help the Rams make a Super Bowl run.
"You're seeing him do the same things and do some unique things, some different things," Saints coach Sean Payton said.
Cooks still uses his speed on deep routes. He scored on a 47-yard pass play in Week 4 against the Minnesota Vikings. But he has made multiple tough catches in traffic and has rushed for 32 yards in five carries on fly sweeps.
Last Sunday against the Green Bay Packers, Cooks caught three passes for 74 yards, including a sliding, 25-yard sideline catch that was initially ruled incomplete.
"I'm yelling at the ref like, 'No, that's a catch,'" Cooks said. "Most of the time when there's challengeable plays I keep my mouth shut, or I don't say anything because I'm not too sure.
"But that one, I was pretty confident on that one."
McVay challenged the call and it was ultimately reversed, the gain helping to set up a touchdown pass to Josh Reynolds in the Rams' 29-27 victory.
On Sunday, Cooks returns to New Orleans for the second time.
Last season, he caught two passes for 37 yards and rushed two times for six yards in the Patriots' 36-20 victory.
Now he aims to help the Rams accomplish a similar result.
He got into the competitive spirit early in the week during his game-show appearance, keeping his cool and sense of humor in ice-cold conditions.
Cooks said he would typically spend an off-day at home with his wife and their dogs, but he is embracing the L.A. experience and all that comes with it.
"It gives me a chance to get out," he said. "Kind of escape from football a little bit."
Follow Gary Klein on Twitter @latimesklein
---