New Rams Aqib Talib and Marcus Peters ready to bring it in Wade Phillips' defense
The blueprint is familiar for Aqib Talib, and new for Marcus Peters.
Talib, a 10-year NFL veteran, won a Super Bowl with the Denver Broncos playing in defensive coordinator Wade Phillips' 3-4 scheme.
Peters, entering his fourth season, was part of three Kansas City Chiefs playoff teams.
Now the cornerbacks are the cornerstones of a remade Rams secondary, proven Pro Bowl talent for Phillips to deploy often in man-to-man coverage.
"Same old relationship with coach Phillips," Talib, 32, said this week after the Rams began organized team activity workouts. "We good together.
"Regular conversations, a lot of football talk. … Same old way."
Peters, 25, said the transition to Phillips' defense has been smooth.
"I learn fast," he said. "So then it's just me taking on as much as I can take on. When I don't know, I ask questions and then I just keep it going like that."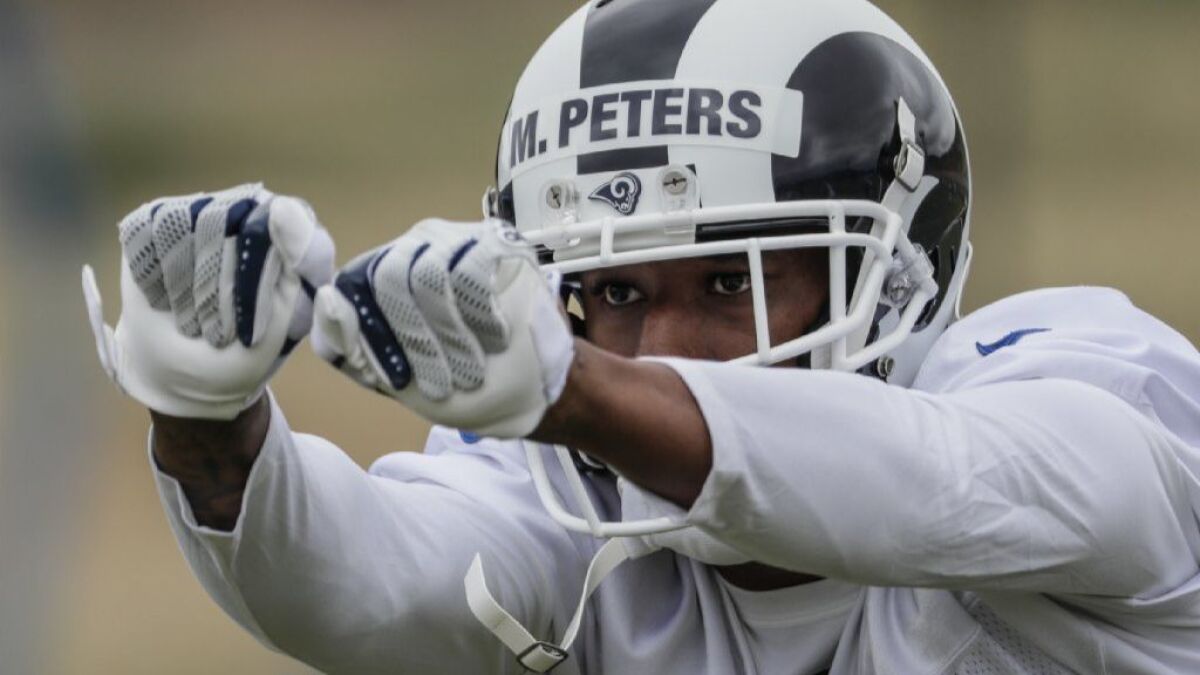 Talib and Peters, acquired in offseason trades, worked together through voluntary workouts at the Rams facility in Thousand Oaks, and during the first week of OTAs, which concluded Thursday. They will be on the field together for seven more OTA workouts and a mandatory minicamp before breaking for summer.
Coach Sean McVay saw the duo operate together in 11-on-11 drills for the first time last Monday.
"Aqib's got a lot of experience in the system, so it's been pretty natural for him," McVay said. "Being around Marcus, you can see he's got a great feel for the game and he understands situational football."
The Rams ranked 13th in the NFL in pass defense last season. A secondary that featured starting cornerbacks Trumaine Johnson and Kayvon Webster intercepted 13 passes as the Rams finished 11-5 and made the playoffs for the first time since 2004.
But in Year 2 of McVay's tenure, the Rams made a push to find specific fits for Phillips.
The makeover of the secondary began in February, when general manager Les Snead agreed to terms with the Chiefs on a trade for Peters, who intercepted a league-best 19 passes over the last three seasons and was twice voted to the Pro Bowl.
Peters, the 18th player chosen in the 2015 draft, will earn a below-market $1.7 million this season. In April, the Rams exercised a fifth-year option that puts Peters in line to earn about $9 million in 2019.
After Talib nixed a March trade that would have sent him from the Broncos to the San Francisco 49ers, the Rams acquired the five-time Pro Bowl pick, who will earn $11 million this season and $8 million in 2019.
The additions of Peters and Talib enabled the Rams to let Johnson walk — he signed a five-year, $72-million contract with the New York Jets — and release Webster, who is recovering from Achilles surgery.
The Rams also signed cornerback Sam Shields, a 2014 Pro Bowl selection who sat out most of the last two seasons because of concussions, and re-signed slot cornerback Nickell Robey-Coleman.
The 6-foot-1, 205-pound Talib began his career with the Tampa Bay Buccaneers and also played for the New England Patriots before signing with the Broncos in 2014. He has 34 interceptions and has scored 10 touchdowns.
Talib already has asserted himself as a Rams leader.
"I just be me, man," he said.
He welcomes the opportunity to mentor Peters.
"He's sitting next to me in the meetings, asking questions," Talib said. "I'm going to help him as much as I can, but … he's a natural athlete, a natural playmaker."
Peters, 6 feet and 197 pounds, is excited about the opportunity to play opposite and learn from Talib.
"He won a Super Bowl in this defense, so why not?" Peters said, adding, "Our play styles are similar, so why not listen and learn from him?"
Talib and Peters are not only expected to improve the Rams defense, but also will make the offense better, receiver Brandin Cooks said.
Cooks, acquired in a trade from the New England Patriots, said it was a "dream" to work against Talib and Peters in practice, and that it should elevate his performance, and that of quarterback Jared Goff.
"To go against guys like that that in practice every single day as a receiver, that builds my confidence," Cooks said. "Come game time, I know I went against, arguably, two of the best corners playing in this game right now, every single day.
"So I think it's huge."
Talib, a Texas native, and Peters, who grew up in Oakland, are settling in to Southern California.
Talib said he found a place to live that includes a pool and a basketball court, "so I'll be cool." Peters said his own transition was easy.
The time they spend together and with other teammates during OTAs is "crucial" Talib said.
"Just to get the feel for how everyone plays," he said, adding, "This is the time when you really build that camaraderie on and off the field."
Talib and Peters will be part of a defense that features tackle Aaron Donald, the reigning NFL defensive player of the year, and five-time Pro Bowl lineman Ndamukong Suh, who signed as a free agent.
The Rams are aiming to repeat as NFC West champions and are regarded as a Super Bowl contender.
"You can say we got all these big names and we got this person and that person, but if we don't make it jell then it ain't going to do nothing for us," Peters said. "It's going to a learning process for us throughout OTAs, going into minicamp and then going into training camp.
"But it's going to be a real good unique situation for us because we have to make it jell."
Follow Gary Klein on Twitter @LATimesKlein
---
Get the latest on L.A.'s teams in the daily Sports Report newsletter.
You may occasionally receive promotional content from the Los Angeles Times.