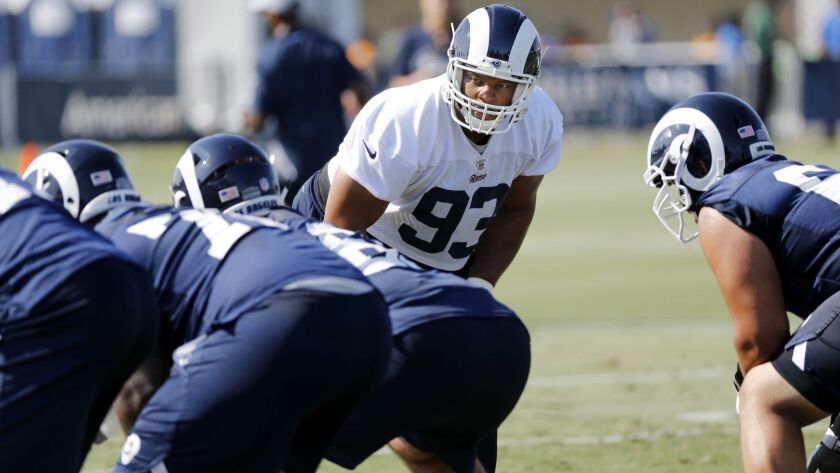 During his 13-year Rams career, Hall of Fame offensive guard Tom Mack practiced daily against the famed "Fearsome Foursome" defensive line. Then he went to work on Sundays against more future Hall of Famers.
He knows the challenge offensive linemen face trying to block great defensive tackles.
But what about two of them — with the quickness and power of Aaron Donald and the size and strength of Ndamukong Suh — at the same time?
Donald and Suh in combination for the Rams might pose one of the greatest challenges for interior offensive linemen in NFL history.
"If they don't know how to focus," Mack said of offensive linemen, "they're going to have tough days.
"And if they focus, they're going to have tough days."
Hall of Fame offensive tackle Jackie Slater, who played 20 seasons for the Rams, takes it a step further.
"You're going to have to choose your poison," he said, "and if Donald and Suh are revving up the engines on every single play, you're going to be wrong."
Donald has amassed 39 sacks in four seasons, Suh has 51 1/2 sacks in eight seasons.
But the Rams, also featuring versatile lineman Michael Brockers, will enter the season without knowing what the 6-foot-1, 280-pound Donald and the 6-4, 307-pound Suh actually look like together in a game.
Donald, 27, did not participate in offseason workouts, organized-team activities, minicamp, training camp or preseason games, but on Aug. 31 the reigning NFL defensive player of the year signed a record-setting, six-year, $135-million contract extension, with $87 million guaranteed.
Donald, the 13th player selected in the 2014 draft, got a deal that surpassed the six-year, $114-million contract the Miami Dolphins gave Suh in 2015 after he played five seasons with the Detroit Lions. The Dolphins released Suh after last season and he signed a one-year, $14-million contract with the Rams.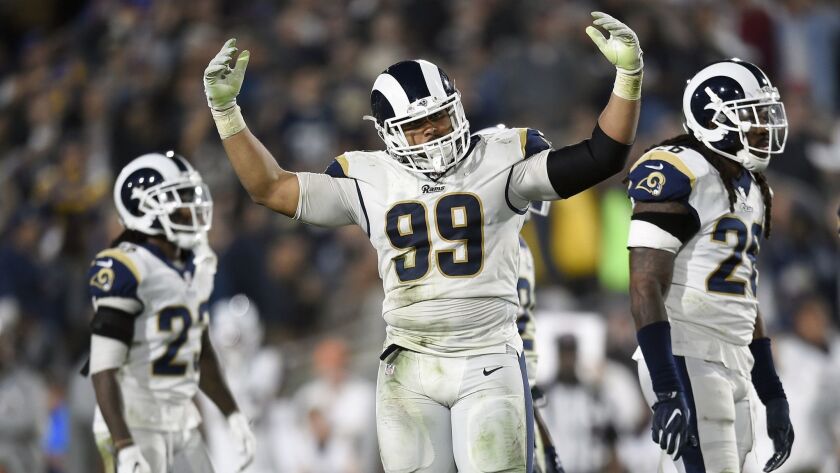 Donald spoke to Suh by phone as the Rams were wooing Suh to join them.
"He's got the same mindset — the ultimate goal is to try to win a world championship — that's the end goal," Donald said. "So, we've got to work towards that and it's a long process and it's just the beginning.
"But, when you've got guys like that, that got the same mindset you've got, you tend to be happy that those guys are on your team."
Suh, a five-time Pro Bowl player, has envisioned what it will be like lining up next to Donald, a Pro Bowl selection in each of his four NFL seasons.
"It was one of the reasons I wanted to come here," Suh said, "playing next to an elite guy like that."
Defensive coordinator Wade Phillips has coached several Hall of Fame defensive linemen, including Curley Culp and Elvin Bethea with the Houston Oilers, while Hall of Famer Reggie White played alongside Jerome Brown with the Philadelphia Eagles.
Donald and Suh together?
"Going to create a lot of problems for the offense, hopefully," Phillips said, laughing. "Aaron already has, and Suh already has, so you got to expect both of them together will.
"That's the way I see it."
New Rams cornerback Aqib Talib, a 10-year veteran, said Donald and Brockers were tenacious the last few seasons.
"You add Suh in there," he said, "it's going to get ugly for some O-lines up there, definitely."
Asked how the Donald-Suh combination would aid the Rams secondary, cornerback Marcus Peters began counting out loud.
"Thousand one, thousand two," he said. "If you get to thousand three, you may be sacked. So, thousand one, thousand two, the ball's coming out fast."
Last season, Donald reported on the eve of the opener and did not play. He still finished the season with 11 sacks in 14 games. Suh had 4 1/2 sacks in 2017, the lowest total for a season in which he played all 16 games.
Together they are expected to help improve a defense that last season ranked 28th against the run, 13th against the pass, 19th overall and 12th in fewest points allowed.
For the second season in a row, defensive line coach Bill Johnson experimented with various alignments while waiting for Donald. He was encouraged by the play of his charges, but looked forward to having all the pieces in place.
Last season, as well as Donald played, it took a few games for Rams linemen to play well together.
"Aaron has some flexibility and freedom because he has natural instincts," Johnson said. "But there are certain things he's got to do to play within the framework of the defense.
"Once we got that corrected, it started really smooth sailing. So, hopefully, that can happen again this year."
Donald got his contract and reported 10 days before the opener.
That's a good start.
---