Rams' Les Snead knows his role as general manager, and the NFL draft will help define it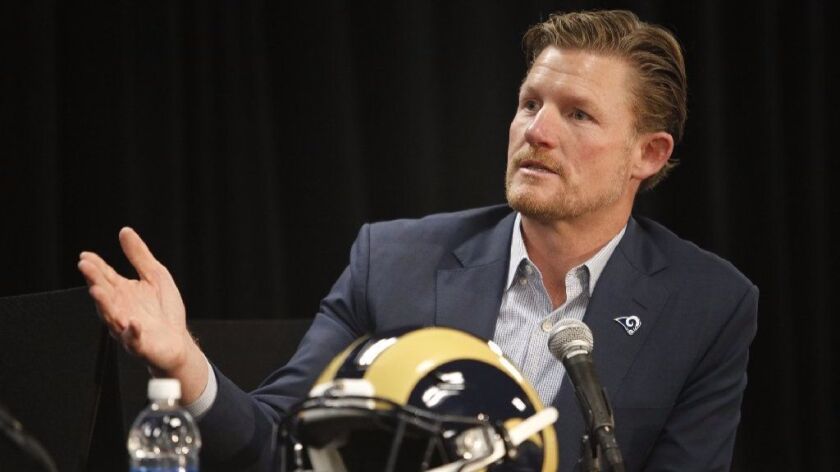 The gleaming white, high-tech stationary bike sits just to the right of the desk in Les Snead's office, across the room from a wall-mounted television monitor and next to a large whiteboard.
With an iPad perched atop the bike's black handlebars, and a water bottle nestled just below it, the Rams general manager can multitask while spinning.
He says he watches video of the team and of draft prospects. He catches up on email. Sometimes, the exercise just clears his mind.
"When you're on it, your mind gets away," he says, nodding toward the Schwinn. "That's where some of your big-picture thoughts come into play."
Since the end of the Rams' 4-12 season — which continued a 13-year playoff drought — Snead has been preparing for next week's draft.
This will be his sixth with the Rams, the first with new Coach Sean McVay and the first without former coach Jeff Fisher.
Snead, like Fisher, received a two-year contract extension before last season. And he survived the aftermath of Fisher's December firing.
So a strong draft performance would seemingly protect his status.
But when asked whether he feels pressure or thinks his job is on the line with this draft, he says he simply plays a role in a collective effort.
"In our business, [pressure] implies there's some sort of distress level," he says, adding, "There's no distress.
"This is a 'we' thing. This isn't singles tennis. … There's an urgent determination and drive to get this thing to where we all want it to be, and the draft is a key component."
In the weeks leading up to last year's draft, Snead made a blockbuster trade with the Tennessee Titans that enabled the Rams to move from No. 15 to No. 1 and select former California quarterback Jared Goff.
The trade cost the Rams six picks, including a first-rounder this year. So unless there is another trade, the Rams' won't select a player until the fifth spot in the second round — 37th overall. They have seven picks in rounds three through seven.
This year's draft apparently won't be a referendum on Snead.
"The most important thing for the organization in this draft is that Les and Sean have a vision of what they want to achieve together and how to go execute it," Kevin Demoff, the Rams' executive vice-president of football operations, says. "I don't think any draft or free-agency period is ever make or break. You have to look at a body of work in totality."
Defensive tackle Aaron Donald and running back Todd Gurley, first-round picks in 2014 and 2015, respectively, were the NFL rookies of the year.
Defensive tackle Michael Brockers, receiver Tavon Austin and linebacker Alec Ogletree are other first-round picks in the last five years that remain starters.
But there also have been high-profile picks that did not work out.
Penalty-prone offensive lineman Greg Robinson, the No. 2 pick in the 2014 draft, twice was benched last season and is being moved from left to right tackle.
"The organization drafted rookies of the year in back-to-back years, so I would think that's pretty good," Demoff said. "There have been other drafts where maybe we haven't been as strong."
But the general manager's job is to work with the coach to develop the best possible roster "through all facets," including the draft, free agency, trades and the signing of undrafted players, Demoff said.
"It's a mistake to just put a microscope on one portion," he said of the draft, "even though it's the one I think is the most visible overall."
With Fisher, Snead as a first-time general manager was paired with a veteran coach who had more than 16 seasons of NFL experience when the Rams hired them in 2012.
Last December, each disputed a report that appeared on Sports Illustrated's "Monday Morning Quarterback" website that described their relationship as toxic. Less than a week later, after a blowout defeat by the Atlanta Falcons that dropped their record to 4-9, the Rams fired Fisher.
McVay was 30 when the Rams hired him in January and made him the youngest coach in modern NFL history. Snead, 46, describes the now 31-year-old McVay as an "instinctive evaluator" and said they have developed "a nice chemistry."
McVay has noted the same. At last month's NFL owners meetings, he said he could "lean" on Snead and Demoff.
"I want to be able to do this with them for a really long time," he said.
After working together to add several significant free agents, including left tackle Andrew Whitworth, the next major test comes this week, when Snead attempts to select the pieces that McVay has requested.
Snead declines to specify what has been discussed in predraft meetings, but McVay has spoken openly of his desire for offensive playmakers, so receivers and tight ends figure to be high on the priority list.
The Rams also could use cornerbacks who can play on the outside.
Snead, when asked who would have the final say on picks, said, "I'm going to stick with 'We Not Me,' " a slogan adopted by McVay and the organization. "The head coach and general manager are definitely more accountable than others, but everybody's involved.
"It takes an army to get this thing right."
After Fisher's firing in December, Demoff said the entire organization would be reviewed and evaluated.
This month, the Rams informed four members of the scouting department that their contracts would not be renewed. Snead took responsibility for the decisions.
"They're good people," he said. "It just didn't work here. … We've been stagnant, and you've got to look at why. We wanted to establish a fresh culture."
That is evident in the "WE NOT ME" T-shirts and in the updated décor in the Rams' sprawling modular building in Thousand Oaks. Once blank walls in much of the facility are now wrapped with large photo images of players and motivational sayings.
After conducting the draft from a downtown hotel last year, the Rams will operate from their facility this week.
Barring an unexpected move, the Rams will be observers Thursday before making their first pick Friday.
"Our work really starts after pick 32 is selected," Snead says.
This year, perhaps more than any of the previous five, he needs to get it right.
Follow Gary Klein on Twitter @latimesklein
---
Get the latest on L.A.'s teams in the daily Sports Report newsletter.
You may occasionally receive promotional content from the Los Angeles Times.