Column: Rams bring Jared Goff and new hope to Los Angeles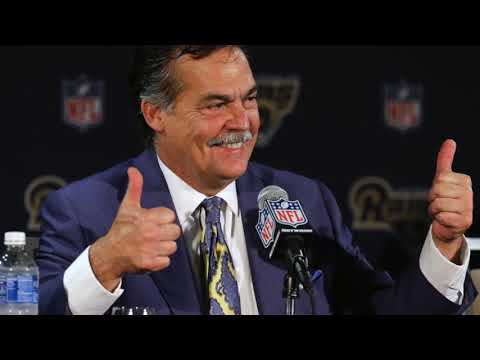 Bill Plaschke, Mike DiGiovanna and Lindsey Thiry discuss Jared Goff, the Rams No. 1 pick in the NFL draft.
How big was this pick? How long have people waited?
The first chant for the first Los Angeles Rams draft selection in more than two decades occurred 15 minutes before he was even selected.
"Ja-red Goff, Ja-red Goff," shouted the several thousand fans jamming the L.A. Live courtyard on a blindingly bright April afternoon.
Soon thereafter it became official, the chant turning into a roar, Youngblood jerseys jumping on Dickerson jerseys hugging Bettis jerseys, the past bumping chests with the future as the Rams gave a new and shiny jersey to No. 1 overall pick quarterback Jared Goff.
Los Angeles, meet your newest kid rock star, a tall and blond 21-year-old from Cal with a resume of resiliency, an arm straight from Sunday afternoon, and seemingly the savvy to be the face of a reborn franchise.
"To get a player who we believe can be a big difference-maker in this town, at this time, it's unbelievable," said Rams owner Stan Kroenke.
Goff is bold, he's tough, and that's just when talking about baseball. In his first conference call with Los Angeles media, the Marin County native was asked whether he is a San Francisco Giants fan.
"I am," he said strongly. "I've already gotten a lot of grief about that, so don't worry."
So is he going to change allegiances?
"We'll see," he said. "It's going to be a growing process."
Even Dodgers fans have to admire his strength under pressure, which is only one of the traits that convinced the Rams to trade six draft picks for the right to take him first.
"This is a historic, monumental, a big deal for this franchise to be in a position where we can have our pick of a franchise quarterback and look forward to years to come with a player who is not only talented but is a great person," said Coach Jeff Fisher.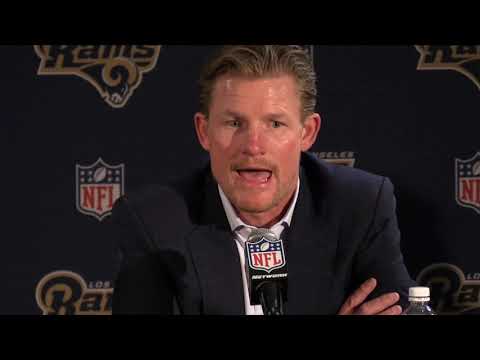 Rams Coach Jeff Fisher and General Manager Les Snead meet with the media after selecting California quarterback Jared Goff with the No. 1 pick in the NFL draft.
It turns out, the debate between Goff and North Dakota State's Carson Wentz was never even an argument. In an interview with The Times, Kroenke acknowledged that when the Rams made the giant trade and appropriately announced it on the day after Kobe Bryant's final game a couple of weeks ago, they had already found their man.
"We didn't make the trade without knowing the guy we wanted; we would never do that," said Kroenke. "You know the guy you want or you don't make the trade."
They want him for his 6-foot-4 frame, for his arm that led to 78 touchdowns and 20 interceptions in his final two Cal seasons, for his decision that led to uncanny consistency in the red zone. But the Rams are also thrilled because they think he possesses the intangibles that Kroenke was checking out when he sat next to Goff at their recent interview dinner.
"I made a point of sitting next to Jared, I wanted to get a sense of this kid, in a sense Jared was in the hot seat," Kroenke said. "He was very calm, very collected, very mature, very intelligent, not awed by L.A., frankly, he had a confidence to him, you could tell that."
Goff will be No. 16, because, of course, he models himself after Joe Montana.
"Since I was 7 years old," he said.
Goff says he's ready for the challenge of a team that hasn't finished with a winning record in 13 years, because, naturally, in three years, he led a Cal team from a 1-11 record to eight wins and a bowl victory.
"It's definitely something I carry with me forever," Goff said. "I gained a lot of character … and a lot of maturity and resilience. It's something that's going to help me along the way."
He's going to need that maturity here, because he'll be walking into arguably the most pressurized situation for a rookie in this city's sports history. He'll be playing the glamour position, in this country's glamour league, for a franchise returning to this country's glamour city after a 22-year absence. And he'll be asked to do it on a team that hasn't had a marquee quarterback in, like, forever.
Is he ready for all that?
"He has the personality to embrace the market, to be a face of the franchise, but he also understands it's not up to him, it's collectively up to the rest of the team," said Fisher.
In other words, it appears the Rams are going to do their best to reduce that pressure by fitting him into a system that relies on running back Todd Gurley and a tough young defense. They're not going to ask him to immediately be the star. But make no mistake, they walked away from all those screaming fans at L.A. Live on Thursday thinking that they found their guy.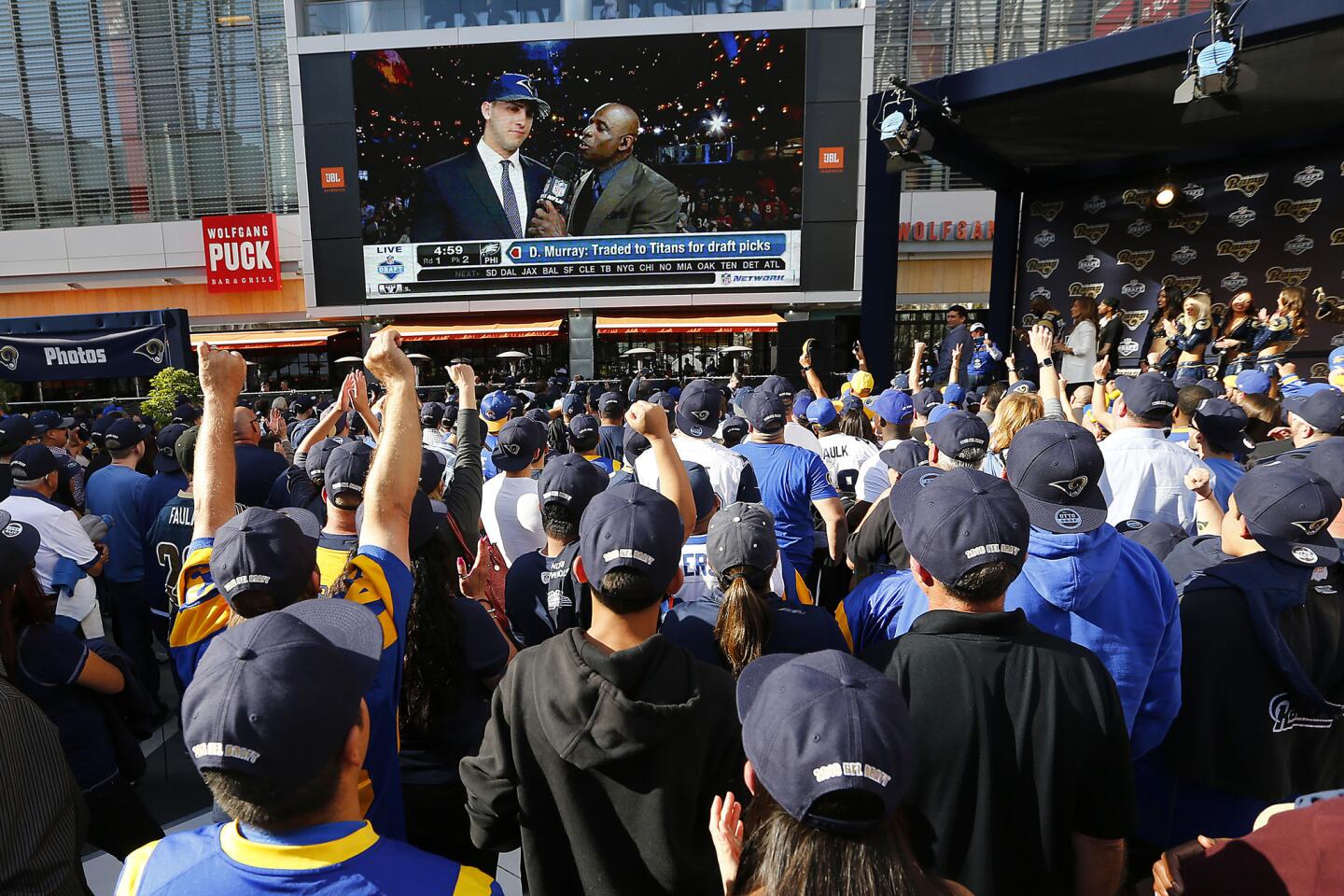 Rams fans in downtown L.A. react after the team selected California quarterback Jared Goff with the No. 1 overall selection in the NFL draft on Thursday.
(Luis Sinco / Los Angeles Times)
Jared Goff is shown on a video screen at L.A. Live posing for photos in Chicago, where he was selected by the Rams with the first pick in the NFL draft on Thursday.
(Luis Sinco / Los Angeles Times)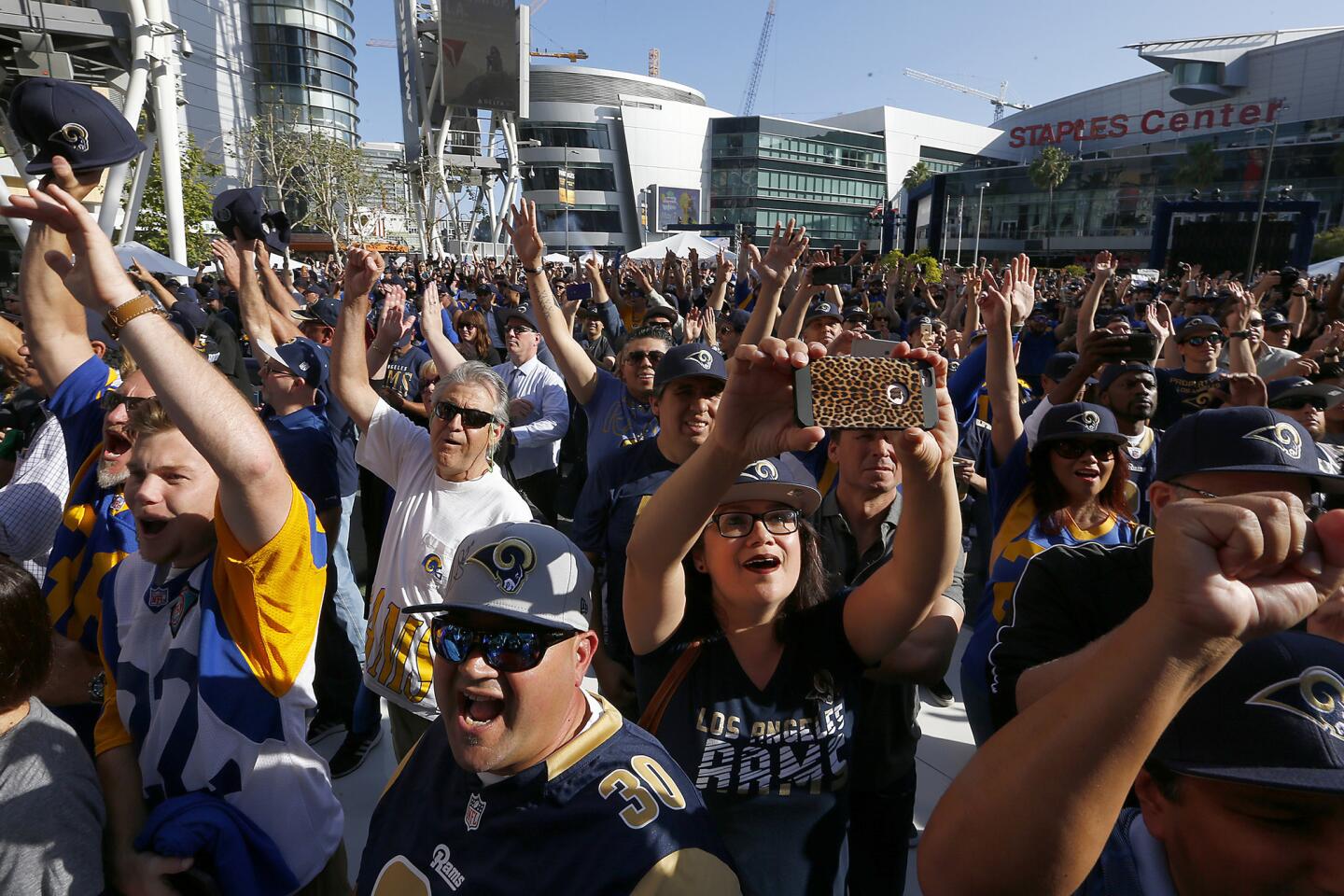 Rams fans in downtown L.A. cheer after the NFL team chose Cal quarterback Jared Goff with the top selection Thursday in the 2016 NFL draft.
(Luis Sinco / Los Angeles Times)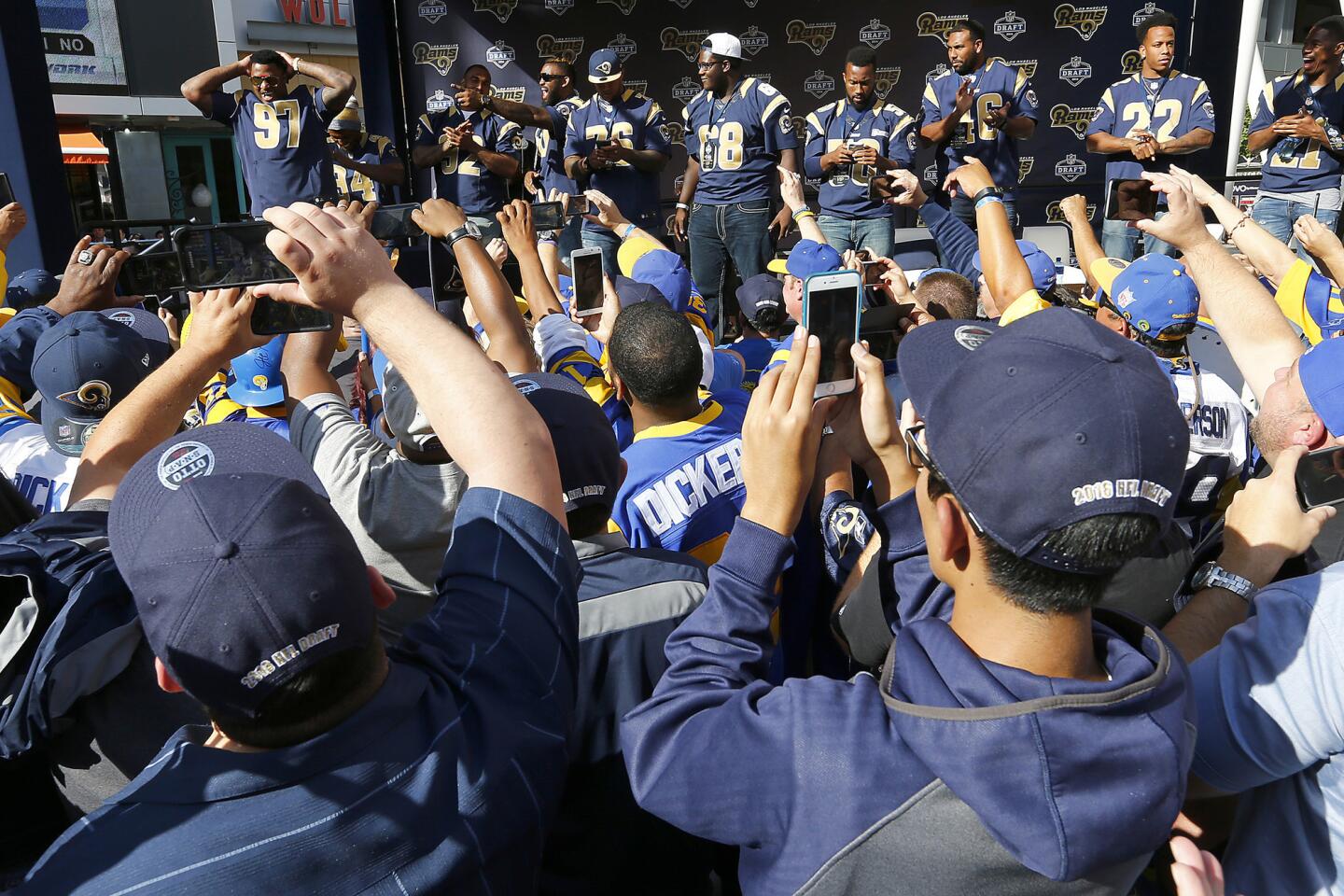 Former Rams players make an appearance at L.A. Live during a draft day event held by the Rams on Thursday.
(Luis Sinco / Los Angeles Times)
Rams fans wait in line to enter an NFL draft event at L.A. Live on April 28.
(Luis Sinco / Los Angeles Times)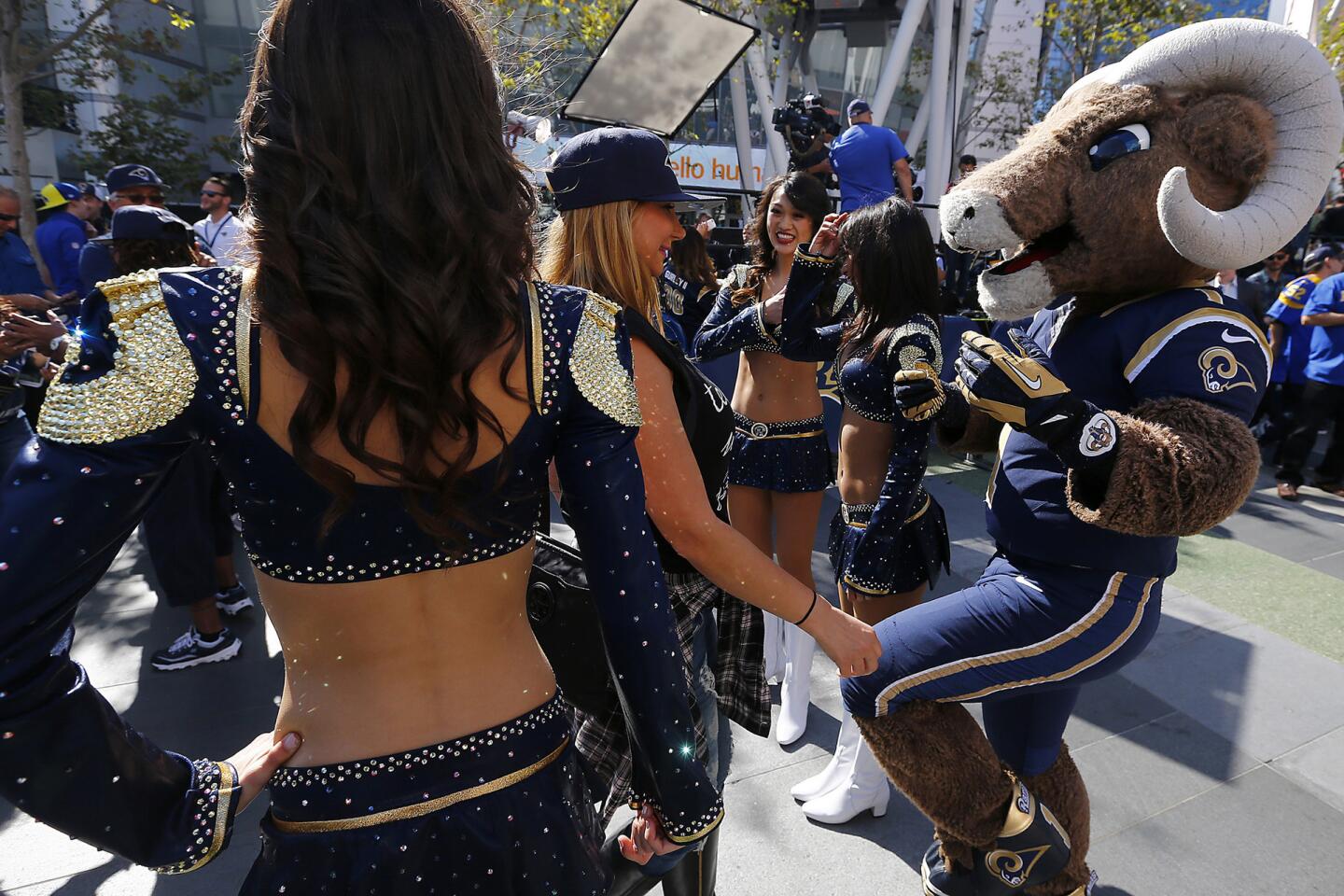 Rams mascot Rampage mixes it up with fans during a draft day event held by the team on Thursday at L.A. Live.
(Luis Sinco / Los Angeles Times)
"I don't know how you go about giving the guys the stars on that sidewalk, but I have a feeling they did something to earn it," said General Manager Les Snead. "In sports, you earn the star, the billboard, whatever it is, in our league on Sundays, Monday nights, Thursday night, and our goal is to get him ready to be successful on those days."
After the pick was made, many fans streamed out of the L.A. Live courtyard without waiting to watch another minute of the draft on the two giant televisions. Jared Goff was here, hope had returned home with their football team, and that was all they needed to see.
"The Rams are back, and now they've got their quarterback, it's like a dream come true," said Danny Harris, a longtime Rams fan from Long Beach.
He was wearing a Jack Youngblood jersey that has hung in his closet for 20 years. In the glow of the draft day sun, it looked brand new.
Follow Bill Plaschke on Twitter: @BillPlaschke
Get the latest on L.A.'s teams in the daily Sports Report newsletter.
You may occasionally receive promotional content from the Los Angeles Times.