Will Rams' Todd Gurley or Cowboys' Ezekiel Elliott keep playoff run going?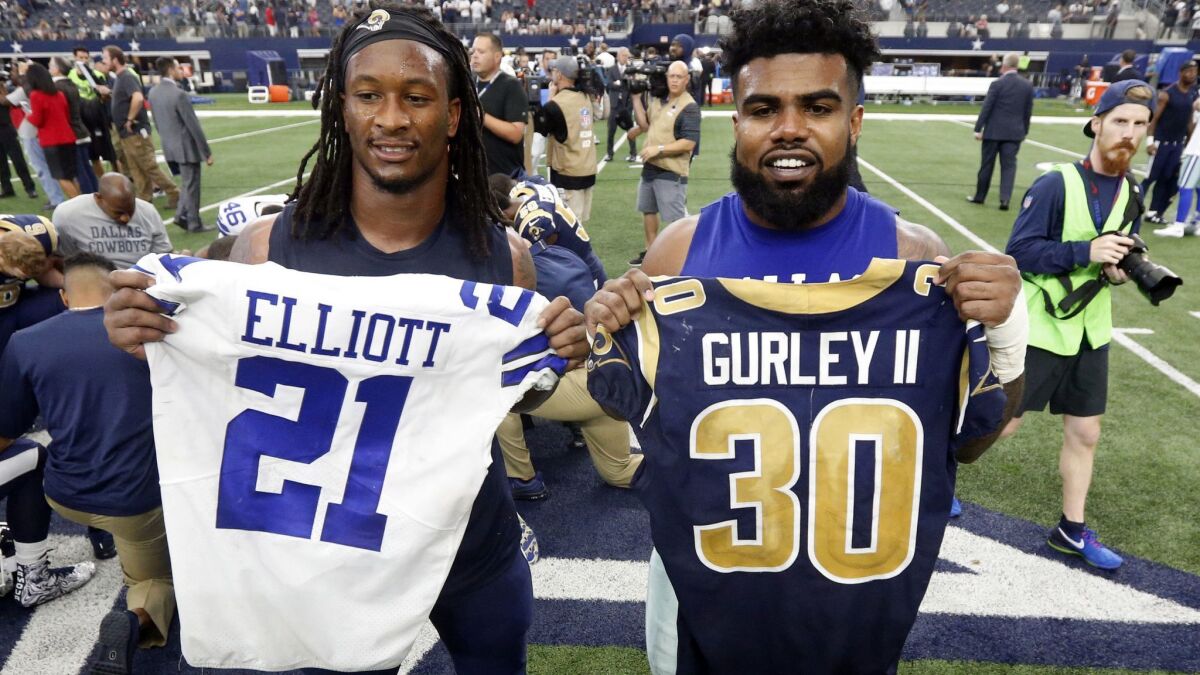 As elite NFL running backs, they sometimes run in the same circles.
Todd Gurley of the Rams said he sees Ezekiel Elliott of the Dallas Cowboys at big NFL events such as the run-up to the Super Bowl.
On Saturday, the two stars will try to carry their teams a step closer to playing in one. Gurley and Elliott are expected to be focal points when the Rams play the Cowboys in an NFC divisional-round playoff game at the Coliseum.
Elliott led the league in rushing for the second time in three years. Gurley, who sat out the final two games of the season because of a left knee injury, finished third.
"He's a great back," Gurley said. "I guess I'm not too bad myself."
Elliott apparently thinks so.
"He can run inside, he can run outside, he can run through you, jump over you, around you and make you miss," Elliott told Dallas-area media. "He's just a guy that has a really well-rounded game, and really doesn't have any weaknesses."
Elliott was asked, "Sound like you?"
"Something like that," he replied.
The 6-foot-1, 224-pound Gurley has not carried the ball or caught a pass in a game since Dec. 16, when he played through knee soreness during a defeat against the Philadelphia Eagles. Gurley sat out the final two games, and also had the benefit of the Rams' bye through the wild-card round of the playoffs to recover.
Gurley said after Wednesday's practice that he was feeling good. He was listed as a full participant on Thursday's injury report, and coach Sean McVay said that the three-time Pro Bowl player was expected to play against the Cowboys.
"He looks like the explosive, great back that we're accustomed to seeing," McVay said.
Gurley, who signed a $60-million extension before the season, led the NFL with 21 touchdowns. He rushed for 1,251 yards and 17 touchdowns, and caught 59 passes for 580 yards and four touchdowns.
"A great runner with patience and acceleration and vision and everything you're looking for," Cowboys coach Jason Garrett said.
The 6-foot, 228-pound Elliott rushed for 1,434 yards and six touchdowns. He also improved his pass-catching skills, and had a team-best 77 receptions for 567 yards and three touchdowns.
"The greatest thing about him is he can take the rock 30 times," Rams defensive lineman Michael Brockers said, "and be as dominant as he is from the start to finish."
This is the second time that Gurley, the 10th pick in the 2015 NFL draft, and Elliott, the fourth pick in 2016, will square off.
In the Rams' 35-30 victory over the Cowboys last season, Gurley rushed for 121 yards in 23 carries and caught seven passes for 94 yards, including a 53-yard touchdown.
Elliott ran for 88 yards and a touchdown in 21 carries, and caught four passes for 54 yards and a touchdown.
Gurley might have the tougher assignment Saturday.
The Cowboys won the NFC East with a defense that ranked seventh in the NFL. The Cowboys were fifth in rushing defense, giving up 94.6 yards a game.
In last week's 24-22 wild-card victory over the Seattle Seahawks, the Cowboys limited the league's top rushing team to 73 yards. It was the 11th time they held an opponent to fewer than 100 yards rushing.
Gurley will have help Saturday.
The Rams signed C.J. Anderson after the loss to the Eagles, and the veteran rushed for 167 yards and a touchdown against the Arizona Cardinals, and 132 yards and a touchdown against the San Francisco 49ers.
McVay has said to expect "a good balance" of Gurley and Anderson.
Anderson, a Pro Bowl player in 2014, said he would be ready.
"It's not often you got two Pro Bowl backs on one roster," he said. "So it's a unique situation — but a good situation to have."
The Rams defense will be challenged by Elliott and dual-threat quarterback Dak Prescott, who rushed for 305 yards and six touchdowns during the season. Prescott also ran for a key first down and scored the game-winning touchdown against the Seahawks.
The Rams ranked 19th in the league in defense, and they were 23rd in rushing defense, giving up 122.3 yards a game. They held opponents to fewer than 100 yards rushing five times.
"If it's fourth down-and-one on the goal line, it really doesn't matter how many yards they've made," Rams defensive coordinator Wade Phillips said. "If you stop them on that fourth-and-one and win the game, that's the most important thing.
"I think that's the way this defense plays."
Gurley and Elliott, of course, cannot do it alone. Both deflected questions about their importance. They said it would require a collective effort.
"Playoff football," Elliott said. "It's about the team — it's not really about individuals.
"It's about trying to get to that Super Bowl."
Not much more anyone could ask for, according to Gurley.
"Playoff game in L.A. versus 'America's Team,'" he said. "Definitely looking forward to it. It's going to be a great matchup."
Follow Gary Klein on Twitter @latimesklein
---
Get the latest on L.A.'s teams in the daily Sports Report newsletter.
You may occasionally receive promotional content from the Los Angeles Times.