What's wrong with Rams quarterback Jared Goff? It depends who you ask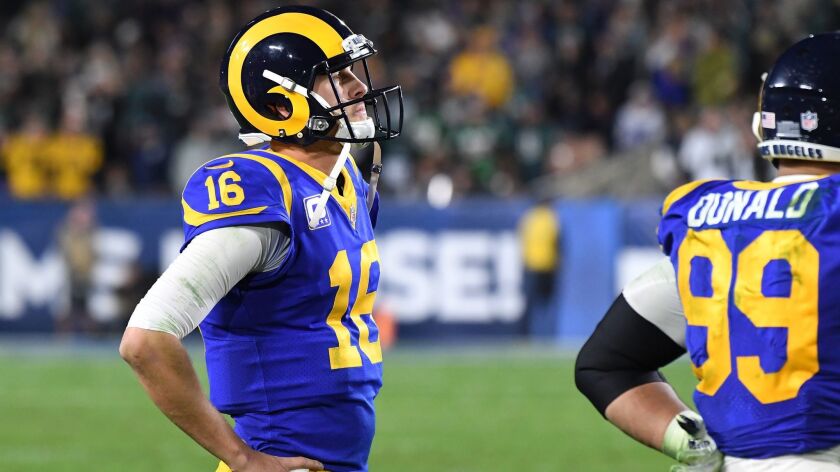 The midseason buzz regarding a Super Bowl is now muted. So is talk of the quarterback as a most valuable player candidate.
The Rams have clinched a playoff spot, but with two games remaining in the regular season the conversation has turned to what's wrong with Jared Goff?
The third-year pro started fast and played at a high level through two-thirds of the season. He accounted for five touchdowns in a thrilling Week 11 victory over Kansas City, enabling the Rams to go into their scheduled off week needing only one victory to clinch the NFC West.
The Rams achieved that in their next game at Detroit, but that Dec. 2 win marked the start of a three-game slide in Goff's once-shining efficiency. Not coincidentally, the Rams lost consecutive games against Chicago and Philadelphia, the first time they dropped two regular-season games in a row during Sean McVay's near two seasons as coach.
In the last three games, Goff has passed for one touchdown with six interceptions — and the ratio would be worse if the NFL had not changed what originally was ruled an interception against the Eagles to a fumble.
This week, the day after he was voted to the Pro Bowl, Goff acknowledged he needs to play better. But he said each of the last three games was independent of the others.
"I don't think there's one singular thing," he said. "Look at last game: Made a couple dumb plays that hurt us, and you can't do that."
Goff still ranks among the top quarterbacks in several categories. He has passed for 4,273 yards and 27 touchdowns with 12 interceptions. But he has dropped to 21st among established starters with a 64.6% completion percentage.
Goff will attempt to get back on track Sunday at Arizona. If the Rams win and San Francisco defeats Chicago, the Rams clinch a bye through the wild-card round of the playoffs.
Goff's job might be more difficult if star running back Todd Gurley is sidelined because of what the Rams have described as knee inflammation. Gurley did not practice this week, and McVay said Friday that he would be a game-time decision.
Veteran running back C.J. Anderson, signed this week, could start in Gurley's place. That might require another adjustment by Goff.
The absence of receiver Cooper Kupp, who suffered a season-ending knee injury in Week 10, affected the synchronicity of McVay's play-calling and Goff's seemingly telepathic communication with his receiver corps.
The offensive line's recent struggles with pass-rushing schemes deployed by Lions coach Matt Patricia, Bears defensive coordinator Vic Fangio and Eagles defensive coordinator Jim Schwartz also appear to have affected Goff's confidence. And the Rams are committing uncharacteristic penalties at inopportune times.
Immediately after last weekend's 30-23 loss to the Eagles, McVay said Goff needed to make better decisions. But after reviewing the game, McVay said the quarterback played better than it appeared on first glance — Goff completed 35 of 53 passes for 339 yards, with an interception and a fumble. McVay pointed to Goff's performance in the second half, when the Rams tried to come back from a 17-point deficit.
"Unfortunately on him, we keep talking about two plays," McVay said of the turnovers.
But it is more than two plays. Goff has lately underthrown, overthrown or missed receivers on plays that he routinely made earlier in the season.
"Sometimes the spotlight goes on the quarterback with those throws," passing game coordinator Shane Waldron said. "Or some of the timing that might get thrown off because of a variety of different reasons."
Receiver Robert Woods said the entire offense must improve.
"It's multiple things," he said, adding that the Rams' struggles on early downs are making it tougher on Goff on third down.
"I wouldn't say it's an easy fix because if it was we'd just flip it around. It's locking in and staying poised on the game plan."
That's what Goff intends to do. He said he was not panicking about the two-game losing streak and would grow from his mistakes.
"I need to take care of the ball better and will," he said. "Sometimes things happen and you're just not as sharp as you want to be and don't take care of the ball as well as you want to, for a multitude of reasons.
"Just rely on a lot of the stuff I've done in my life and get back to that."
Follow Gary Klein on Twitter @latimesklein
---
Get the latest on L.A.'s teams in the daily Sports Report newsletter.
You may occasionally receive promotional content from the Los Angeles Times.