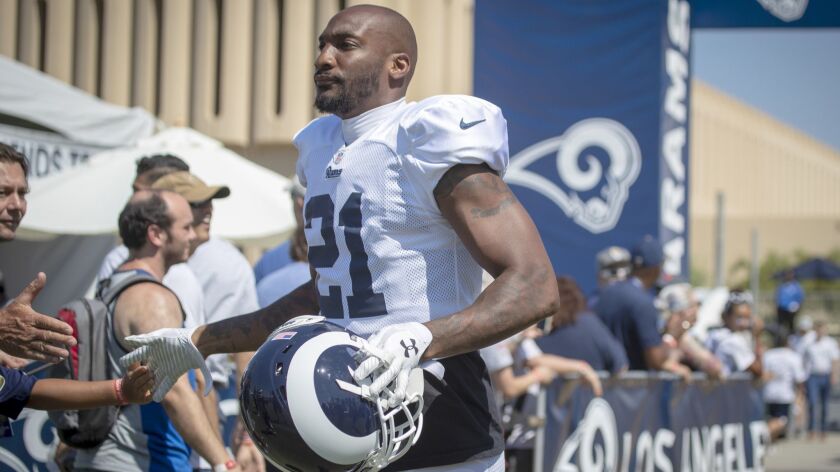 Reporting from detroit —
Several times during his eight-week absence because of a left ankle injury, Rams cornerback Aqib Talib appeared on the NFL Network and analyzed his team.
Coach Sean McVay watched, listened and came away impressed.
"Told him not to get too good at that NFL Network job," McVay joked, "because he looks like he's got a couple years left in him."
Talib, an 11th-year pro, is expected to return to the starting lineup on Sunday when the Rams play the Detroit Lions at Ford Field. The Rams (10-1) can clinch a second consecutive NFC West title if they defeat the Lions (4-7), or if the San Francisco 49ers (2-9) defeat the Seattle Seahawks (6-5).
Talib could spark a defense that gave up huge amounts of yardage and points in several games after he was injured in Week 3 against the Chargers. Minnesota's Kirk Cousins, Seattle's Russell Wilson, Green Bay's Aaron Rodgers, New Orleans' Drew Brees and Kansas City's Patrick Mahomes are quarterbacks who have torched the Rams' secondary.
The Rams were off last week after giving up 546 yards — but forcing five turnovers — in a 54-51 victory over the Chiefs. The Rams rank 20th in the NFL in total defense, giving up 372.5 yards per game.
Talib, 32, said he could provide experience and "sharpen up" communication on the field.
"We get our communication in order, we eliminate two, three big plays a game, and it'll make us that much better," he said.
The Rams had aimed to limit those types of plays when they made offseason trades for Talib and Marcus Peters.
The two cornerbacks, with a combined seven Pro Bowl appearances between them, played well in a season-opening victory over the Oakland Raiders and in a shutout of the Arizona Cardinals.
Both, however, suffered injuries against the Chargers. Talib subsequently underwent surgery, but Peters started four days later against the Vikings and played through a right calf injury.
Sam Shields initially replaced Talib in the lineup, but he struggled against the Vikings and was replaced by Troy Hill.
Talib's absence also appeared to affect Peters. The fourth-year pro struggled in matchups against opponents' top receivers, the nadir coming when the Saints' Michael Thomas caught 12 passes for a team-record 211 yards, including a game-clinching 72-yard touchdown.
Peters welcomes the return of Talib and his leadership.
"It's going to be good for the defense just to have somebody back that's been gone a long time," said Peters, who intercepted a pass against the Chiefs.
Said McVay: "He and Marcus have a great rapport where, they kind of go back and forth. And I think that kind of helps having your brother back out there with you and their communication."
Other defensive backs also will benefit from Talib's presence, cornerbacks coach Aubrey Pleasant said.
"He's one of the smartest football players I've been around," Pleasant said, adding, "He has the ability to … see it before it happens."
That skill comes with experience that makes Talib a "security blanket" for the defense, safety John Johnson said.
"He's probably seen every offensive coordinator or head coach or combination of the two," Johnson said. "So he knows what teams want to do. He knows how teams want to attack us."
Detroit Lions coach Matt Patricia knows Talib well.
Patricia was the New England Patriots' defensive coordinator when Talib played for the team in 2012 and 2013.
"As a coach, you have certain players that you tend to learn more from them than they learn from you, and he's certainly one of those guys," Patricia said, adding, "He can go out and change a game, a practice, a meeting, just with his intensity."
With the Patriots, Talib regularly walked into Patricia's office early in the week and proclaimed that he was going to handle the next opponent's best receiver.
Patricia particularly remembers a 2013 game against the Saints and tight end Jimmy Graham, who had amassed more than 100 yards receiving in four consecutive games. The Patriots changed matchups so that Talib covered Graham.
Talib held him to no catches.
"It was something that, really, no one had done at that point," Patricia said.
Talib wants similar success on Sunday when the Rams go up against Lions quarterback Matthew Stafford and his receivers.
Talib won a Super Bowl with the Denver Broncos and played in two AFC championship games with the Patriots. He said this week that playoff-bound teams must "crank it up a notch" at this point in the season.
The Rams are counting on Talib to help them do just that.
Follow Gary Klein on Twitter @latimesklein
---