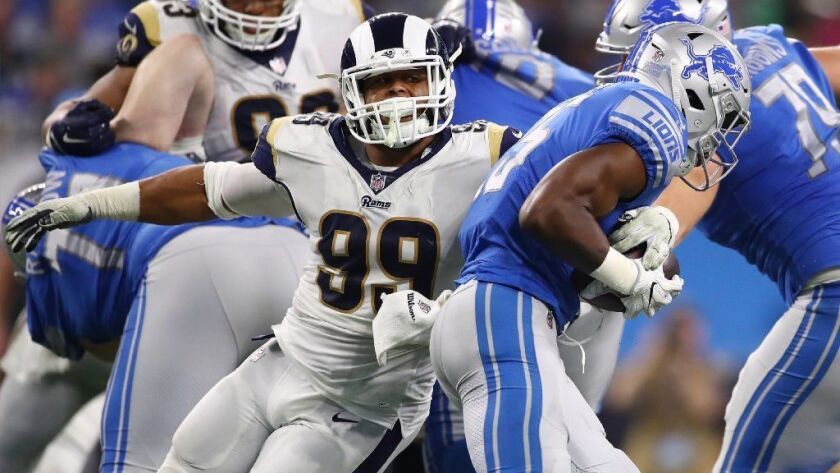 Reporting from detroit —
The raucous Rams locker room scene was over, the space suddenly all but empty and quiet.
Group photos of players, coaches and staff in black-and-gray NFC West championship caps, and blue-and white 'Reppin' the West' T-shirts, had been taken. Hugs and handshakes, and the shouts and laughter that accompanied them, were finished.
Offensive lineman Rodger Saffold, the longest-tenured Rams player, stood alone at his locker, pondering the NFC West title the team won Sunday by defeating the Detroit Lions 30-16.
It is the second consecutive division championship for a franchise that ended a 13-year drought in 2017, and had giddily celebrated that way after clinching it in Tennessee in the penultimate game of the season.
"This feels better," Saffold, a ninth-year pro, said of this season's accomplishment. "You just appreciate how much work it takes to get here after getting here the first time.
"It's awesome. It's really amazing."
Todd Gurley ran for two touchdowns, Jared Goff passed for one and star defensive tackle Aaron Donald again came up with a big play as the Rams overcame a sluggish performance and improved to 11-1, clinching a second consecutive division title for the first time since the 1978 and 1979 seasons.
"It's so hard to win in this league," second-year coach Sean McVay said. "We'll take it however we can get it."
Like Saffold, other Rams said this season's drive to the division title differed from 2017, when McVay, the youngest coach in modern NFL history, took over a team that had finished 4-12 the previous season.
"Last year was something new," defensive lineman Michael Brockers said. "We didn't know we were going to win the division, we just wanted to play good and win some games.
"But this year, we knew what the expectations [were] coming in, and to get 'em done in this kind of fashion feels great."
In 1979, the Rams rode the momentum of a second consecutive division title all the way to the Super Bowl, where they lost to the Pittsburgh Steelers.
After an offseason that included the acquisition of star cornerbacks Marcus Peters and Aqib Talib, defensive lineman Ndamukong Suh and receiver Brandin Cooks, the Rams have been among the favorites to reach the Super Bowl in Atlanta.
With a division title secured, they are now competing with the New Orleans Saints (10-2) for home-field advantage throughout the playoffs.
The Rams play next Sunday night against the Chicago Bears at Soldier Field and the following Sunday night at home against the Philadelphia Eagles. They then play at Arizona and finish at home against the San Francisco 49ers.
But they were savoring Sunday's victory as the first step.
"This is something that we put as a check mark early on in the year," Goff said, "and are able to mark that off now and it feels good."
The Rams beat the Lions on a day in which Goff struggled. He completed 17 of 33 passes for 207 yards, with an interception. He also fumbled.
But Gurley rebounded from a minor ankle injury suffered two weeks ago in the Rams' 54-51 victory over the Kansas City Chiefs. He had 132 yards in 23 carries and caught three passes for 33 yards, keeping alive a run to a possible NFL most-valuable-player award.
Donald also elevated himself into the MVP conversation. He recorded two sacks that increased his league-leading total to 16 1/2, and forced a fumble that led to a touchdown.
"We're happy," Donald said, "but we have to keep rolling."
Donald led a defense that appeared strengthened by the return of Talib, who had been sidelined for eight games while recovering from ankle surgery. Talib was in for about 30 plays before coaches pulled him.
The unit also got inspired play from Suh, who made six tackles in a homecoming game against the team that selected him with the second pick in the 2010 draft.
"I enjoyed my time back here," said Suh, who was penalized twice for personal fouls, "and now it's back to business."
The Rams are set up for a strong finish, cornerback Nickell Robey-Coleman said.
"It's crazy right now, the energy and what's going on," he said. "It's just amazing, crazy in a good way. And we got to keep it going."
Goff said the Rams "know the boxes" they still have to check.
"We've got a few more to go," he said.
But as Saffold collected his belongings and prepared to head to the team bus, he said the Rams must not look too far ahead.
"Continue living week to week," he said. "Don't start thinking about Atlanta just yet."
Follow Gary Klein on Twitter @latimesklein
---