Rams' Maurice Alexander goes from trash to treasured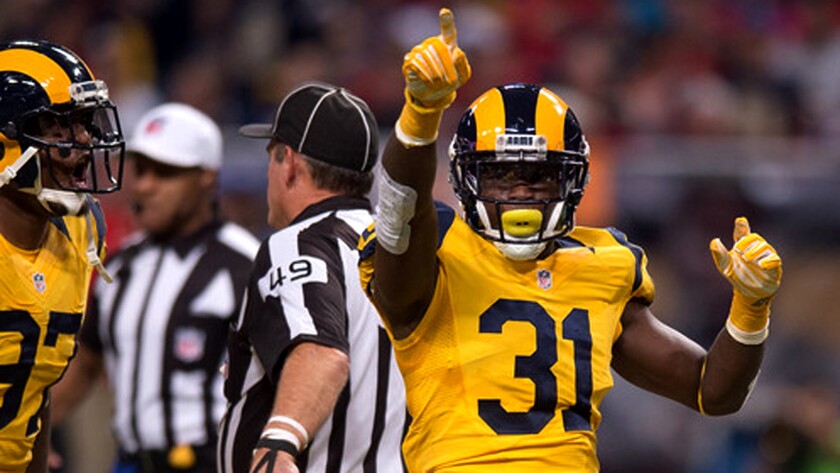 Hours after the Rams hosted Dallas in an exhibition Saturday, crews of workers cleaned the Coliseum of all the cups, wrappers and debris of more than 80,000 people.
It's a massive job. And one Rams safety Maurice "Mo" Alexander knows well.
Before his NFL future came into focus, and at a point when he was trying to get his life back on track, Alexander worked as a janitor at the Edward Jones Dome in St. Louis, the venue the Rams called home for the last 20 years.
"I gained a lot of respect for people that clean that dome," said Alexander, a fourth-round pick in 2014. "I know it's not easy, but there's things you've got to do to survive. They were things I needed to do to survive."
Few players have had such a roundabout path to the NFL, a story somewhat reminiscent of Rams great Kurt Warner working at a grocery store before gaining traction on his Hall of Fame-worthy career. Of course, Alexander has yet to realize the success that Warner had, and Alexander's trash-collecting hiatus from football was the result of a big mistake he made in college.
Alexander had to work his way up a ladder of success that, by his own doing, was missing some rungs. At a party in early 2012, when he was a player at Utah State, he got into a fight with teammate Joseph DeMartino, running up and punching him on the left side of his face.
DeMartino, a running back, briefly lost consciousness and suffered broken bones in his left eye socket and a fractured cheekbone. Alexander pleaded guilty to a misdemeanor charge of aggravated assault resulting in bodily injury, spent 45 days behind bars, and was kicked off the football team for the 2012 season.
After returning to his hometown of St. Louis, Alexander got the janitorial job at the Rams stadium. Though he never actually saw the team play a game during that time, he said it was soothing to him to be so close to where football was being played. He fully intended to return to Utah State to graduate, and was trying to save money toward that end.
"Some people believed in me more than I believed in myself," said Alexander, who played his first two college seasons as an outside linebacker at Arizona Western College. "I was just focused on my degree. They were like, 'You could be out there playing.' "
Sure enough, Alexander was reinstated by Utah State for the 2013 season, switched to safety, and played well enough to be the 110th overall pick. Typically for a player selected in the fourth round, Alexander had to make his mark on special teams, and for the past 1½ seasons has been a starter in all four phases: punt, punt return, kickoff and kickoff return.
"He's a safety, so he's a tackler," said John Fassel, Rams special teams coach. "But what he's really good at is blocking, which is an offensive skill. You need footwork, understanding leverage, and technique. He really picked it up. Plus, Mo is so strong in the legs. He can grab on to guys and hang on."
It's not surprising, then, that Alexander has shown the same tenacity in grabbing the safety position and hanging on. He's looking to replace safety Rodney McLeod, who started 48 consecutive games for the Rams in the last three seasons and signed with Philadelphia in March.
"He has earned his stripes," Rams General Manager Les Snead said of the 6-foot-1, 220-pound Alexander. "You always saw the size and the ability to hit."
Some of Alexander's best plays on special teams came when he was a gunner on the punt-coverage units. He made massive hits in games against Washington and Denver during the last two seasons.
"The punt returner's waiting, and Mo has two blockers on him," Fassel said. "He finds a way to swat away the blockers, and just rocking [the returner] right when he catches it. Both of those plays happened on our sideline, so all the defensive players on the sideline were going crazy right before they took the field."
In those times when he steps back and gives it some thought, Alexander shakes his head at how far he has come.
"Mistakes happen," he said, referring his up-and-down odyssey to the NFL spotlight. "It just depends on how you go about making up for them."
Judging by how far he has come, this one-time janitor is cleaning up.
sam.farmer@latimes.com
Twitter: @LATimesfarmer
---
Get the latest on L.A.'s teams in the daily Sports Report newsletter.
You may occasionally receive promotional content from the Los Angeles Times.