Family, and friendly, ties bind Rams coach Sean McVay to a lineage of NFL greatness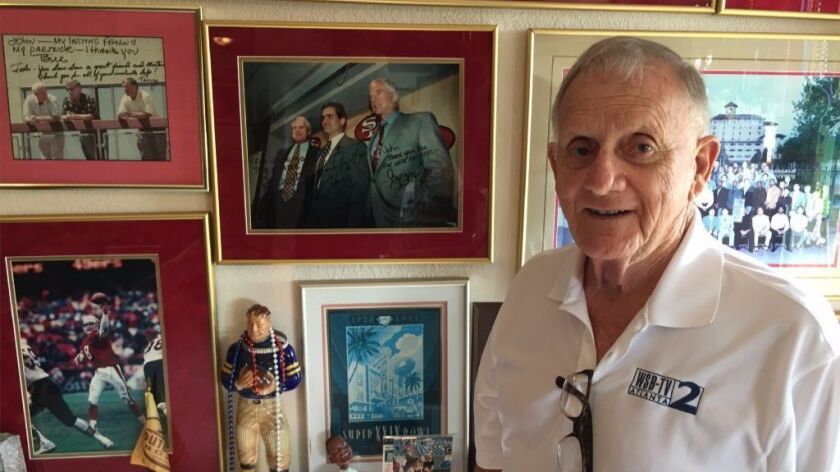 Reporting from Granite Bay, Calif. —
Framed photographs, plaques and magazine covers adorn nearly every inch of wall space, memorabilia from a life in football that spans more than seven decades.
A few are keepsakes from Massillon High in Ohio. Others are from college days at Miami (Ohio), coaching stops in the World Football League and the NFL and his Super Bowl-winning years as a San Francisco 49ers executive.
Game balls commemorating milestone victories are shelved above a window framing picturesque Folsom Lake glistening just outside.
John McVay guides a visitor around the room and stops in front of life-size cardboard cutouts of Hall of Fame quarterbacks Joe Montana and Steve Young, who stand sentry at the end of a pool table.
"Every time we have a party," the 86-year-old McVay says, laughing, "the women like to stand right there, right between these two guys, and get their picture taken."
Rams coach Sean McVay, at 31 the youngest coach in modern NFL history, has visited this space, an enclave within the home his grandfather shares with his wife Susan.
After Rams owner Stan Kroenke presented him with a game ball for guiding his team to a season-opening victory over the Indianapolis Colts, Sean spoke of perhaps one day having a collection similar to his grandfather's.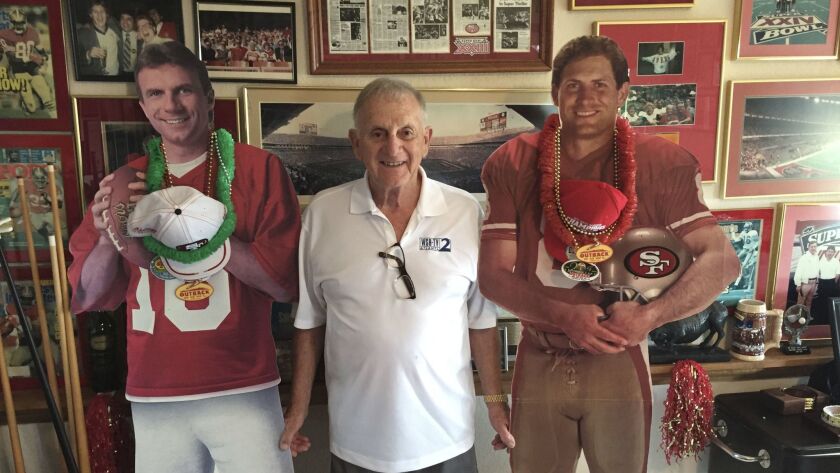 "If I had half the success he had," Sean says from his office in Thousand Oaks, "I think you'd feel pretty good about it."
Grandfather and grandson — as well as other family members — will reunite Thursday night when the Rams play the 49ers at Levi's Stadium.
That's where John was Sept. 10 when he took part in a ceremony honoring former 49ers fullback Tom Rathman — and watched on television as Sean earned his first NFL victory.
"We were going back and forth," John says, "channel flipping."
Afterward, John and Sean spoke by phone. John congratulated his grandson. He told him he was proud of him and that he had done a good job.
"And I told him to keep it going," John says. "'Don't loosen up the reins.'"
Grandfather and grandson are separated in age by more than 50 years. But they share a common experience: Both played football at Miami (Ohio), known as the "Cradle of Coaches."
John was a center under coaching legends Woody Hayes and Ara Parseghian. Future coaches Bo Schembechler and Bill Arnsparger were tackles on the offensive line.
John coached high school football in Ohio, became a college assistant at Michigan State and then the head coach at Dayton, where he hired an assistant named Jim Gruden and also met a young real estate developer named Eddie DeBartolo Jr.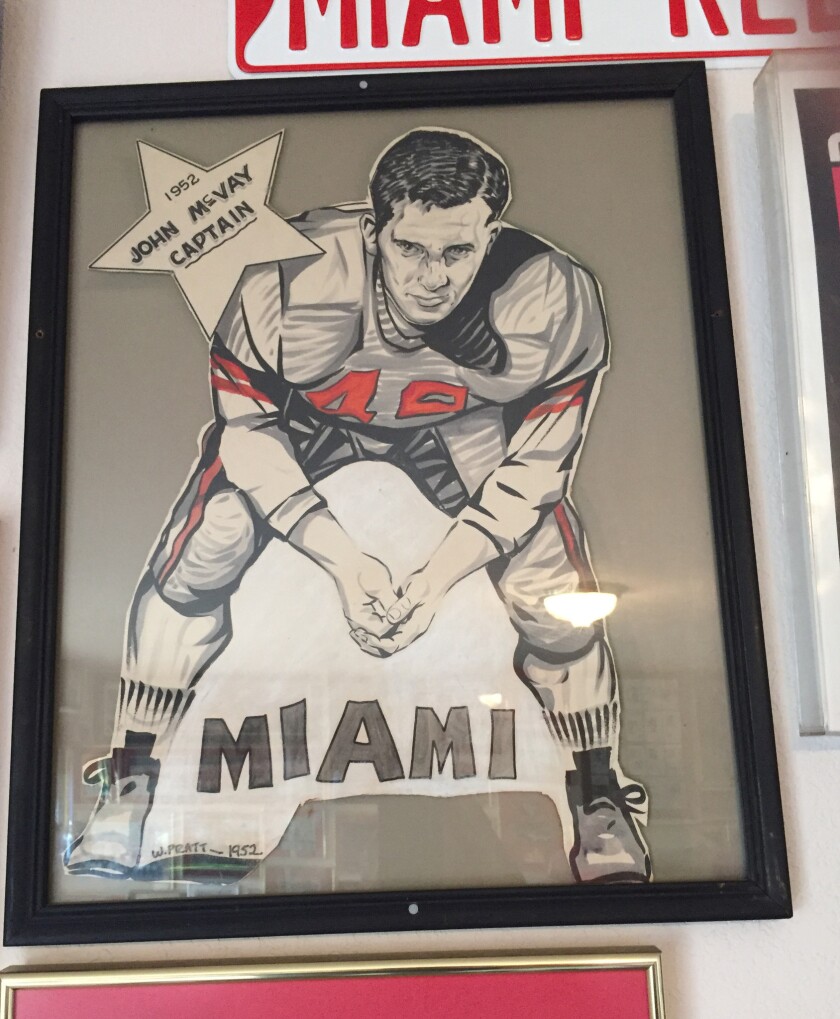 After the 1973 season, John left Dayton to become coach of the WFL's Memphis Southmen. The team went 17-3 its inaugural season but the league folded midway through the next one.
Arnsparger hired him as an assistant on his New York Giants staff in 1976, but midway through the season McVay was summoned to meet with team executive Andy Robustelli and owner Wellington Mara. They told him Arnsparger was fired.
"They said, 'Bill's leaving. You're it,'" McVay recalls. "I said, 'I don't want to be it.' They said, 'You're it.'"
After two-plus seasons with the Giants, he also was fired.
He had become friends with Bill Walsh, whom the 49ers hired as coach in 1979, through clinics, and he knew DeBartolo, now owner of the 49ers, from his time in Dayton. DeBartolo invited McVay to work for the team on the personnel side.
"I was on the next plane," John says.
Thus began one of the most successful partnerships in NFL history.
The 49ers won three Super Bowl titles under Walsh and two under coach George Seifert.
John McVay "was the founder, really, in a lot of ways, of the 49ers dynasty," says Jon Gruden, Jim's son and an ESPN "Monday Night Football" analyst who coached the Tampa Bay Buccaneers to victory in the 2003 Super Bowl and gave Sean his first coaching job.
Says Sean: "He was kind of the unsung hero. He was always in the background — never was a guy that needed the credit."
During the 1979 draft, the McVays' connection to the Grudens began to emerge and pay dividends.
Walsh could not figure out why Montana had not been selected in the first two rounds. He asked McVay if he knew anyone at Notre Dame. He did. Jim Gruden was a Notre Dame assistant.
"[Walsh] says, 'Call him and see what's going on. How come no one's taking Montana?'" McVay recalls. "I called Jimmy. I said, 'He's supposed to be not very fast and doesn't have a good arm.'
"Jim says, 'Just take him. Just take him.'"
The 49ers selected Montana in the third round and he led the 49ers to four Super Bowl titles, the last in 1989.
Sean McVay was 3 at the time.
As he grew up in suburban Atlanta, Sean became a 49ers fan. When the team came to town for games against the Falcons, he attended practices and rode the bus with the coaches and players. Young once tossed him a towel as he ran onto the field before a Monday night game.
"At the time, that's just kind of what it is," Sean says. "Now you look back at it and realize what a unique experience it was.
"I think there were a lot of things you subconsciously pick up that maybe you might not otherwise. The competitiveness, the interactions with the players, all those things that seem natural because you're around it."
After an all-state career as a high school quarterback, Sean chose to attend Miami (Ohio), where his uncle, also named John, had played.
"Family absolutely played a part in it, but I never felt pressured — they never pushed me to go there," Sean says.
Sean played receiver and kick returner in college but was slowed by injuries.
It was his grandfather, with his long connection to the Gruden family, who helped kick-start Sean's NFL coaching career.
"The Gruden and McVay family ties run deep," Sean says.
Jim Gruden, John's former Dayton assistant, had recruited Sean's father, Tim, to play football at Indiana.
During high school, Sean worked a Tampa Bay Buccaneers training camp under Jon Gruden and then joined his staff as an assistant in 2008. Former 49ers coach Mike Shanahan hired Sean onto his Washington Redskins staff two years later. He worked the 2014-16 seasons under Redskins coach Jay Gruden, another son of Jim Gruden.
"We go way back as far as our families are concerned," Jay Gruden says.
After last season, Sean McVay interviewed with the 49ers and Rams. The Rams hired him and, a few weeks later, the 49ers hired 37-year-old Kyle Shanahan, Mike's son.
The young coaches' teams will square off Thursday night.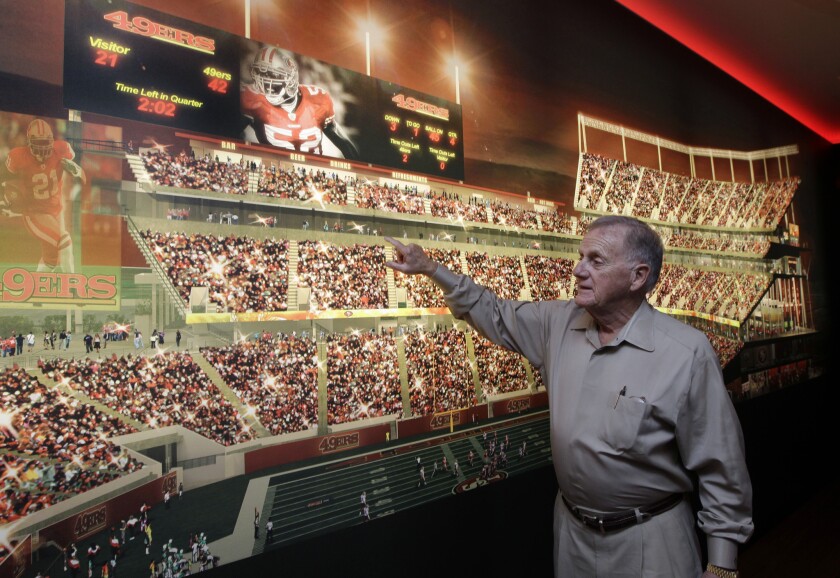 Sean already has collected some personal mementos. A group photo of NFL coaches and a framed photo of McVay and his parents on the day he was introduced as the Rams' coach sit on a shelf behind his desk, just to the right of a printout of John Wooden's "Pyramid of Success." He keeps an autographed copy of Walsh's book "Finding the Winning Edge" nearby, and is a regular reader of Walsh's "The Score Takes Care of Itself."
He also has started a room at his home in Encino. A jersey presented to him by Redskins quarterback Kirk Cousins is there along with a keepsake commemorating his hiring by the Rams.
As John McVay surveys his own room, he says his grandson was on his way to a successful career as a head coach.
"I used to call him a kid, but I've got to quit doing that," he says. "He's got some amazing experience."
Follow Gary Klein on Twitter @latimesklein
---
Get the latest on L.A.'s teams in the daily Sports Report newsletter.
You may occasionally receive promotional content from the Los Angeles Times.