Jared Goff awaits a chance as Rams offense starts to click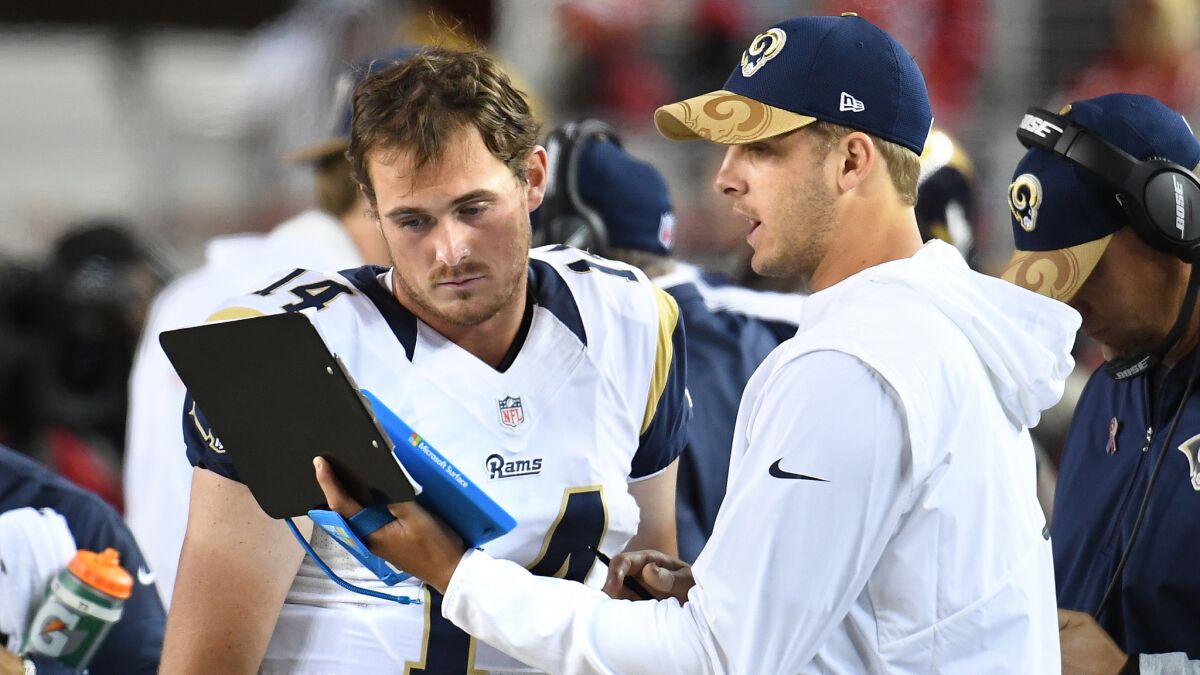 The No. 1 pick in NFL draft is accustomed to holding the football and his team's fate in his hands, but instead stands on the sideline and holds a clipboard.
He watches the quarterback he is supposed to replace lead an offense working to become more than average, and is relegated to taking notes and waiting his turn.
Carson Palmer remembers his rookie season well.
The Arizona Cardinals quarterback knows exactly what Jared Goff is going through, because the Heisman Trophy winner from USC was taken first by the Cincinnati Bengals in 2003, only to watch John Kitna lead the Bengals to an 8-8 record.
Goff has not played a snap. He was inactive for the season opener and has been the backup for veteran Case Keenum, who has helped lead the Rams to a 2-1 record that puts them at the top of the NFC West heading into Sunday's division game at Arizona.
"There's such a fine line between throwing a guy in there, making him play ... and he knows he's going to go in and struggle because the team's not good like some guys have been," Palmer said Wednesday during a conference call. "The Rams are different. That's a very good team. They don't need to throw a rookie in there and him learn on the run and the team suffer.
"They've got a veteran who has the team at the top of the division."
That would be Keenum.
The Rams didn't score a touchdown in their first two games, against the San Francisco 49ers and Seattle Seahawks, but Keenum broke through last week against the Tampa Bay Buccaneers.
He connected with Brian Quick for a 44-yard touchdown pass play on the first possession. He had a pass intercepted and returned for a touchdown on the next series, but came back and connected with Tavon Austin on a 43-yard touchdown pass play in the fourth quarter of a 37-32 victory.
Todd Gurley rushed for two touchdowns.
"It's not something that we dwelt on: Not scoring touchdowns," Keenum said. "Maybe you [reporters] probably did a little bit more than we did, but that's something that we came here to do and we're all used to doing.
"Everybody in that meeting room. We're used to scoring touchdowns. So it felt normal. It felt right. It felt good."
Keenum acknowledged that the long scoring pass to Quick was a satisfying way to start.
"It was awesome, it was fun, anytime you score touchdowns," he said. "I tend to get pretty juiced up, especially when you throw 'em, so on a third-down conversion to have my guy Quick make a big play down the field, it felt really good."
For Quick as well.
The veteran receiver, who overcame a shoulder injury suffered in 2014, had struggled with drops throughout the exhibition season. Now he will be on record as the first player to score a touchdown for the Los Angeles Rams in more than 22 years.
"It's always good to score, it always good to find a way to help the team," said Quick, who scored for the first time since Oct. 5, 2014. "I know it felt great. And for it to be the first touchdown coming back to L.A. it was probably more special."
Said receiver Kenny Britt: "That play right there, there's nobody in the NFL that can stop us regardless of who you put on the field. You can get your all-star team out there. We've got guys that can make something happen all around the board."
The Rams performance last week — they generated 320 yards — slightly improved their statistical standing.
They remain last in the NFL in total offense, averaging 262.7 yards per game. But they rose from last to 29th in scoring (15.3 points per game) and moved one spot, from last to 31st, in passing (174 ypg.) They are 22nd in rushing, averaging 88.7 yards per game.
"It was a step, probably a bigger step than it was the week before," offensive coordinator Rob Boras said of the offense's performance against the Buccaneers, "and were going to continue to get better."
Goff is not expected to displace Keenum anytime soon unless Keenum is injured or plays poorly for a long stretch.
So while Carson Wentz of the Philadelphia Eagles, Dak Prescott of the Dallas Cowboys and Cody Kessler of the Cleveland Browns continue to start, Goff will wait until Coach Jeff Fisher makes a move.
That's not a bad thing, Palmer said.
"The head coach makes the decision about what's best for the team," he said. "And, obviously, he thinks it's best for the team for Jared to sit and watch and learn."
Palmer said there was much to gain from waiting before playing.
"You have a chance to watch how you prepare as a starter, how you go about your business as a starter, especially if you're coming from a very non pro-style offense," he said. "Seeing how offenses prepare, seeing the different pressures you're going to see and the different defenses you're going to see.
"It's tough if you're not ready and you get thrown in there. If you struggle it can linger, so I think it's important."
Quick hits
The Rams claimed defensive back Marqui Christian off waivers from the Cardinals and released defensive back Isaiah Johnson. … Injury report: Cornerback E.J. Gaines (thigh) and receivers Pharoh Cooper (shoulder) and Nelson Spruce (knee) practiced. Austin (shoulder) was limited. Defensive linemen William Hayes (ankle) and Dominique Easley (illness), and cornerback Lamarcus Joyner (toe) did not practice.
Get the latest on L.A.'s teams in the daily Sports Report newsletter.
You may occasionally receive promotional content from the Los Angeles Times.