Panthers center and former Trojan Ryan Kalil is coming 'home' to Coliseum for Sunday's game against Rams
More than a decade later, the memories remain fresh for Ryan Kalil.
The 2004 game against California, when the Coliseum shook as USC turned back red-hot quarterback Aaron Rodgers. Reggie Bush's leaps over UCLA defensive players, and the 2005 game against Fresno State when Bush established an all-purpose yardage record.
Those were among the highlights of Kalil's USC career that included two national titles and a 34-game win streak.
And not one defeat at the Coliseum.
Kalil, the Carolina Panthers' veteran center, returns to the stadium on Sunday when the Rams resume their schedule against the defending NFC champions.
"I'm definitely looking forward to walking down that tunnel," Kalil said during a phone interview last week. "I never thought that would happen, that I'd get to play in that stadium one more time."
Kalil might be limited to the sideline. His availability for the game became uncertain after he suffered a shoulder injury Sunday during Carolina's 30-20 victory over the Arizona Cardinals. The Panthers ended a four-game losing streak and improved their record to 2-5 heading into Sunday's matchup against the 3-4 Rams, who had an open date last week.
Kalil was scheduled to undergo an MRI exam on Monday.
Panthers tight end Greg Olsen told the Charlotte Observer that he spoke with Kalil on Monday at Bank of America Stadium.
"He looked all right," Olsen told the newspaper's website. "He's sore. He's banged up. But we'll see how this week goes. I think it's really early to tell."
Kalil, 31, will likely do everything possible to play again on the field where he enjoyed so many memorable moments, including proposing to his wife about a month before the Panthers selected him in the second round of the 2007 draft.
Kalil, a five-time Pro Bowl selection, grew up in Corona and played at Anaheim Servite High before attending USC from 2003-2006.
During his freshman and sophomore seasons, the Trojans won Associated Press national titles. The following season they lost to Texas in the Bowl Championship Series title game. In 2006, a late-season upset by UCLA cost them a shot at playing for another national championship.
"We sort of were the pro football team for Los Angeles, because the NFL had been gone for quite some time," he said. "So I was very fortunate to be a part of that history and be part of those exciting games."
The 2004 game against Cal and Rodgers was the first to come to mind for Kalil when he was asked about the Coliseum. Rodgers had completed his first 23 passes. Late in the game, with the Trojans trying to protect a six-point lead, Rodgers drove the Golden Bears to the USC nine-yard line.
Kalil recalled the sound of recorded bells clanging over the public address system that signaled third downs. "It was insanely loud," he said of the crowd.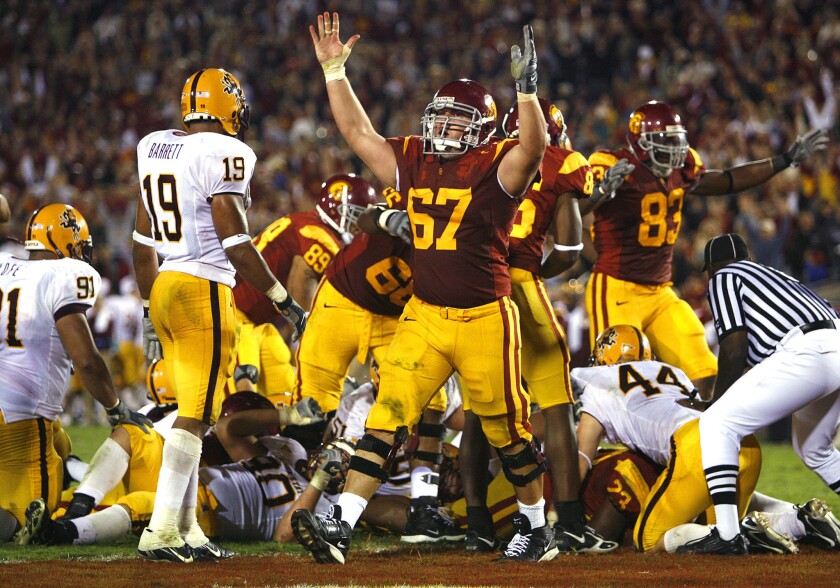 The Trojans hung on for a 23-17 victory that helped send them on their way to an unbeaten season.
"It was an incredible football team with even better teammates and coaches," he said. "We were a team that had a lot of fun but worked incredibly hard."
Kalil has enjoyed a successful and lucrative career with the Panthers. He signed a six-year, $49-million contract extension in 2011, and a two-year, $16.8-million extension in June.
He has started for teams that reached the playoffs in each of the last three seasons and played in last season's Super Bowl against the Denver Broncos.
The Panthers' chances of repeating their 15-1 regular season of a year ago ended in Week 3.
"Each and every one of those games last year had its own story," Kalil said. "A lot of them were not easy. A ton of games, we were down and found a way to fight back and just barely tweak it out.
"This season, it's one of those things where it's just kind of been a combination of a handful of stuff."
The Panthers and quarterback Cam Newton may have turned a corner against the Cardinals, which might not bode well for a Rams team that has lost three consecutive games.
Kalil said he monitored the Rams' possible move from St. Louis to Los Angeles and was "incredibly excited" when the NFL announced the team was returning to Southern California. His phone lighted up in April when the league released the schedule with the Coliseum date.
"I got a ton of calls and text messages, people calling for dibs on tickets," he said. "It seemed so far away at the time, I can't believe it's here."
Kalil anticipates that he will reconnect with family and friends. He and his wife, Natalie, a former USC song girl, have three children and they are expecting another.
Kalil's contract runs through 2018, which would mark his 12th season. He is making plans for life after football and is a producer for a couple of Hollywood film projects.
But he is looking forward to returning Sunday to the Coliseum.
"It's an incredible landmark," he said. "And it's home."
---
Get the latest on L.A.'s teams in the daily Sports Report newsletter.
You may occasionally receive promotional content from the Los Angeles Times.