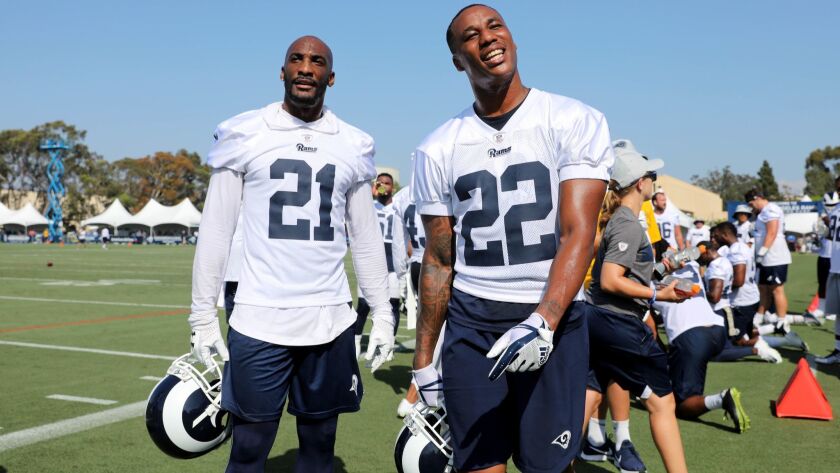 The situation came up several times as Rams defensive coordinator Wade Phillips studied film of cornerback Marcus Peters.
Peters, playing for the Kansas City Chiefs, lined up against a receiver and then, uncannily, left the player he was covering in mid-route and intercepted a pass on the other side of the field.
Five months after the Rams traded for the two-time Pro Bowl player, Phillips watched in real time as Peters did the same thing in a joint practice with the Baltimore Ravens.
"I still don't know how he did that," Phillips said.
Peters has a simple explanation: He trusts himself, and believes what he sees.
"When I know," he said. "I go."
Cornerback Aqib Talib, acquired in a trade with the Denver Broncos, has made similar plays during his 10-year career.
"It's never planned," he said, "but sometimes it happens like that."
Peters and Talib are now playmaking cornerstones of a remade Rams defense that also features new defensive tackle Ndamukong Suh. The unit is expected to help the Rams make a run at a second consecutive NFC West title and, possibly, a Super Bowl title.
Peters has 19 interceptions in three seasons, the most by any NFL player during that span. Talib has returned 10 of his 34 interceptions for touchdowns, third-most in NFL history.
"These two together," said Phillips, who begins his 42nd NFL season, "are probably the best I've had."
Phillips coached Talib with the Denver Broncos, a key factor in the Rams' decision to trade for the five-time Pro Bowl pick.
Now Talib, 32, is mentoring the 25-year-old Peters in a defensive scheme that helped the Broncos win Super Bowl 50 to end the 2015 season.
The two cornerbacks bonded during offseason workouts and minicamp in Thousand Oaks. They shared a dorm room and a golf cart during training camp at UC Irvine.
During practices, they showed their penchant for making momentum-shifting plays. Now they are ready to do it in games.
"We going to conversate, we going to communicate so we can play fast," Peters said.
The synergy between them is apparent.
"The feel is there," Talib said.
Along with the trades for Peters and Talib, the Rams signed cornerback Sam Shields, a 2015 Pro Bowl honoree who sat out most of the last two seasons because of concussions. They joined a secondary that includes slot cornerback Nickell Robey-Coleman and safeties Lamarcus Joyner and John Johnson.
Johnson, a second-year pro, said Peters and Talib are "like a book of knowledge."
Talib, Shields said, is a "real vet" on the field and in the cornerbacks' meeting room.
"Everybody in the room listens to him," Shields said. "If he tells me something, I lock in."
Peters doesn't talk as much, "He just shows it on the field," Shields said.
Peters and Talib also are having a positive effect on the Rams' offense.
Receiver Brandin Cooks said both use their smarts to jam routes and their athletic ability to make plays, forcing receivers to be on point.
Both employ "stuff that's not usually conventional" in their coverage, quarterback Jared Goff said, making accuracy paramount.
"If you don't throw it exactly where you need to," he said, "they make you pay. And if you're late they make you pay."
Peters' and Talib's fiery personalities also have occasionally cost them.
Peters was suspended for a game last season after throwing a penalty flag into the stands. He also reportedly shouted at Chiefs assistant coaches and directed an expletive at a fan.
During an introductory new conference in March, he said he has learned from his mistakes and that his behavior in the past "comes with being a competitor."
Talib was suspended twice during his four seasons with the Broncos for incidents with opposing players.
Off the field, he also was involved in a 2016 incident in which he reportedly accidentally shot himself in the leg.
Talib will earn $11 million this season and is scheduled to make $8 million in 2019.
Peters is making $1.7 million this season. The team has exercised its fifth-year option, which would pay Peters a little more than $8 million in 2019.
Both players said their pairing looks great on paper. Now they must prove it.
Phillips encourages their risk-reward mentalities, and Peters and Talib appreciate the freedom to make decisions on the fly.
Individually, and in tandem.
"It's just an instinct," Talib said, "So just get a feel for how each other plays, and it usually ends up good."
---