The Rams sat Goff and the entire starting offense for the pre-season. Will they be ready for Monday Night Football?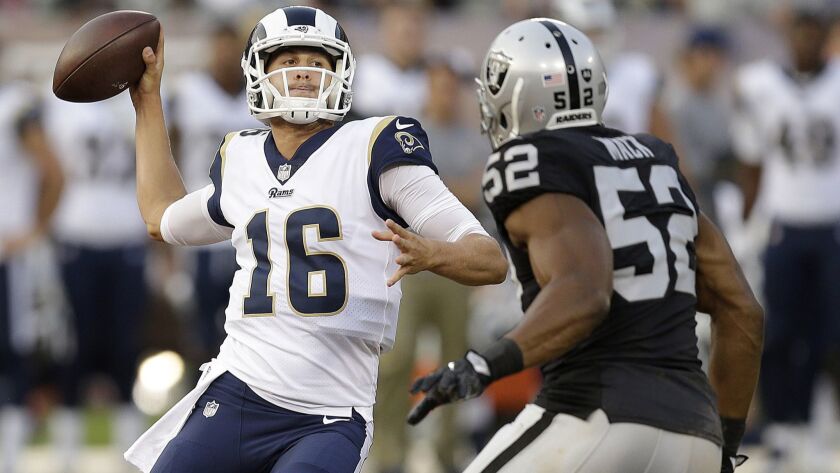 The Pro Bowl quarterback did not take a snap.
The reigning NFL offensive player of the year never got a handoff.
A first-unit lineman didn't make a block, and no top receiver caught a pass.
The Rams will open the regular season Monday night against the Raiders in Oakland, after having lined up for four preseason games in the last month. But no member of the team's starting offense played a down.
Not because of medical reasons; not because of contract squabbles. All because Sean McVay, the youngest coach in the league and its reigning coach of the year, decided the risks of injury were greater than the rewards of repetition.
"Just like anything else," McVay, 32, said of his strategy, "it might not be for everybody."
At the Westgate Superbook in Las Vegas, more bets are on the Rams to win the Super Bowl than any other team. Last season, they made their first playoff appearance in more than a decade, and their already star-studded roster has strengthened by high-profile trades, free-agent signings and multimillion-dollar contract extensions. All moves made to aid in the development — and capitalize on the bang-for-buck prime — of 23-year-old quarterback Jared Goff.
Nearly every decision the Rams have made since making Goff the No. 1 overall pick in the 2016 draft has been designed to surround him with the championship-caliber talent required to win over a Los Angeles sports marketplace dominated by the NBA's Lakers and MLB's Dodgers.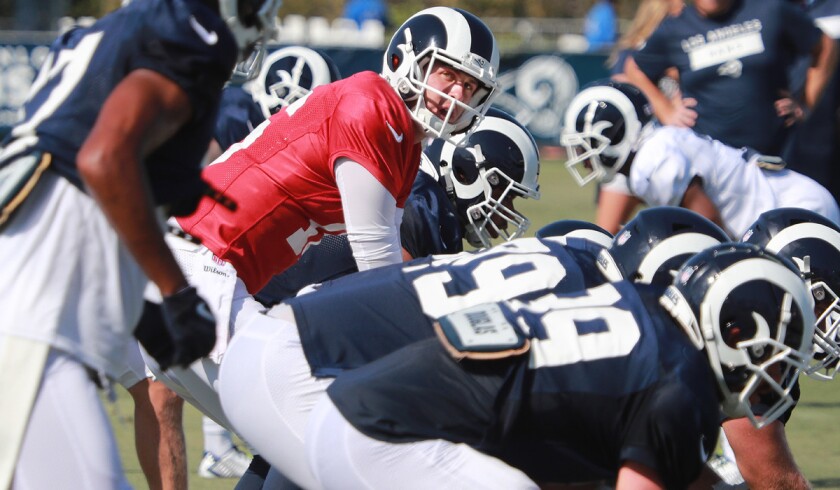 The window of opportunity is now, because the Rams, a $3-billion franchise, will pay Goff a relatively modest $7 million this season, allowing them to invest heavily in other stars to build a Super Bowl contender before their quarterback is due a lucrative contract extension.
The team, it has been argued, is simply protecting a prime asset — and the building blocks around him.
So, while the league's 31 other starting quarterbacks played — Tom Brady, a five-time Super Bowl champion, threw 44 passes in two games for the New England Patriots; Aaron Rodgers, who recently signed the richest contract in NFL history, threw four passes in one game for the Green Bay Packers — Goff and the rest of the Rams starters sat through the exhibition games.
"In an ideal world, you would like to be able to have him get that experience and things like that," McVay said. "But, at the risk for what we thought could potentially occur, that was a decision that we made and I totally respect and understand that people might disagree with that."
Some people do.
Rich Gannon, the league's most valuable player in 2002 when he led the Raiders to the Super Bowl, said he could not recall a situation when a starting quarterback did not play in the preseason for any reason other than an injury.
A veteran of 17 NFL seasons, he said quarterbacks need to hone their timing, get a feel for the pass rush and absorb contact if they are expected to be fully prepared.
"There's nothing that can be done in practice to assimilate the speed, the tempo and the pressure of playing quarterback in the NFL on game day," he said. "I'm not going to suggest [Goff's] not going to go out and play well and that he's not ready to play.
"I'm just saying, from a quarterback's perspective, a guy who played 17 years, it would make me very, very uncomfortable," Gannon said.
Former NFL coach Bruce Arians was also skeptical, about Goff's situation in particular.
"I'm not really sold about him not playing in the preseason," he said. "It's not like he's been to eight Pro Bowls."
Former Rams quarterback Vince Ferragamo, who led a Super Bowl run during the 1979 season, said practice reps were valuable but did not simulate the speed, awareness and conditioning required in games.
"For me, to have a sharp knife, I have to really sharpen it," he said. "Sometimes what you do in practice and then play in a game is a whole different aspect.
"It's almost like you running in the Kentucky Derby and you haven't had any prerequisite races to be able to come out of the chute," Ferragamo said. "Sometimes, with a long layoff, it takes a race or two for the horse to get ready."
Last season, Goff passed for 28 touchdowns, with only seven interceptions, and led the Rams to their first playoff appearance since 2004. He looked sharp during training camp practices, and has said that he is was not worried about not taking snaps in the preseason games.
"It will be fine," he said after the third preseason game, when it became clear he would not play at all. "I don't think we're too concerned about it. Coach's decision."
Actually, part decision, part circumstances. If not for a quirk in the schedule and a minor injury, Goff probably would have taken at least a few snaps.
In Week 2 of the preseason, the NFL pitted the Rams against the Raiders, and neither team wanted to play people or reveal strategy that might be exploited in Monday's opener, just a few weeks later. The next game, neither front-line tackle was available — one was resting, the other had tweaked an ankle — so McVay determined the potential risk of injury to Goff was too great. In the final tuneup, the Rams followed standard league protocol by resting all the starters.
Sitting all the starters all the time is thought to be unprecedented, but unorthodox thinking is nothing new for McVay. Last season, with the NFC West title clinched and a playoff game looming, he did not play starters in the final regular-season game against the San Francisco 49ers.
The next week, in the playoff game against the Atlanta Falcons, Goff appeared nervous at the outset and the Rams high-scoring offense mostly stalled in a 26-13 defeat.
"Am I always going to be right?" McVay said of his decision not to play Goff in the preseason. "No. And that's where you can't be afraid to say when you look back at some of the decisions, if it didn't work out, why wasn't that the case?"
Rick Neuheisel, a former NFL quarterback coach and college head coach who is an analyst for CBS Sports, credits McVay for being an innovator who wouldn't strategize "the cookie-cutter way because that's what his forefathers did."
Kevin Demoff, the Rams executive vice president for football operations, cited the Rams' history in backing McVay's decision.
In 1999, starting quarterback Trent Green suffered a season-ending knee injury during the preseason. Back-up Kurt Warner stepped in and led the Rams to the Super Bowl en route to a hall of fame career. But in 2014, Sam Bradford — the No. 1 pick in the 2010 draft — suffered a season-ending knee injury during the preseason. The Rams finished 6-10.
"You lose Bradford in the third preseason game and it ruins your season," Demoff said. "There is nothing you can do in Week 4 that's going to be able to replace your starter — unless you have the Kurt Warner story waiting on the bench.
"It's impossible to replace your starter, so for those of us who lived through a quarterback lost for the year in Week 3 of the preseason, you're always going to appreciate a conservative approach," he said.
It remains to be seen what effect, if any, Goff's absence from preseason games will have on his performance Monday night and beyond.
"Well, I hope it has a terrible impact on him, honestly," said Jon Gruden, the Raiders coach, laughing. "I can't say that I remember watching a team in a first game where none of the [offensive] players played … so it'll be interesting, for sure, what tricks they have up their sleeves and how ready everybody is."
McVay appeared confident that Goff and the rest of his team are adequately prepared. And if it doesn't look that way Monday night, he knows the drill.
"The results are going to predicate kind of what that final thing is," the coach said, "and I'm OK with those consequences, knowing that you've got to take ownership of your decisions."
Besides, the Rams can always depend on a defense anchored by Aaron Donald, the NFL's reigning defensive player of the year, and All-Pro acquisitions Ndamukong Suh, Marcus Peters and Aqib Talib.
That unit did get some experience in the preseason.
Seven plays.
Times staff writer Sam Farmer contributed to this article.
Follow Gary Klein on Twitter @latimesklein
---
Get the latest on L.A.'s teams in the daily Sports Report newsletter.
You may occasionally receive promotional content from the Los Angeles Times.